How does island-hopping, ziplining through the forest and discovering quirky museums sound for your next epic holiday? The Philippines serves up fun for thrill seekers, a relaxing paradise for beach lovers and a smorgasbord of culture to explore. With so much to do, it's hard to narrow down your options, so here's a rundown of our top four picks for unmissable destinations.
Best of all, you can visit all four spots in one trip. With airlines under Value Alliance, including the Philippines-based Cebu Pacific Air, you'll fly from one place to the other with total ease, for budget-friendly prices.
Philippines Travel: Top 4 Destinations
Manila: Culture, art and vibrant nightlife
Unlike other capitals in Southeast Asia, Manila is a former Spanish colony, giving the city a unique feel that can't be found elsewhere in the region.  In Manila, you'll get to explore remnants of the city's Spanish colonial heritage, mixed with local traditions. Visit Fort Santiago, the lavish Casa Manila and Malacanang Palace,  the official residence of the government.
Museums are another huge draw, with favourites including the National Museum and the Museum of the Filipino People. However, it's the city's quirky cultural offerings that intrigue travellers. Watch science come alive at the interactive Mind Museum, indulge your fashinable side at the Marikina Shoe Museum or immerse yourself in illusion and catch a few snaps for your feed at the Upside Down Museum.
If you're craving more culture, there's plenty of it at art galleries like Artinformal and Binondo, the world's oldest Chinatown. When it's time for a break and a bite to eat, get ready to thrill your taste buds with Filipino cuisine. From the garlic-infused meat dish of Adobo to deep-fried spring rolls called Lumpia, you're never far from a traditional treat. At night head to Malate for unique bars and clubs.
Book flights from Sydney to Manila* Find accommodation in Manila*
Puerto Princesa, Palawan: Gateway to natural wonders
Fly to Puerto Princesa in just over an hour from Manila, to arrive at what is often recognised as the greenest city in the Philippines. It's also the capital of Palawan and the stepping-off point to pristine islands, including the famous El Nido. Just a short drive from the city centre, you can board a boat to the islands of Honda Bay. On Cowrie, Starfish, Luli and Pandan, where you'll snorkel in turquoise seas, laze on powdery sand and feast on fresh seafood.
The city itself has long been a favourite weekend destination for locals, packed with heaps of natural wonders to explore nearby. Discover the UNESCO-listed Puerto Princesa Subterranean River National Park, with limestone cliffs and mysterious caves. There's also the Palawan Wildlife Rescue and Conservation Centre, and Ugong Rock featuring a zip line adventure.
Book flights from Sydney to Palawan* Find accommodation in Puppserto Princesa*
Boracay: Island paradise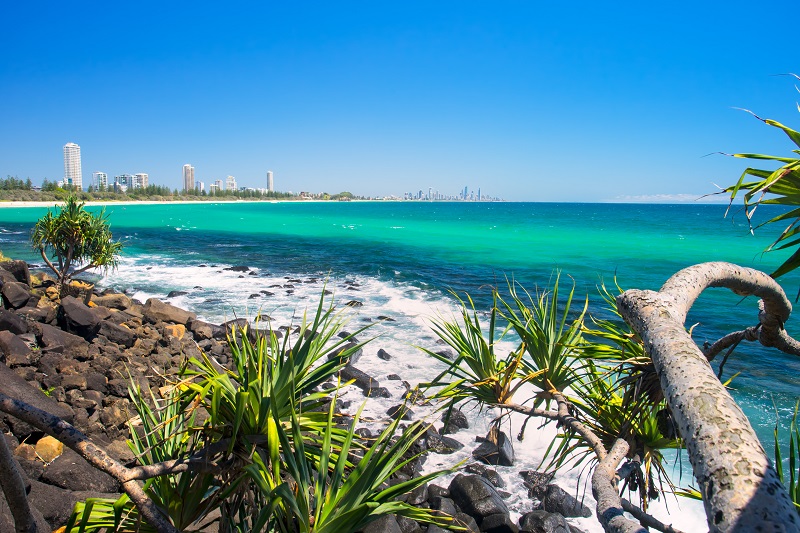 Philippines travel guides have featured Boracay as a top destination for years. Once famous for a party vibe and an overload of tourists, it's recently had an extensive makeover in order to benefit the environment. Therefore, you can look forward to enjoying pristine beaches, bright blue seas and ocean-view resorts without the rubbish and pollution of mass tourism.
The island's famous White Beach is a picturesque stretch of sand that's beyond Instagram-worthy. Divine, aqua water laps incredibly white sand, for long, lazy days by the sea. If you're up for some action, try freediving, parasailing or horse riding here. Beach-hopping around this small island is easy, so park your towel at Diniwid for sunset or Tambisaan for snorkelling. For dining with salty breezes and sandy views, you'll find everything from seafood to Italian and traditional Filipino cuisine.
Book flights from Sydney to Boracay*Find accommodation in Boracay*
Davao: A kaleidoscope of picturesque landscapes

From gorgeous coral islands to forests, fruit plantations and Mt Apo – the highest mountain in the Philippines – Davao wows visitors with its variety of landscapes. Diversity is also found in culture, with a population of ethnic tribes, migrant settlers and expats from across the globe.
Davao is home to the Philippine Eagle, which is considered the largest in the world. You can see it at the Philippine Eagle Center. While you're wildlife spotting, meet some crocs at the Davao Crocodile Park. Along with nature, city highlights include excellent shopping at malls and markets. When the sun goes down, look forward to jazz bars, pubs and live music in Matina Town Square.
Book flights from Sydney to Davao* Find accommodation in Davao*
Note: These rates are based on search queries made on KAYAK.com.au in April 2019. The prices are quoted in AUD. Flight prices are based on results for a return economy flight search. Hotel prices are for double occupancy and include taxes and fees. Prices are subject to change, may vary, or no longer be available.