Absence makes the heart grow fonder, and the age-old saying seems to be true, particularly for Aussies. We know how hard it can be to keep the flame alive with people we meet on holiday – that's why we decided to survey Australians to see just how many people have experienced the struggles of a long-distance romance – and the good news is, we're also here to help. 
The study revealed that as many as a quarter of Australians (25%) have had a partner that lived abroad, with over half (59%) stating that they are still together. Interestingly, the age when it's most common for us to fall into a long-distance relationship is between 23-35, with over a third (32%) of respondents saying this.
Although it may be too late for the one-fifth (21%) of Aussies who said that their relationship fizzled due to the distance, we do have a solution to help those of you where it's still in the balance. Anyone pining for far-off loved ones should rejoice at today's launch of  KAYAK Rendezvous; a new tool that helps two lovers/ friends/ family members find a cost-effective, meet-in-the-middle destination, where they can rekindle all those warm fuzzy feelings in an exciting new place.
To plan their meeting, long-distance lovers simply enter their home airports at KAYAK.com.au/rendezvous, and we'll search over 200 top travel spots to find up to 20 affordable destinations between the two locations. Users can filter the meeting points according to price to find a destination that fits their budgets, and can easily share results with their partner on Facebook; via Messenger or on their wall.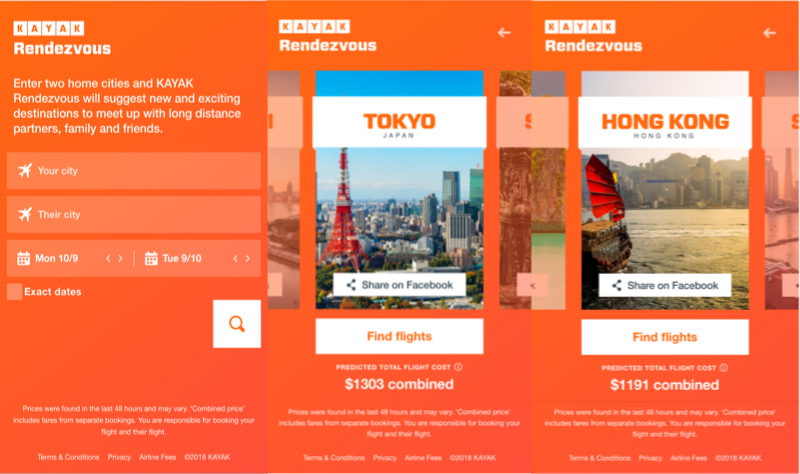 For example: for two people living in Sydney and London respectively, the tool shows that return flights for a getaway to Tokyo between 9/11/18 and 23/11/18 will cost just $1303* combined, or a romantic holiday in Hong Kong will cost just $1191* combined.
There's never a bad time to see your loved ones, and plenty of good deals to be found – some in places you may never have considered meeting up!  So what are you waiting for? Point your browser to KAYAK.com.au/rendezvous now, and put an end to those long-distance blues.  
*Flight prices based on searches on KAYAK.com.au/rendezvous on 10.09.18, for return flights between 9.11.18 and 23.11.18. KAYAK Rendezvous provides prices found in the last 48 hours and may vary.  'Combined price' includes fares from separate bookings. KAYAK Rendezvous is available for a selection of KAYAK sites: UK, US, Canada, Australia, New Zealand, France, Poland, and Spain.
The survey cited covers Australians' spending habits related to travel. Survey was conducted in 2018, of 1,009 Australians aged  18- 65,  matching the  Australian population with regards to age, gender and geography. Data collection took place between the 9th and the 17th of January 2018 through an e-survey.