Bangkok is truly a city with something for everyone. We've already highlighted the best family hotels in the city, but if what you're after is something a little more grown-up, there's definitely plenty to keep you happy as well, and hotels are a great place to start looking. Hotels in Bangkok are much more than simply a place to crash at the end of a long day – they also house some of the city's best options to grab a tasty cocktail. Read on to see our favourite and best hotel bars in Bangkok.
Find cheap flights to Bangkok* Check out deals for design hotels in Bangkok*
1. Above Eleven at Fraser Suites Sukhumvit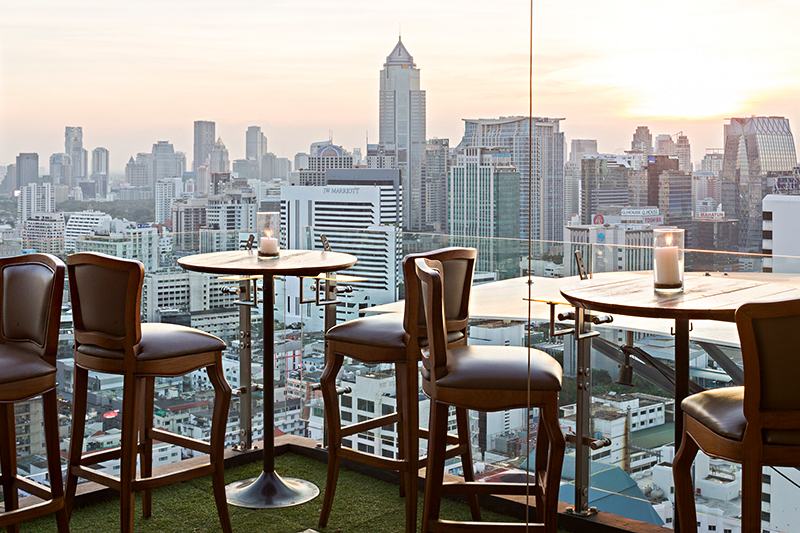 Rooftop bars abound in Bangkok, but Above Eleven is different in a few aspects. Sitting 33 levels above ground, you get a 180-degree view of the city's popular shopping malls and beyond in a setting that is apparently inspired by New York's Central Park. With interior decor featuring steel tree-like installations, vertical gardens, some astroturf for chilling on, and soft ambient lighting, this bar is all about relaxation as you tuck into Nikkei cuisine – a legit Peruvian-Japanese cuisine going back 120 years, following, and perhaps followed by, their signature cocktails featuring Peruvian, Japanese or New York influences. Apparently, must-tries include their light Michelada beer and Lavendeu cocktail.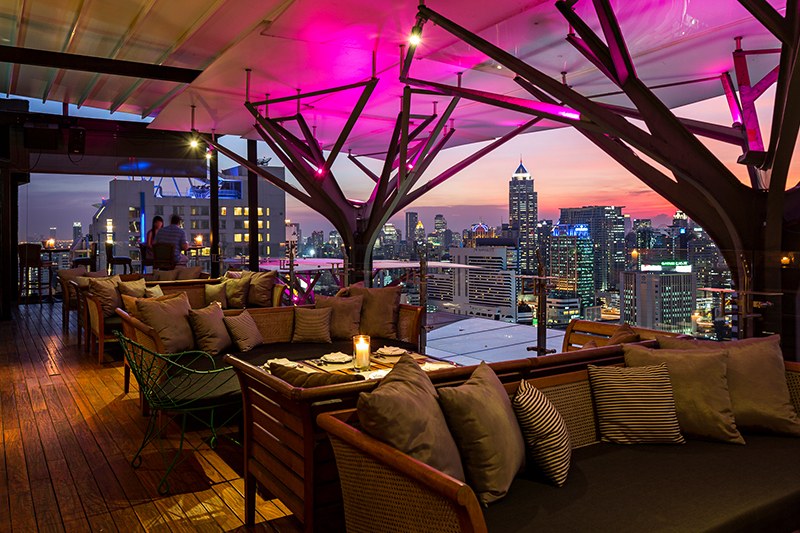 Find cheap flights to Bangkok* Book your stay at Fraser Suites Sukhumvit, from $116*
2. Skybar Rooftop at Lebua State Tower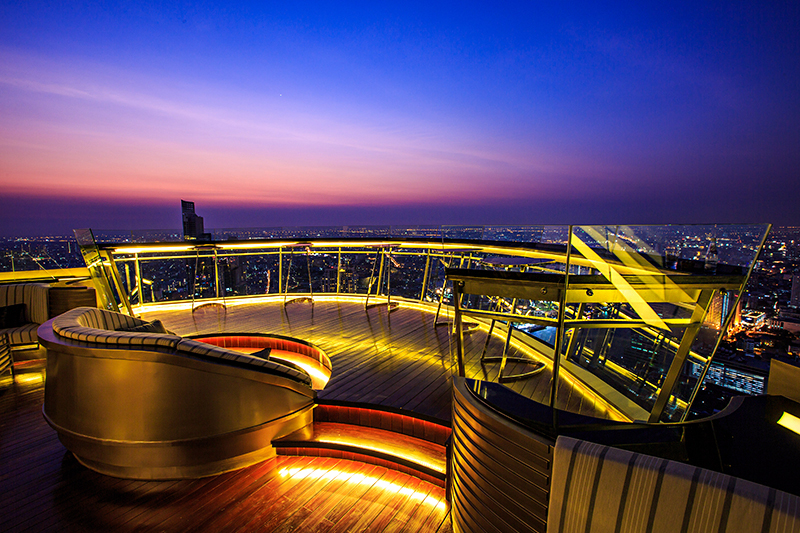 This spot is a must-visit for newbies to the city, as it made a name for itself as one of the best hotel bars in Bangkok. We could say this bar played host to the Hollywood stars during the filming of one of the decade's most popular bro-mantic comedies and leave it at that, but there's more to this watering hole than just its brush with celeb-dom. For one thing, it's situated on an overhang on one of the highest rooftop bars in the world, so you can enjoy your Hangovertini – green tea liquor, apple juice, Martini Rosso, rosemary honey – or their cocktails-plus-popsicle creations, Poptails, at 250 metres while taking in views of the Bangkok skyline. The whole layout of the rooftop is also pretty impressive, as, unlike many claustrophobic rooftop bars where space is limited, here you can make the most of expansive real estate, including the beautiful domed Sirocco, the award-winning Mediterranean restaurant that has received praise from many of the world's top travel and leisure magazines and websites. Finally, if you want more than drinks but are not really up for dinner (and the Instagram crowd), you can simply pop one floor up to Distil, the hotel's oyster and wine bar for some Aged Cocktails, Fine de Claire oysters, sushi and sashimi, and hand-rolled Cubans.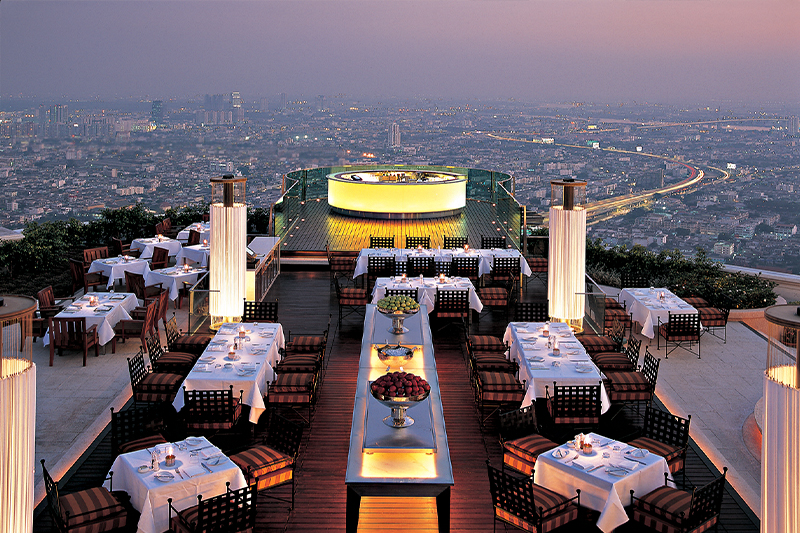 Find cheap flights to Bangkok* Book your stay at Lebua State Tower, from $154*
3. Deco Bar & Bistro at The Siam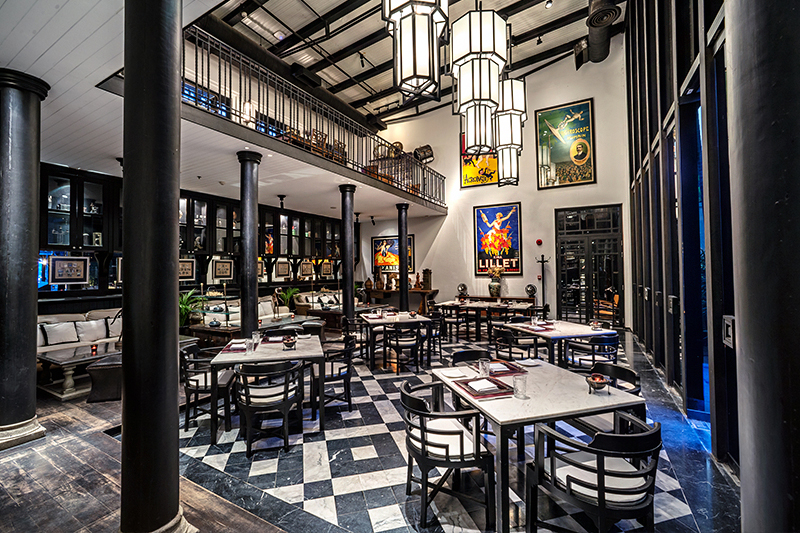 True to its name, the Deco Bar & Bistro truly impresses with its Art Deco-influenced interior design, imbued with an old Asia vibe. It's the perfect setting for a meet-up with friends in a relaxed and elegant setting, while enjoying familiar favourites like the Bloody Mary and Negroni, or anything from the extensive wine menu, from crisp Sauvignon Blanc to bubbly champagne.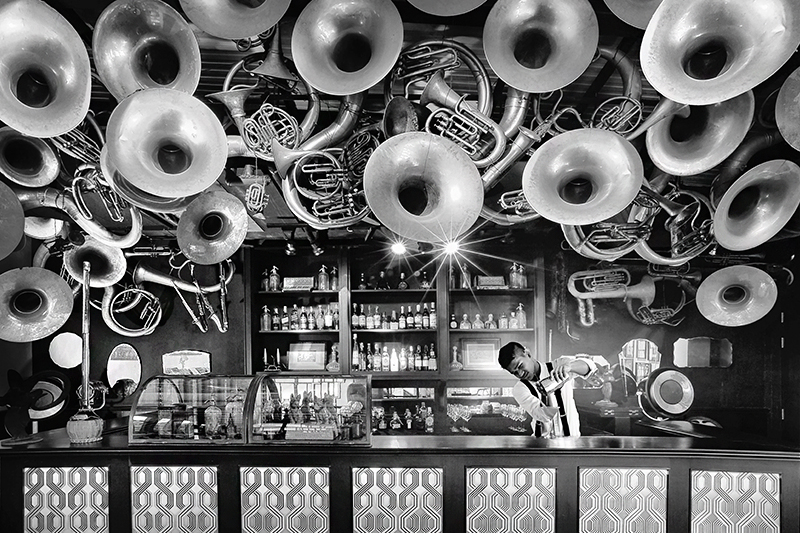 Find cheap flights to Bangkok* Book your stay at The Siam, from $508*
4. The Bamboo Bar at Mandarin Oriental Bangkok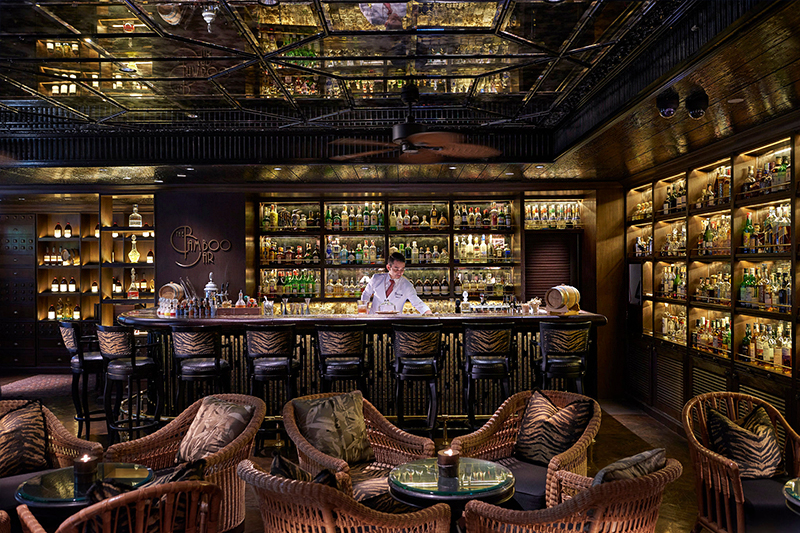 Aside from its illustrious history, the beautiful colonial interiors, the famous writers who have stayed here in the past and the hotel's well-known longest-serving employee, Public Relations consultant Khun Ankana, who has been here for more than 7 decades(!), the Mandarin Oriental Bangkok is also well-known for its Bamboo Bar. Some locals swear this is hand's down, the best hotel bar in Bangkok, because anyone who's anyone comes here for drinks and cocktails concocted by the bar's award-winning mixologists, while chilling out to great jazz musicians on stage. Drinks have catchy and intriguing names like Hit The Road Jack, Kiss of Fire and Time After Time, so you can be sure you'll have an interesting experience at the Bamboo Bar.
Find cheap flights to Bangkok* Book your stay at Mandarin Oriental, from $394*
>>You may also like: Hong Kong-coctions worth dreaming over : Discover the best cocktail bars in Hong Kong
5. Red Sky Bar and Cru Rooftop Bar at Centara Grand, Centralworld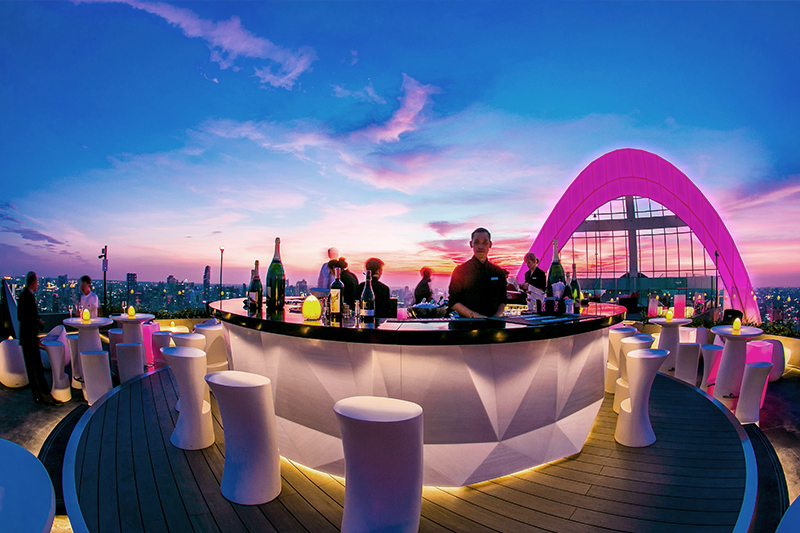 Situated on the 55th floor of the Centara Grand Hotel, the Red Sky Bar offers astounding views, and the drinks are not too bad, either. Many patrons heap praises on the cocktails and mocktails, as well as on the dinner menu and the service, so make it a full night out if you're coming here. They also have an extensive wine list if you want to go a bit classier. After dinner, go on up to the Cru Rooftop Bar on the 59th floor of the same hotel for some exclusive-label champagnes and 360-degrees view of the city in a chic and sophisticated ambience.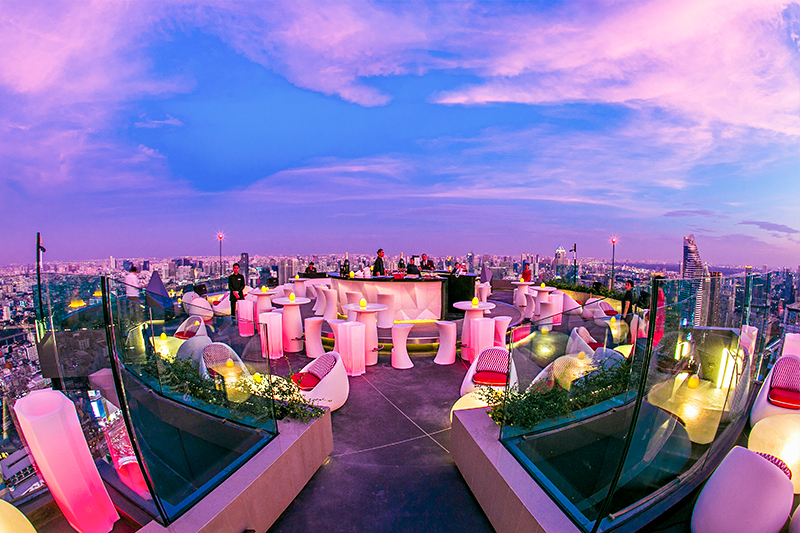 Find cheap flights to Bangkok* Book your stay at Centara Grand, from $148*
6. Octave Rooftop Lounge & Bar at Bangkok Marriott Hotel Sukhumvit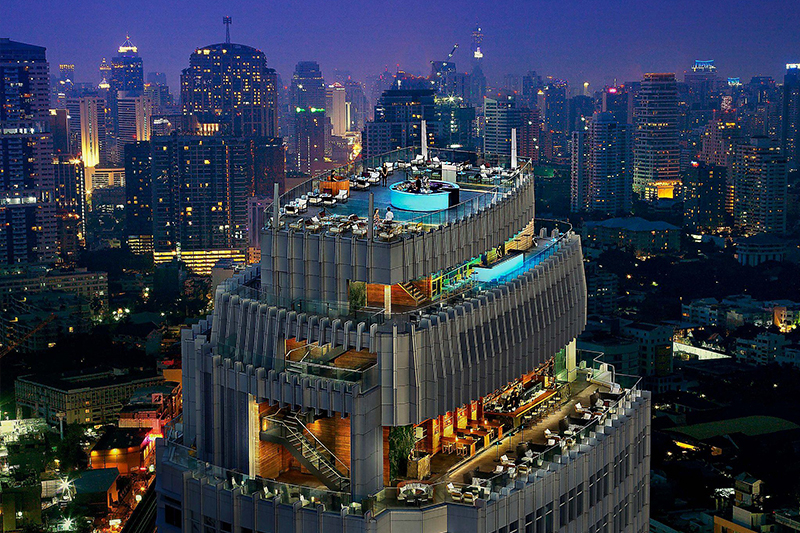 If you're looking for a great view of the sunset over Bangkok, the Octave at Marriott Bangkok is your best bet.  Unlike most rooftop bars these days, Octave has no walls at all to block your view, save for the glass barriers that keep you from walking off the ledge. With its circular bar in the middle, you'll have unobstructed views for ages while you enjoy the well-crafted drinks served here. It is no wonder that this spot is dubbed one of the best hotel bars in Bangkok!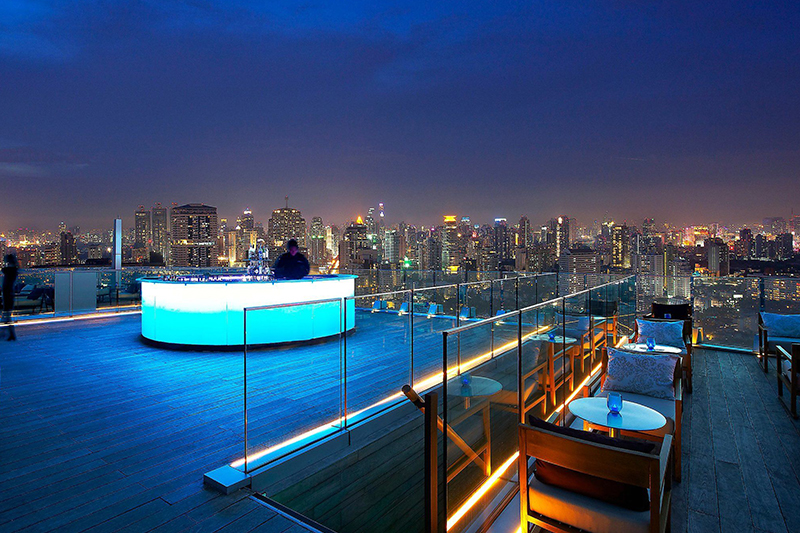 Find cheap flights to Bangkok* Book your stay at Marriott Hotel Sukhumvit, from $141*
7. The St. Regis Bar at The St. Regis Bangkok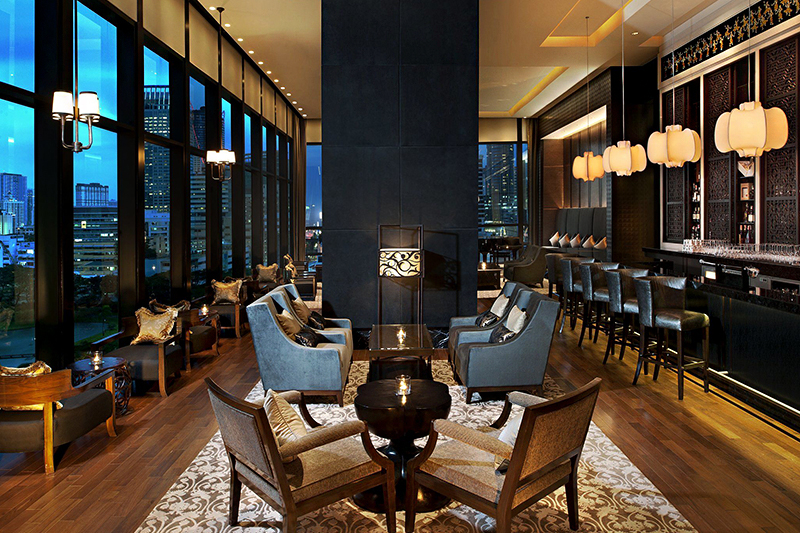 Looks-wise, the St. Regis Bar seems as classic as they come, possibly even a little 'vanilla'. But class is ageless for a reason, and the St Regis's credentials bear up to any examination:  the classic Bloody Mary was first created at The St Regis New York in 1934, and the bar's elegance and subtle opulence are sure to please. It's not all about tradition here, however, as those with an adventurous streak can taste delicious cocktails with a modern twist, including the bar's own signature Siam Mary – a mixture of the classic recipe imbued with Thai chilli, wasabi, lime, coriander, Thai basil and lemongrass.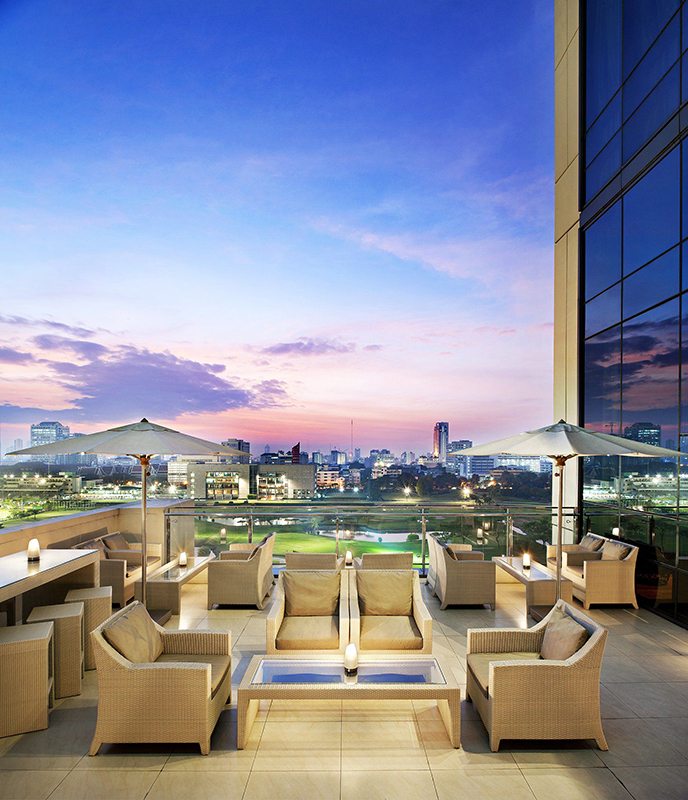 Find cheap flights to Bangkok* Book your stay at The St. Regis Bangkok, from $264*
8. The Bar at The House on Sathorn by W Bangkok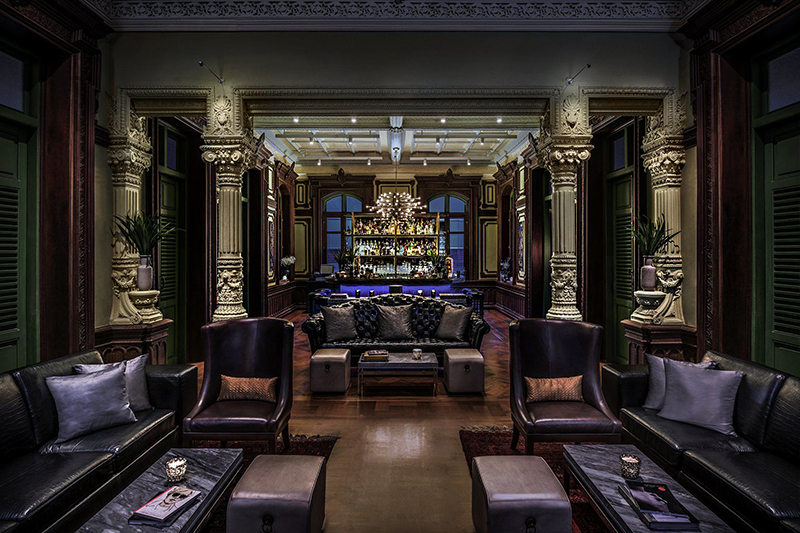 Housed in a fully-restored 130-year-old house on the grounds of the W Hotel in Bangkok, it's hard not to feel special enjoying your libations here. Originally a royal residence, before opening as a hotel and then housing the Russian Embassy, this place has definitely got plenty of history, if nothing else. But it's not all about the past here, with plenty of interesting signature drinks to look out for, including The Garden, with chrysanthemum-and-thyme-infused gin, chamomile tea, lemon zest and rosemary. Or if you'd like something special created just for you, just ask the people behind the bar.
Find cheap flights to Bangkok* Book your stay at W Bangkok, from $176*
*Note: These rates are based on search queries made on KAYAK.com.au on 21 March 2018. The prices are quoted in AUD. Flight prices are based on results for a return economy flight search. Hotel prices are for double occupancy and include taxes and fees. Prices are subject to change, may vary, or no longer be available.