As the gateway to some of the country's most spectacular coastlines and outback adventures, Western Australia's capital is road-trip heaven. With regard to car hire, Perth companies provide a range of options, from 4WD's to get off the beaten path, to small cars for couples' getaways and family sedans.
Let's take a step by step look at how to hire a car in Perth.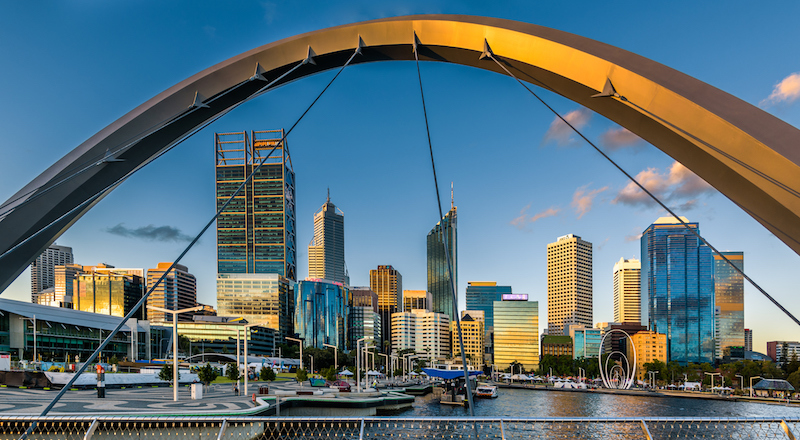 Use KAYAK to Search Hundreds of Travel Sites at Once
Spending hours on the hunt for car hire deals isn't anyone's idea of a good time. You'll be happy to hear you don't have to, when you use KAYAK to search hundreds of travel sites at the same time. All you need to do is enter your dates for travel and you'll find all the information you need, including prices, reviews and handy location maps.
Choose Locations, Dates and Times that Suit You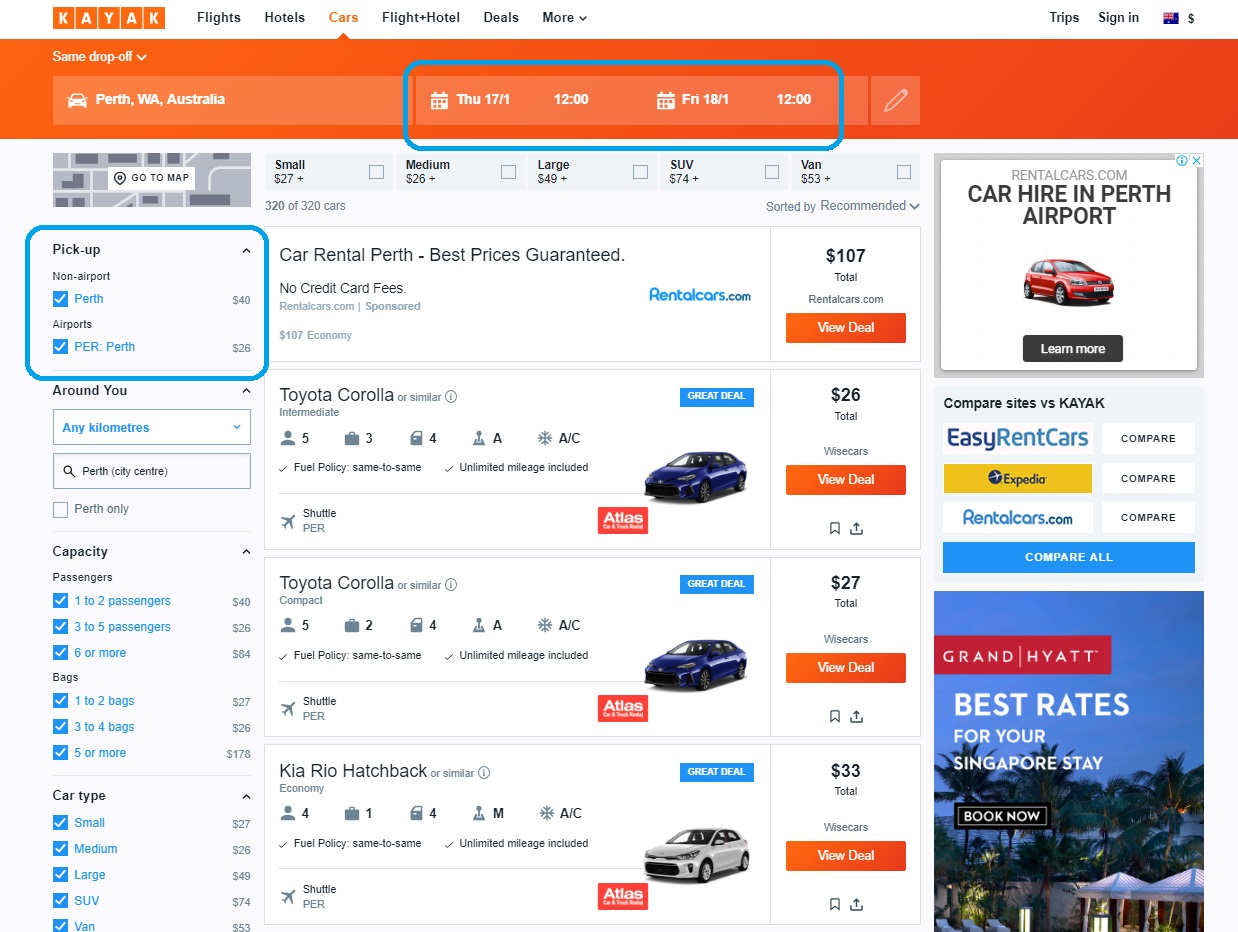 Have you thought about where you'd like to go and what you'd like to do on a holiday in Perth? Write your itinerary down before you start searching, to ensure your Perth car hire deal offers everything you need. For example, to save time you might want to pick up from one location and drop off at another. Or, for tight budgets, our data suggests it's often cheaper to pick up and drop off in the same location, like at the airport or in major towns.
Companies that allow pick-ups from Perth airport include:
Europcar

Budget

AVIS

Enterprise

Thrifty

Hertz
Don't forget to use KAYAK's handy map to easily choose Perth car hire companies in the best locations for you.
Check out car hire Perth locations
Read Reviews of Perth Car Rental Companies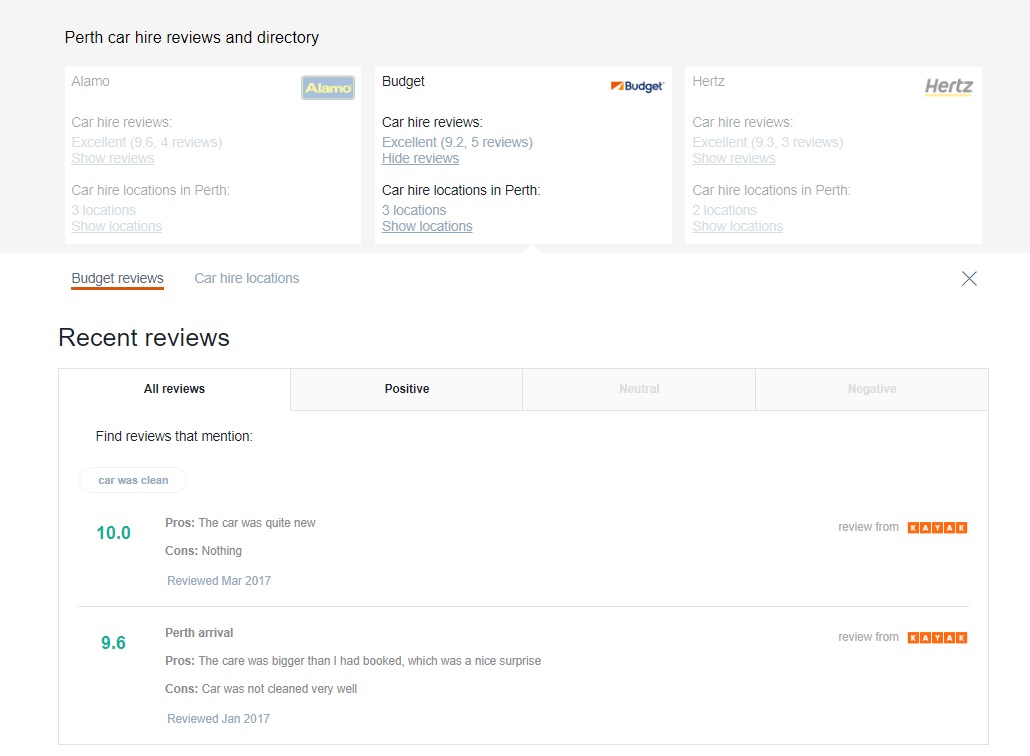 For peace of mind, you want to know that the Perth car hire company you choose has a great reputation, while ticking all the boxes. As you search hundreds of sites at once on KAYAK, you'll also find reviews from other travellers. They offer advice about experiences with customer service, hidden fees and extras, insurance policies and vehicle suitability, to help you make the best choice.
Read Perth car hire company reviews
Tips for Driving in Perth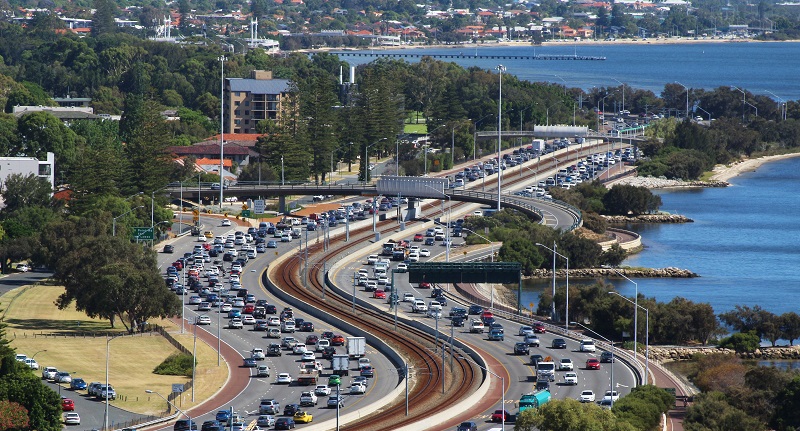 Perth has been ranked as one of the best cities for driving, in the world. Congestion is limited when compared with other cities, road rage is almost non-existent and you're never far from remote roads for total relaxation. There is still peak hour traffic in the city centre and surrounding suburbs though, so avoid driving from 7:00 am – 9:00 am and 3:00 pm – 6:00 pm, when possible.
Parking
The City of Perth operates an on-street parking policy to encourage a turnover of parking bays, for efficiency. You'll find different zones with varying time limits and rates, from $5 an hour to $13.50 for 10 hours. Look out for Clearways, which are designated 'no stopping' zones during peak hours. Parking in them may result in your car being towed. Long term parking is also available at a range of car parks, including Barrack Bridge Car Park starting at $4 an hour and the QV1 from $5 an hour.
Speed Limits
The default speed limit in Perth in built-up areas is 50 km per hour, unless signed otherwise. Be aware that this limit can change to 40 km, in particularly busy areas or near schools. Most motorways have a speed limit of 100 km per hour. Red light and speed cameras, plus mobile police patrols, operate throughout the city.
Best Road Trips Around Perth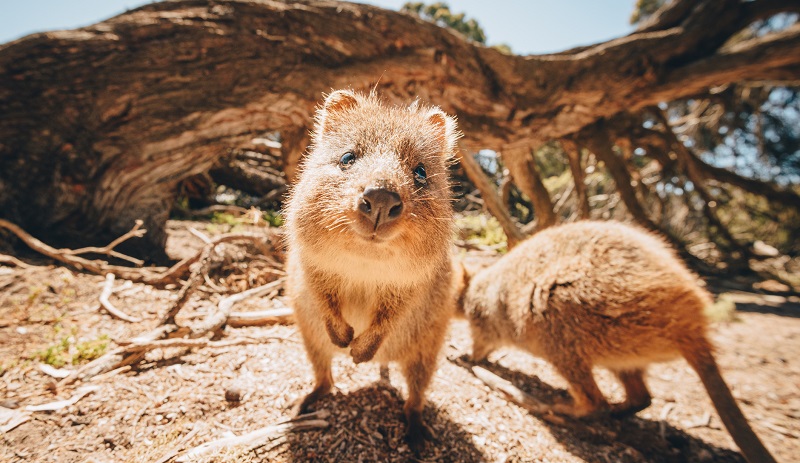 Vineyards, sparkling Indian Ocean panoramas and dramatic outback scenery stuns the eye on road trips around Perth. Take a long trip up or down the coast, or just stick in the area. Hop over to Rottnest Island for your #quokkaselfie – guaranteed to be the cutest photo of your trip. (You can't take your car as the island is a no-auto zone, but… look at the quokkas!)
Margaret River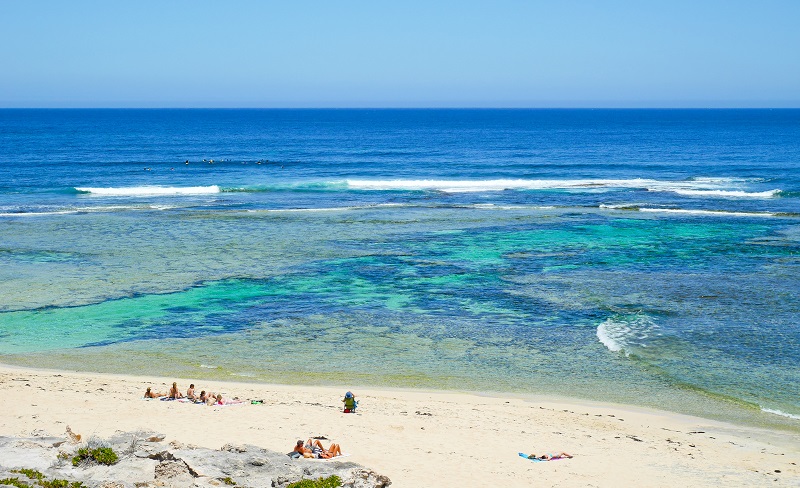 It takes about three and a half hours to get to the famous vineyards of the Margaret River from Perth. Along the way, look forward to discovering the heritage town of Bunbury and the clear waters of Geographe Bay, having a swim at Eagle Bay and hiking the nature trails at Dunsborough.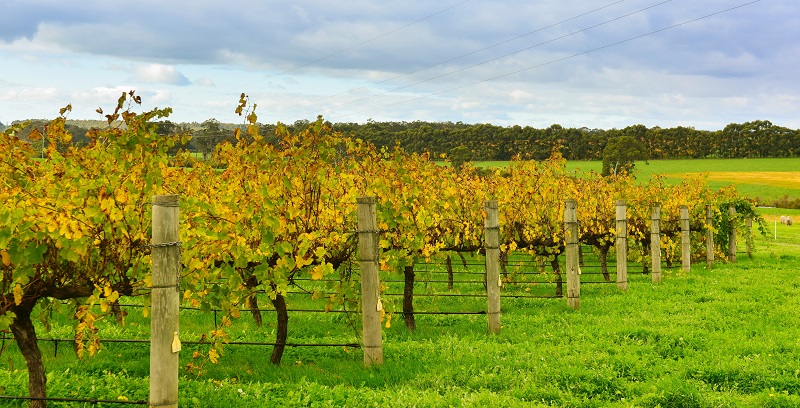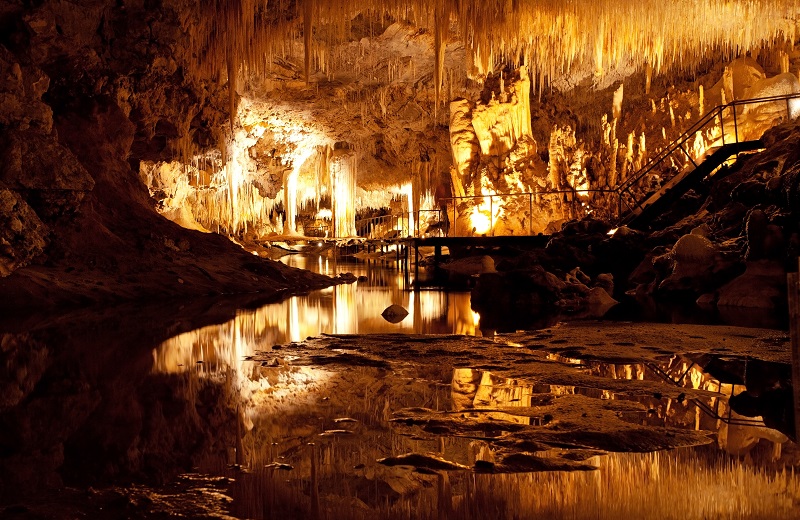 Find accommodation in Margaret River
Indian Ocean Drive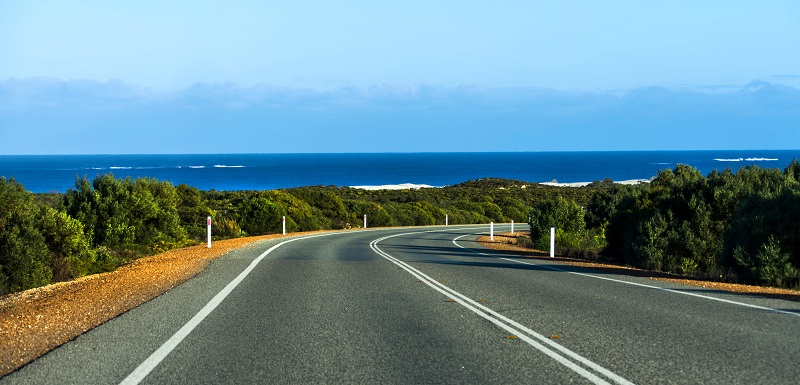 The Indian Ocean Drive, from Perth from Geraldton, takes you through the largest collection of wildflowers in the world and the landscapes of the Pinnacles Desert. Take your time over three or four days to explore the Yanchep National Park, the rock lobster capital of Cervantes and Jurien Bay, where you can embark on a sea lion charter.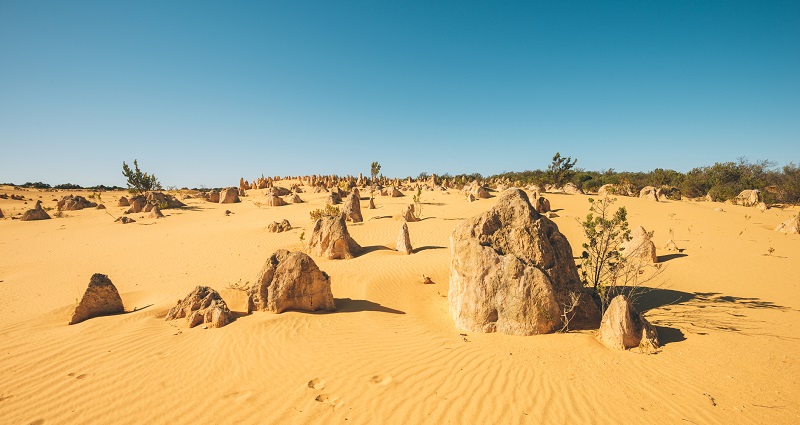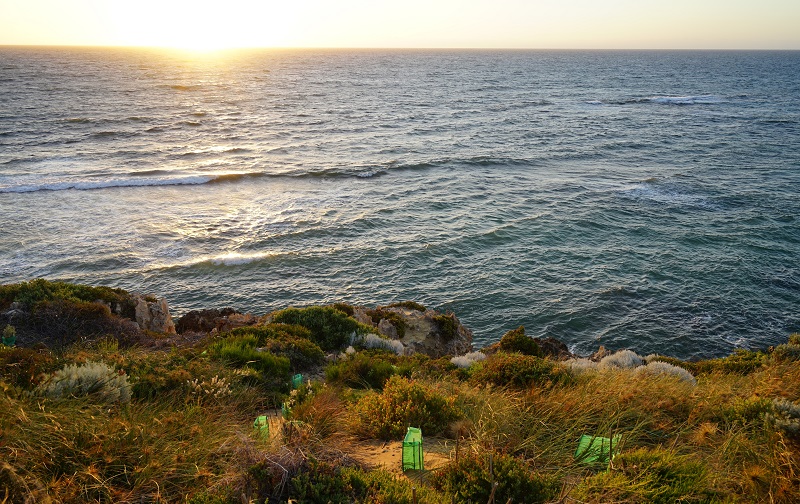 Broome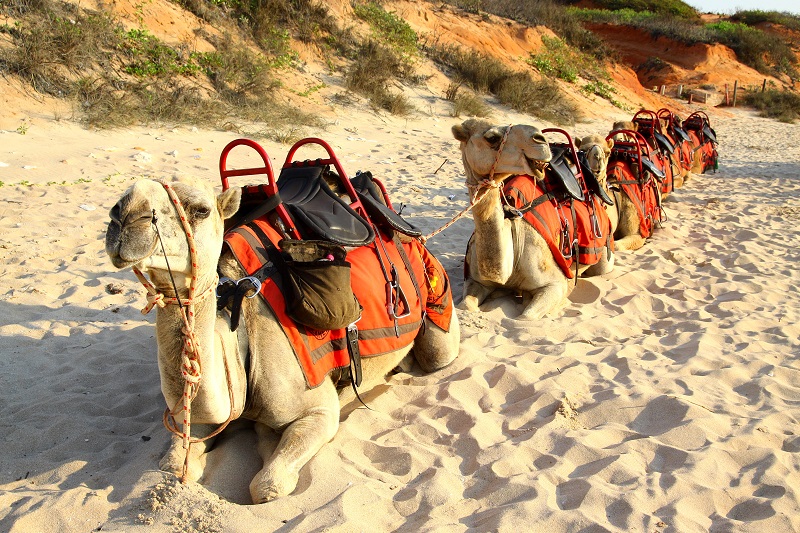 Broome is always a treat for everyone. Take the iconic sunset camel tour on Cable Beach to experience unrivalled sunsets, crystal clear water and rolling dunes of white sand. Be sure to sip cocktails at the beach bars and watch the 'Staircase to the Moon', a phenomenon where the recently set sun will illuminate the moon in a rich shade of orange, which reflects over the water and mudflats of Roebuck Bay, creating the illusion of rungs of a ladder up climbing up to it.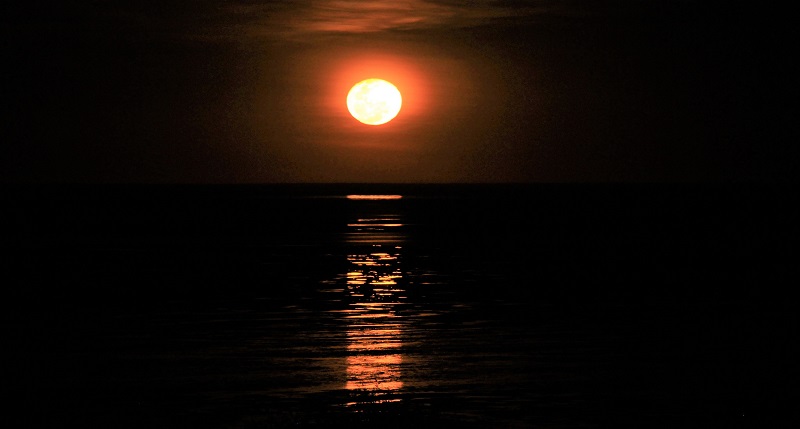 With something for everyone, Broome has an outdoor cinema dating back to 1916, the Short Street Gallery featuring Indigenous artwork, or to heed the call of the great outdoors, head to Dampier peninsula.
>>Want more road trip ideas around Western Australia? Seven days from Perth to Broome
Find cheap flights to Perth* Book cheap accommodation in Perth*
*Note: These rates are based on search queries made on KAYAK.com.au on 18 July 2018. The prices are quoted in AUD. Flight prices are based on results for a return economy flight search. Hotel prices are for double occupancy and include taxes and fees. Prices are subject to change, may vary, or no longer be available.