We've gone over the best hotel bars in Bangkok and picked out Bangkok's best family hotels, but for many of us, planning a trip to the Thai capital means budgeting at least a day of shopping. If retail therapy is how you get your chill on, then you can't go wrong shopping in Bangkok because it is a buyer's paradise. Here you can splurge on luxury and designer brands or find great bargains on kitsch and unique traditional crafts that make excellent souvenirs and mementoes of your travels. But if you need to know where to go, we're here to help. 
Find cheap flights to Bangkok* Book cheap hotels in Bangkok*
These are the best places to go shopping in Bangkok
Union Mall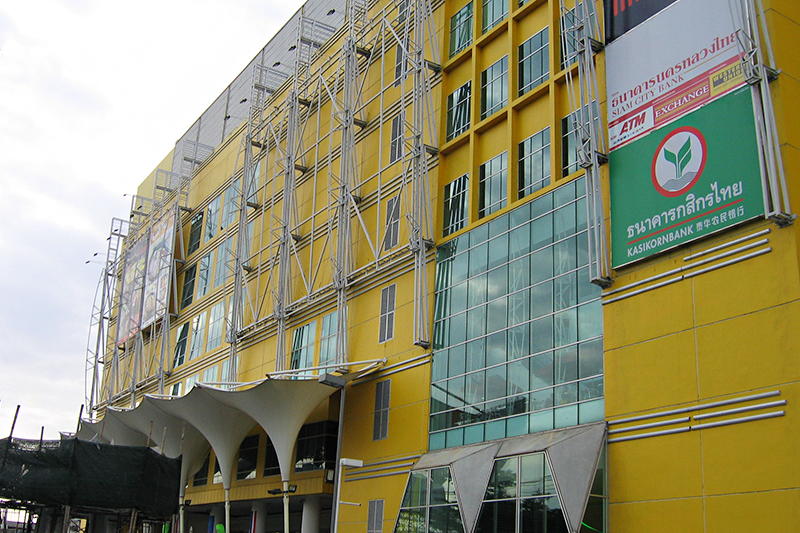 Although not one of the bigger, major malls for shopping in Bangkok, Union Mall has become a shopping fave for locals due to the variety of trendy and interesting items to be found here, within its 1240 shops and booths. Even the male species will like shopping here, with plenty of choices in shoes, bags and clothing, and even suits! You'll even find wedding boutiques selling wedding dresses and grooms' suits as well as accessories for wedding photo shoots and photo booths. On the upper floors, you'll find a whole lot of booths selling vintage items, perfect for the intrepid bargain hunter. And if you want to look for unique items in an open-air setting, just head on outside after 6 pm to the Union Mall Night Market, where local university students set up booths selling things they make or curate, based on the styles they love.
Address: 54 Soi Lat Phrao 1, Chom Phon, Chatuchak, Bangkok
Find cheap flights to Bangkok* Book cheap Bangkok hotels in Chatuchak*
Platinum Fashion Mall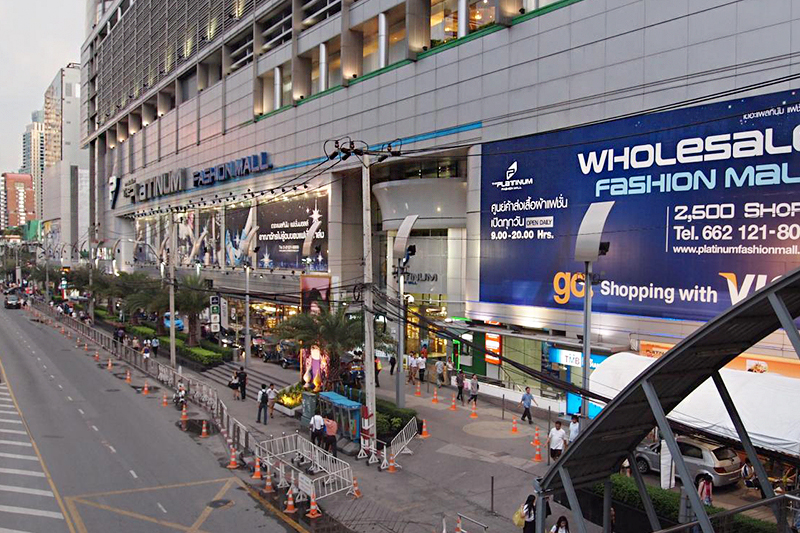 More than just a fashion mall, Platinum is also a wholesale fashion mall. That means you can get more clothes and accessories for cheaper here! Find clothing and fashion accessories for anyone here including for women, men and children, whether you're looking for casual or formal wear, outerwear, winter wear, jewellery, leather goods and other sartorial accoutrements. Don't expect the luxury or even high-quality stuff, though, as this is where you want to go for cheaper, fast-fashion options – but hey – this works great for putting together trendy outfits that you'll probably be done with in about a year, anyway.
Address: 222 Phetchaburi Road, Ratchathewi, Bangkok
Find cheap flights to Bangkok* Book cheap Ratchathewi hotels in Bangkok*
Pratunam Market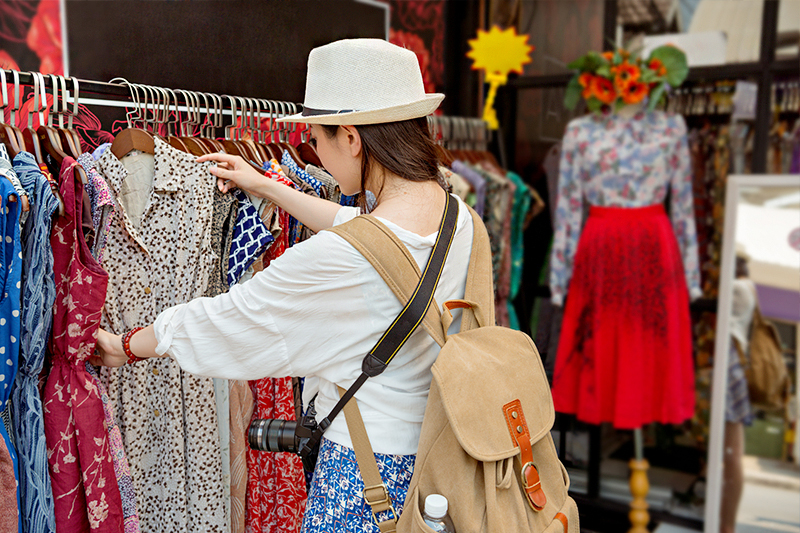 An indoor market with shops and booths selling clothing, shoes, jewellery, handbags, sunglasses, home decor items, handicrafts and gifts at bargain prices. You can also find fancy costumes here, like what a performer might wear onstage. The only downer is that you can't try on the clothes before you buy (shoes are alright at most shops), but tape measures are made available to check your size – or just bring your own just in case.
Address: 869/15 Ratchaprarop Road, Khwaeng Thanon Phaya Thai, Ratchathewi, Bangkok
Find cheap flights to Bangkok* Book cheap Ratchathewi hotels in Bangkok*
Chatuchak Weekend Market
With over 15,000 stalls in 26 sections spread, Chatuchak Market (also known as Jatujak or JJ Market) is said to be the biggest weekend market in the world, which means it is a must for anyone keen to check out the variety of shopping in Bangkok. And as expected, you can find practically anything here! Here you can find Thai handicrafts that would make great souvenirs and/or home decor, wood carvings, pottery, ceramic wares, furniture, paintings by local artists, traditional Thai costumes, and, of course, Thai silk of all grades and price points, as well as your regular market finds and fashion items. And if you've gone overboard and bought too much to fit into your bags, or couldn't resist buying a big-sized item, you can have it shipped home via couriers like DHL and TNT, both of which have outlets at the market.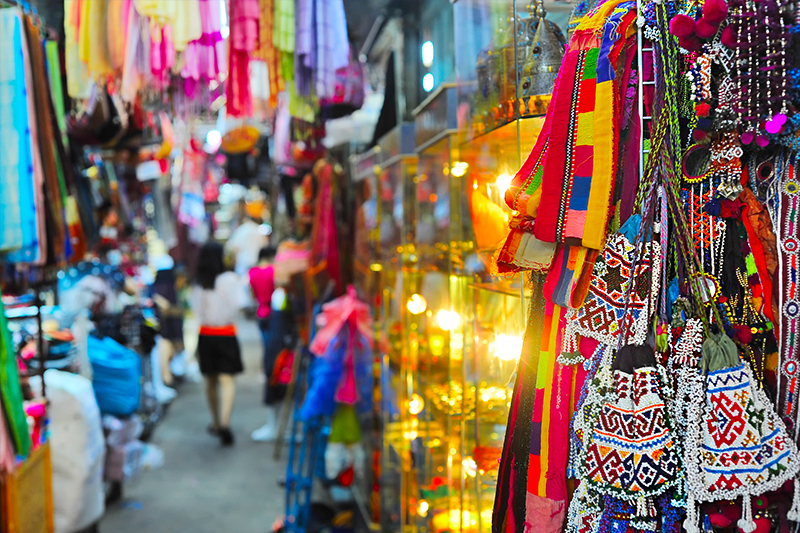 Address: 587/10 Kamphaeng Phet 2 Road, Chatuchak, Bangkok
Find cheap flights to Bangkok* Book cheap Chatuchak hotels in Bangkok*
Rot Fai Train Market Ratchada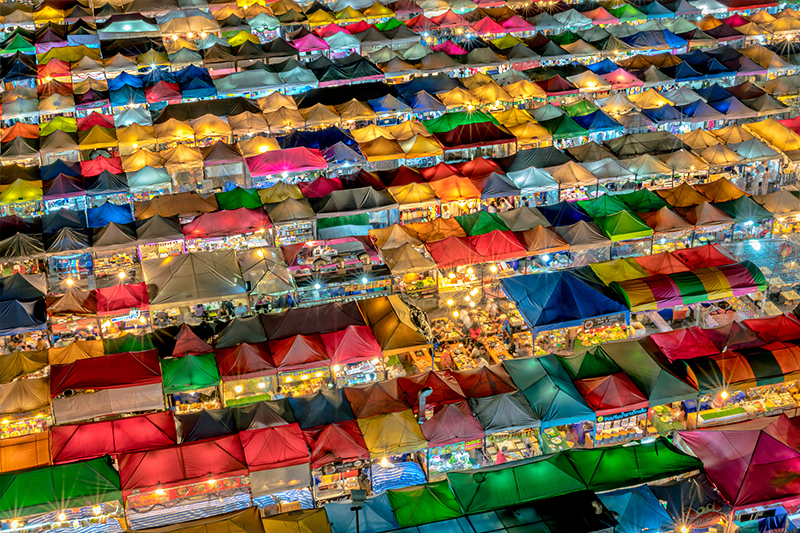 Also known as the Dalat Rot Fai, this market has unfortunately been moved from its original location around the abandoned train tracks near Chatuchak Market, so now it's in a new location near Seacon Square and the Cultural Centre MRT. The wares on sale here are more of the trendy and hipster-ish variety, including second-hand clothes, vintage and antique decor, leather items and handmade bags, so head here if you're looking to score some cool finds.
Address: Srinakarin Soi 51, Nong Bon, Prawet, Bangkok
Find cheap flights to Bangkok* Book cheap Prawet hotels in Bangkok*
CentralWorld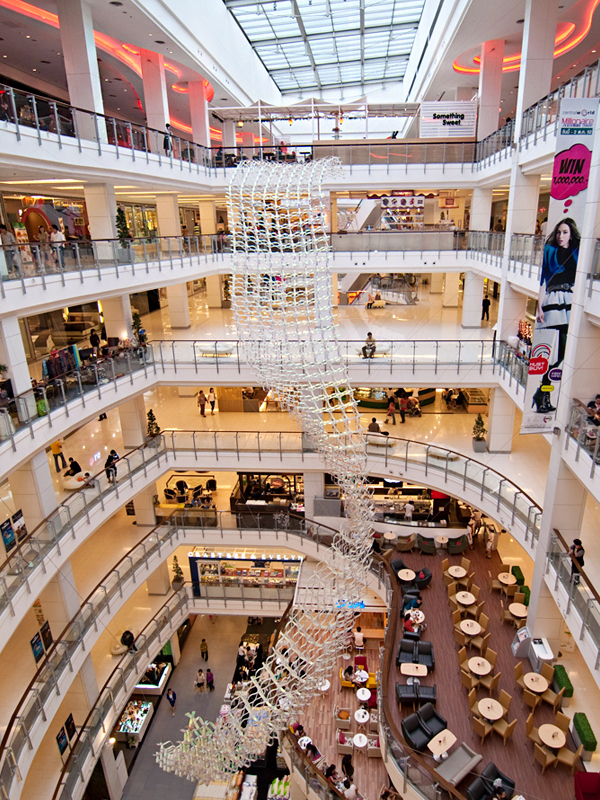 It's hard to speak about shopping in Bangkok without mentioning CentralWorld. This shopping mall is actually the largest in Thailand and the tenth biggest in the world. CentralWorld houses Bangkok's biggest sports equipment store, SuperSports, so there's that going for it if nothing else. Except, of course, there is a lot more to be found here, spread over eight floors, including the Gourmet Market on the seventh floor, where you can find all kinds of food imported from all over the world.
Address: 999/9 Rama I Road, Pathumwan, Bangkok
Find cheap flights to Bangkok* Book cheap Pathum Wan hotels in Bangkok*
Siam Square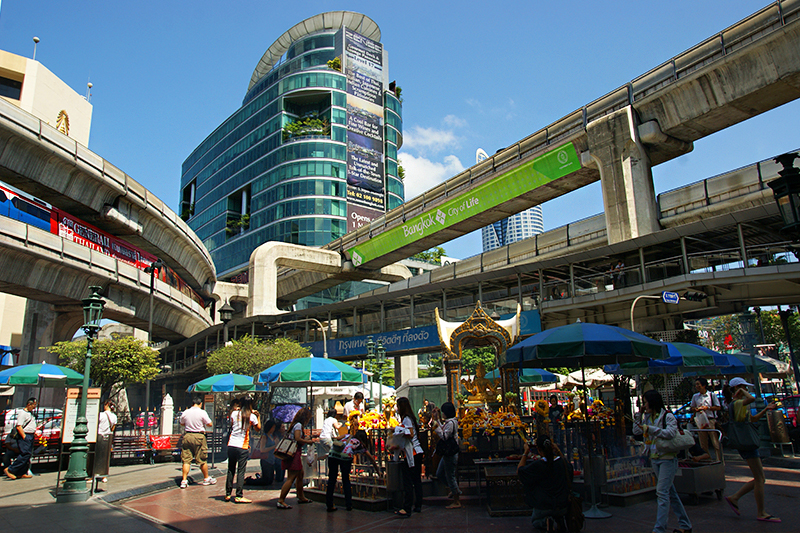 Looking to score some unique designer fashion by Thailand's creative young designers? Many of them set up shop in and around the Siam Square shopping complex. Many fresh fashion graduates set up their enterprises here, so you never know if you'll be amongst the first to discover Bangkok's next big fashion star!
Address: 999/9 Rama I Road, Pathumwan, Bangkok
Find cheap flights to Bangkok* Book cheap Pathum Wan hotels in Bangkok*
Asiatique The Riverfront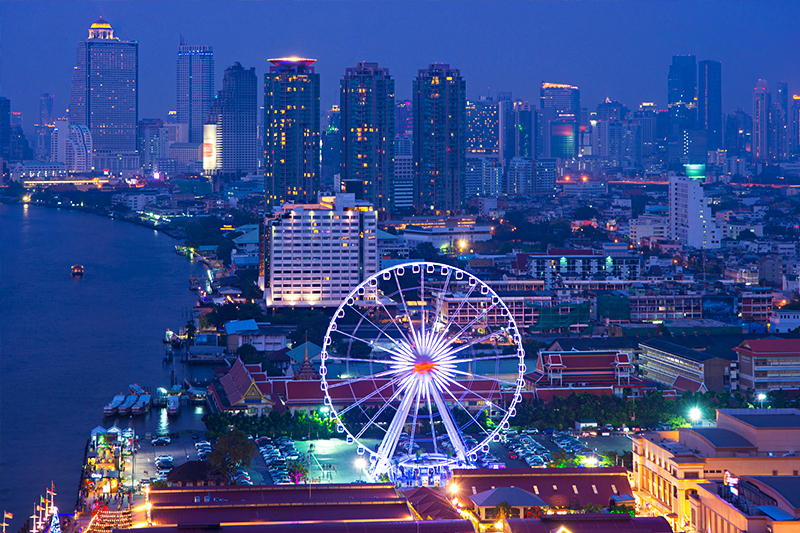 Old Dutch East India Company buildings have been converted into cafes, restaurants and boutiques at this relatively new shopping spot next to a part of the Chao Phraya River. Obviously, it's been built for tourists, but if you're looking for gifts to bring home this is where you can find Thai souvenirs of all kinds, and shop in a more leisurely manner since it is not as crowded as some of the other malls around Bangkok. You can also go on the gigantic Ferris wheel that affords views over Bangkok, and you know it's a must-visit when the best way to get here is by the free shuttle boat from the Saphan Taksin station.
Address: 2194 Charoen Krung Road, Wat Phraya Krai, Bang Kho Laem, Bangkok
Find cheap flights to Bangkok* Book cheap Bang Kho Laem hotels in Bangkok*
*Note: These rates are based on search queries made on KAYAK.com.au on 26 March 2018. The prices are quoted in AUD. Flight prices are based on results for a return economy flight search. Hotel prices are for double occupancy and include taxes and fees. Prices are subject to change, may vary, or no longer be available.