We've shown you Bangkok's best hotel bars and its best family hotels, but this time we are back in Bangkok to talk about water. More specifically, the Songkran festival, a New Years' holiday where it's all about H20. 
Are you planning a trip to Bangkok for Songkran? There's a lot more to this festival than just getting wet. If you've never visited during the festivities before, here's your guide to all you need to know before you jump in.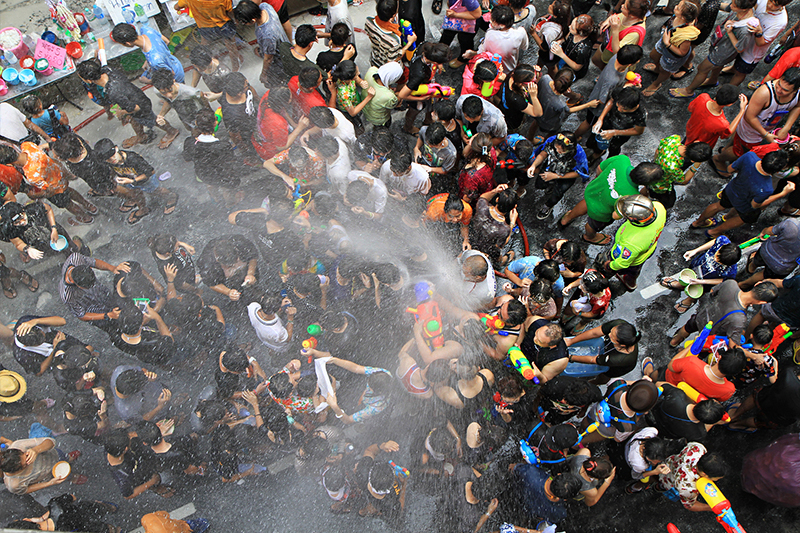 The Songkran festival actually takes place once a month
However, the one you want to go for is the main one, the Songkran Water Festival, which is held from 13-15 April each year to mark the Thai New Year. The event is celebrated all over Thailand, especially in Bangkok, Chiang Mai and Phuket.
The word 'Songkran' broadly means 'passing' in Sanskrit
'Songkran' comes from the term 'astrological passing', meaning transformation or change.
Songkran originated from pouring water on Buddha statues for cleansing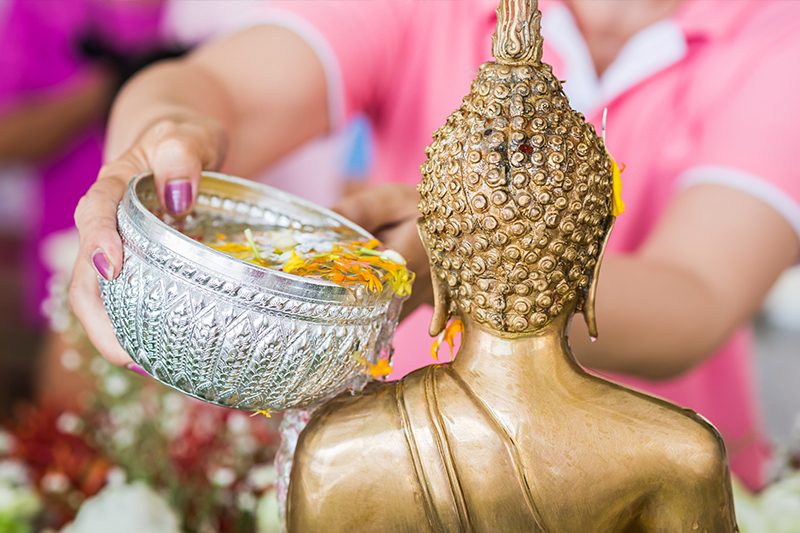 A Buddhist observance, traditionally the first morning of Songkran begins with 'merit-making', meaning doing some good by visiting temples and offering food to the monks. Fragrant rose water is poured on statues of Buddha, symbolising purification and the washing away of sins and bad luck, while the hands of elders are sprinkled with water by younger family members as a sign of respect. That's where the water festival got its start. These days, of course, things have evolved quite a bit.
Use public transport to avoid road traffic
Nowadays, the Songkran festival is celebrated with full-on water wars in the streets. Major streets will be closed to traffic, so if you have to travel during the festival, make sure to find out ahead of time which public transportation options are closest to your hotel or hostel.
Find cheap hostels in Bangkok, from A$ 8
The Songkran Festival is fun, but you should be well-prepared if you want to fully enjoy it
This means factoring in your water-weapon of choice, what you'll wear, and how to protect your valuables, as well as preparing a contingency plan for meeting up with friends should you be separated from each other amidst all the H2O frenzy.
Arm yourself with the right weapon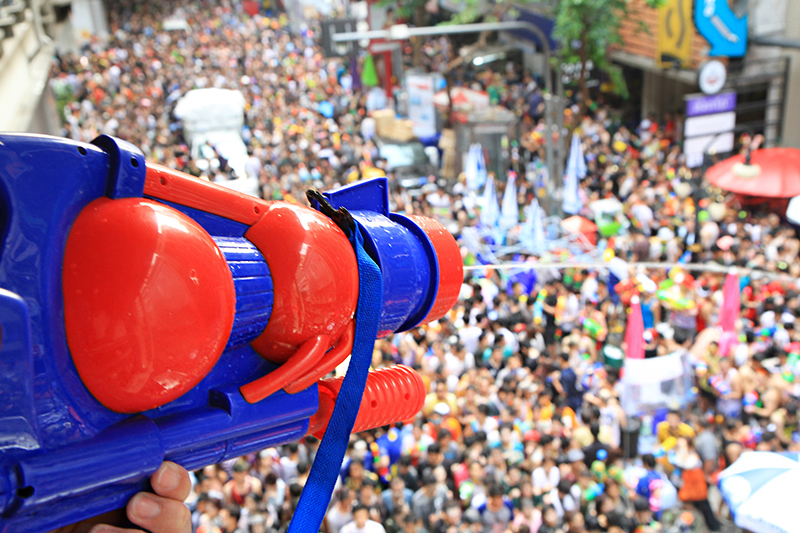 You'll find lots of stalls selling water guns. Choose wisely as a small one may not be powerful enough, but a big one might be too bulky or bothersome to lug around. Remember that you'll be up against locals who will throw buckets of water at you. You need something good enough to pay them back!
Head to Khao San Road and Silom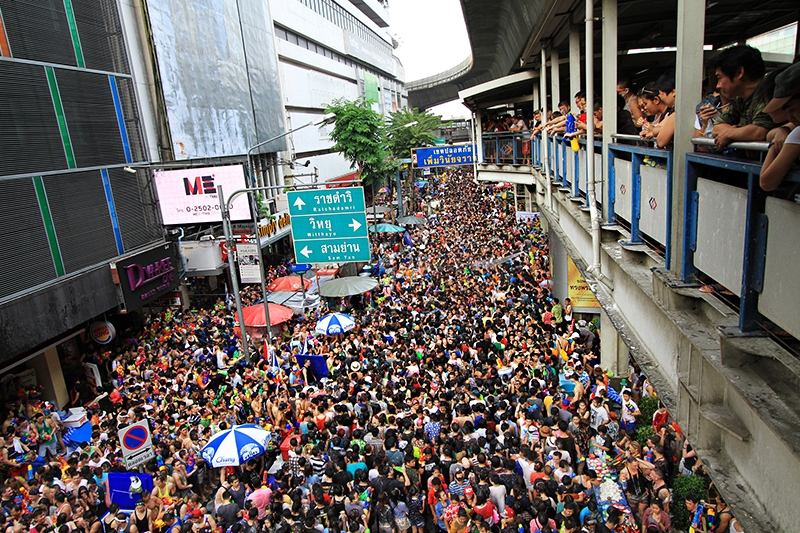 The best places to get some Songkran festival action are the backpackers' area of Khao San Road and Silom, which is in the central business district, with the main water areas covering all the way from Sala Daeng to Narathiwat.
Find cheap hotels near Khao San Road, from A$ 12
Be sure to be dressed appropriately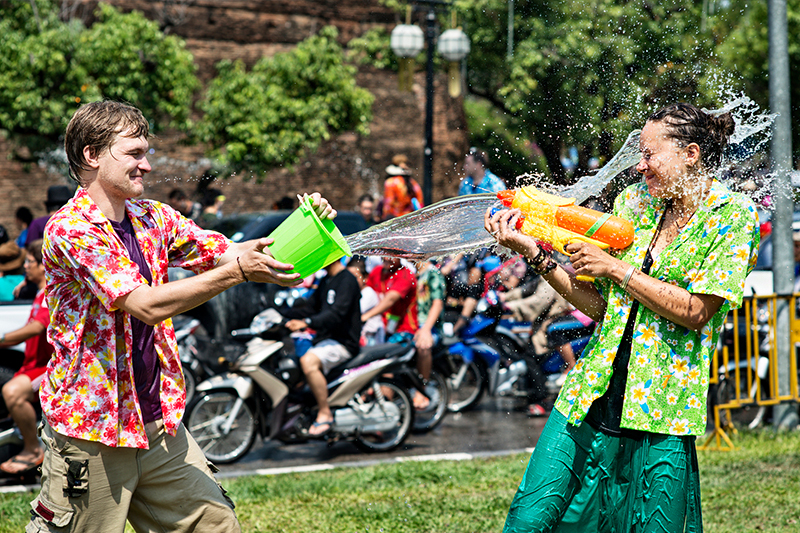 The best clothes would be whatever you would feel most comfortable with should you have to jump into a pool with your clothes on. A swimming costume under a T-shirt and shorts are recommended, though not short shorts, as Thailand is still relatively conservative outside of major party areas, especially during the day, and 'indecent' dressing is frowned upon. A man was once heavily fined for wearing nothing but shorts during the holiday.  The Songkran festival is fun, but it's not considered an excuse to run around town in just your cozzie.
Protect your digital gadgets from water
Make sure you put your phones, cameras and other gadgets either in a waterproof see-through pouch or in a waterproof diving bag. Also, be protective of your belongings, as pickpocketing is still a problem to be wary of during this time. Never leave your belongings unprotected. Leave your stuff in a safe or locker back at the hotel if you have to.
Don't forget eye protection!
Get a pair of safety glasses or goggles to protect your eyes from all the watery onslaught!
In case you lose your friends in the crowd…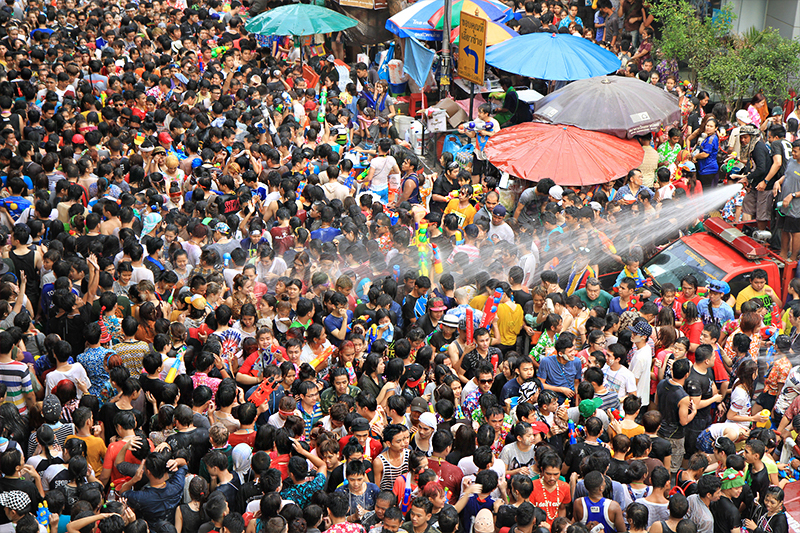 Work out a plan with friends to meet somewhere familiar away from the main water fight area at a certain time should you get separated from each other some time during the day, especially if you don't have your phones on you, don't have cellular service, or if one of you run out of battery.
Many people will be drinking alcohol during the festivities
If you will be doing so as well, just remember to pace yourself and drink lots of water as dehydration, as the heat of Thailand's tropical weather and lack of food intake during this time could have you feeling tipsy earlier than you normally would.
Believe it or not, not everyone wants to join in the Songkran Festival
Whatever reasons they may have, it's better to be respectful of the wishes of others. Survey before you spray. Use your instincts to see whether someone may not appreciate being splashed with water, especially if it looks like they're not dressed for it and are trying their hardest not to get wet. If you're one of them, and holing up in the hotel is not an option (and it shouldn't be), you can avoid heavy water war zones by keeping to shopping malls and movie cinemas, and by getting to them in closed, air-conditioned vehicles. You can also head to one of the temples to see Songkran being celebrated in a more traditional, less wet way – with sand. During Songkran, monks build sand chedis – replica pagodas that are definitely a dryer way to appreciate the festival.
Find cheap flights to Bangkok* Book cheap hotels in Bangkok*
*Note: These rates are based on search queries made on KAYAK.com.au on 26 March 2018. The prices are quoted in AUD. Flight prices are based on results for a return economy flight search. Hotel prices are for double occupancy and include taxes and fees. Prices are subject to change, may vary, or no longer be available.