Start your sakura adventure in ultra-modern Tokyo or classy Kyoto.
It's that time of year. With the forecast from the Japan Meteorological Corporation (JMC), horticulturalists and flower enthusiasts the world over turn their eyes eastward for the announcement of this year's cherry blossom flowering dates. An annual Japanese tradition now stretching back hundreds of years, the Cherry Blossom Festival is now no longer limited to Japan. With so many cities getting in on the festivities, this could be your year to catch a glimpse of the striking bloom of sakura!
Find flights from Sydney to Tokyo on KAYAK.com.au
Tokyo

Tokyo is a city with a mix of modern and traditional vibes, and that extends to cherry tree viewing. This year, Tokyo's cherry trees are expected to flower on March 23, with the best views on March 30. The city has an abundant array of cherry blossom viewing spots, ranging from urban walkways to verdant parks. With its numerous blossom-viewing points and captivating festivals, Tokyo is the place to be during the cherry blossom season.
Ueno Onshi Park
Ueno Onshi Park is one of the most popular and busiest places during sakura season in Tokyo. With nearly 1,200 cherry trees, mainly of the 'Someiyoshino' and 'Yamazakura' varieties, you'll have your choice of pink and white cherry blossoms as a backdrop for your picnic in the park. The park also welcomes the flowering season with the Ueno Cherry Blossom Festival in late March, for which around 1,000 lanterns will be illuminated at night, lending a golden glow to the surrounding blossoms.
Accommodation: Centurion Hotel Ueno
This hotel is a quick 9-minute walk from Ueno Park, but with public transportation available nearby, the entire city is accessible. In the vicinity is a lively neighbourhood with restaurants, while the Tokyo National Museum and Akihabara Electric Town are also nearby.
Find cheap flights to Tokyo Book a stay at Centurion Hotel Ueno
Shinjuku Gyoen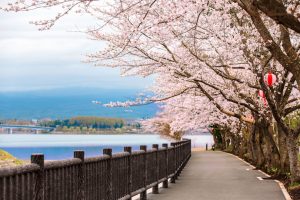 Located in central Tokyo, Shinjuku Gyoen is a slightly less hectic viewing spot which nonetheless affords great views of the blossoming trees. With a size of 58 hectares, Shinjuku Gyoen contains over a thousand cherry trees, of more than 70 different species, all blooming at different times. The variable blooming times mean that at any visit to Shinjuku Gyoen you may experience different colours and shades of blossoming trees – a rotating kaleidoscope of pink and white. Enjoy the peaceful ambience of the three gardens – the English garden, French garden, and Japanese garden, under the beautiful shade of blossoming trees.
Accommodation: Premier Hotel-cabin-shinjuku
Located a 20-minute drive from Shinjuku Gyoen, this hotel is located in the Kabukicho area, perfect for eating, shopping, and nightlife.
Find cheap flights to Tokyo Book a stay at Premier Hotel-cabin-shinjuku
 Chidorigafuchi-Ryokudo Walkway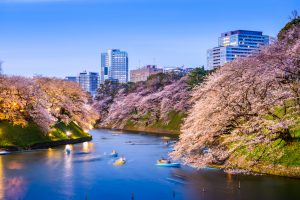 Located in Chiyoda Ward, this 700m long promenade along the moat of the Imperial Palace stretches from Yatsukuni to Uchibori Dori.  The walkway, lined with 260-odd cherry trees, is one of the best places in which to embrace the tinted beauty of cherry petals in Tokyo. For a better view, hire a rowboat at the Chidorigafuchi Boat Arena nearby and paddle over the water for a water-based perspective. Don't forget to hit the spot during the Sakura Matsuri Festival in late March for an illuminated view!
Accommodation: Hotel Sunroute Shinbashi
At twenty minutes by car, this hotel might not be the closest choice for the Chidorigafuchi, but its location in the city-centre, near to the famous Tokyo Tower as well as the shops and restaurants of the Ginza district, makes it a great option.
Find cheap flights to Tokyo Book a stay at Hotel Sunroute Shimbashi
Kyoto
Kyoto is said to have the most diverse cherry blossom displays in Japan, and is a popular place to see so-called 'weeping cherry trees'. Kyoto's elegant historical buildings and streets provide a beautiful background for the blooming trees. This year, Kyoto's cherries are expected to flower on March 25 and reach full bloom on April 2.
Arashiyama

Outside the busy streets of Kyoto is Arashiyama. Here the cherry trees start as soon as you debark from the train platform, and extend in all directions: up into the mountains, around Tenryuji temple, into the Nakanoshima Park, and in particular, all around Togetsukyo Bridge. The Torokko Romantic Train (also known as the Sangano Scenic Railway) is a popular way of admiring the wild cherry blossoms as you relax on a 25-minute journey.
Accommodation: Hotel Keihan Kyoto Grande
This hotel is situated right in front of the Kyoto Station which conveniently brings travellers to Saga-Arashiyama Station via San-In Line in just 23 mins. Located in the vibrant neighbourhood of Minami, it's a 6-minute walk to Kyoto Tower, the tallest structure of the city and an 18-minute walk to the historic Toji Temple.
Find cheap flights to Tokyo Book a stay at Hotel Keihan Kyoto Grande
Kyoto Maruyama Park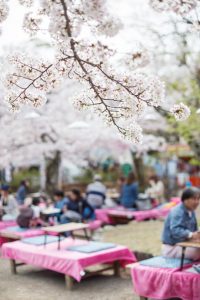 The walking path from the entrance of the Maruyama Park to the Yasaka Shrine is lined with cherry trees on both sides. These include a number of weeping cherry trees, including one 4-metre beauty known as 'the Queen of Sakura', which is claimed to be over 200 years old. The park is known as an excellent picnic spot, and for its many street food vendors. Looking for romance? Pay a visit to the Shrine for good luck in your relationships, and enjoy the blossoms at night, when they're lit up for an even more enchanting look.
Accommodation: Hotel Sunline Kyoto Gion Shijo
Located at one of the entrances to Maruyama Park, it's a 5-minute walk to the centre of the park. There is also a lively shopping and dining scene in the vicinity, with many historical landmarks such as Kiyomizu Temple, Heian Shrine, and Sanjusangendo Temple within a 15-20 minutes' radius.
Find cheap flights to Tokyo Book a stay at Hotel Sunline Kyoto Gion Shijyo
Daigoji Temple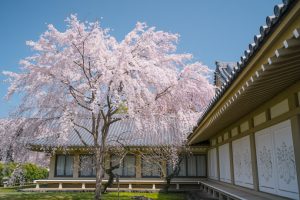 Daigoji is a world cultural heritage monument with around 1,000 cherry trees on its grounds. As well as some outstanding weeping cherry trees, it's known for its wide variety of cherry species including the Yoshino Cherry, Taiwan Cherry, and Yaezakura. The Sanboin, Shimo Daigo, Reihokan Museum, and Kami Daigo are all major blossom viewing points.
Accommodation: Hotel Brighton City Kyoto Yamashina
This hotel is around 25 minutes from Daigoji Temple. Located in a quiet yet self-sufficient neighbourhood in Yamashina, finding dining and shopping options should not be a problem. The hotel itself offers a sauna and spa for you to indulge in, while historical Kyoto landmarks including the Heian Shrine and Sanjusangendo Temple are also nearby for easy visiting.
Find cheap flights to Tokyo Book a stay at Hotel Brighton City Kyoto Yamashina