When we think of cherry blossoms or sakura, the first country that comes to mind is Japan. The 'Hanami' or the cherry blossom viewing festival is one of the most important events in the country as it marks the advent of spring.
Japan's neighbouring countries such as South Korea and Taiwan also observe the popular and much-awaited cherry blossom season each year. As the dainty pink and white flowers signal the onset of spring, hearts across Asia are full of hope, new beginnings, and optimism for the remaining year. So, which one of these countries will you pick for your next trip?
Cherry Blossoms in Taiwan
With warm weather and beautiful sights, a romantic sakura-viewing voyage to Taiwan is an excellent way to start your spring. In Taiwan, the cherry blossoms are not as readily visible as in other countries. They are relatively inconspicuous and are ornamental, appearing in particular spots rather than lining the streets.
Taiwan is divided into the eastern, central and northern regions. The predicted flowering period is mainly from February to April. There are a few iconic places from where the cherry blossoms can be viewed in the best manner. To help you glean the most out of this surreal experience, we have some recommendations for the best viewing spots in Taiwan!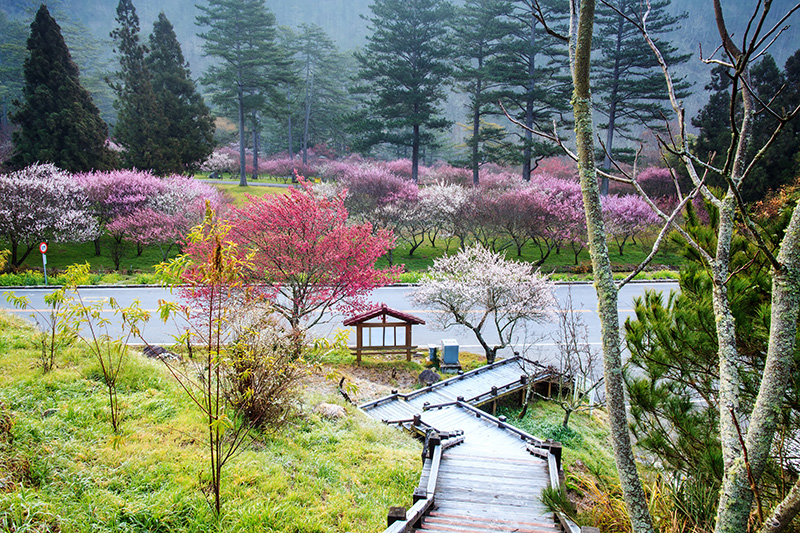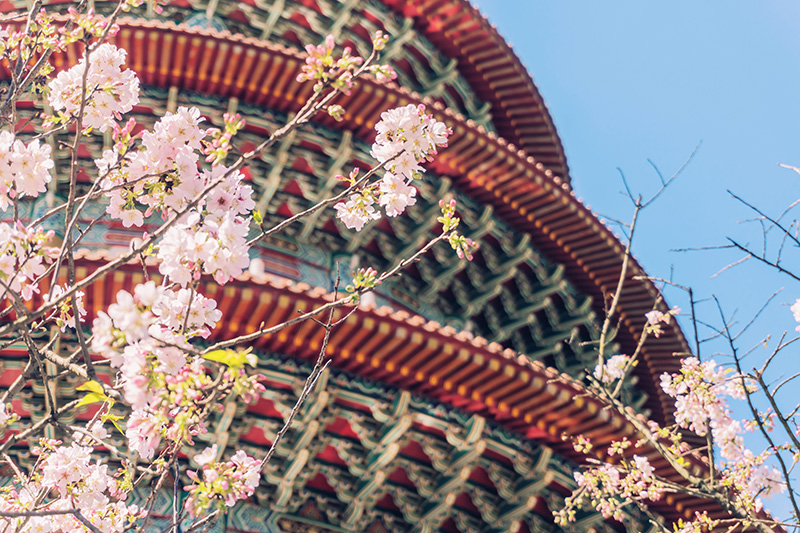 2019 Taiwan Cherry Blossom Events:
Address: No. 6, Section 4, Taiya Road, Datong Township
If you're looking for a restful corner to kick back in, Makauy Ecological Park is what you are looking for. Here, the Oshima sakura or white cherry blossoms cover the mountains in a blanket of pristine ivory. This idyllic and stunning sight can be observed from the comfort of a secluded and quiet mountain village, making it a tranquil way to get your cherry blossom fix.
Central Taiwan: Nantou Formosan Aboriginal Culture Village Cherry Blossom Festival | 5th – 29th February 2019
Enjoy the night-time cherry blossoms at Formosan Aboriginal Cultural Village. The first night of cherry blossom illuminations continues until eight o'clock in the night for a resplendent sigh of luscious flowers.
South: Chiayi | 9 March – 15 April 2019
Get ready for a train ride through thousands of cherry blossom trees at Alishan Forest Recreation Area. Watch in awe as you ride the popular red train through the forestland covered in innumerable types of vibrant cherry blossoms.
Find cheap flights to Taiwan* Book cheap hotels in Taiwan*
Cherry Blossoms in Korea
South Korea, the land of tranquillity and panoramic mountain views, is well-known for the burgeoning popularity of its reverential K-dramas and splendidly-scenic natural landscape. The country sees the cherry blossoms flower for a relatively short period – hence the time is one of festivities and spring cheer marking the beginning of a grand celebration.
The festivities begin with booths lining the streets and small markets selling local wares and street food, while revellers take selfies and leisurely strolls under the blossom trees with their loved ones. The festive and cheerful atmosphere spread a contagious joy across the entire country that makes this the perfect time of year for a trip to Korea.
2019 Korean Cherry Blossom Events:
Sakura Marathon – Bodeok-dong, Gyeongju | 6 April 2019
A way to remember and pay homage to the advent of spring is to phase into this new chapter with a happy and healthy body. The Gyeongju Sakura Marathon is a popular event that takes place once the sakura is in full bloom. Its significance is layered in the onset of spring as a way to welcome a hopeful year covered in soft pink petals of the cherry blossoms, and embrace the arrival of spring. The runners are rewarded with medals for their effort and the event is like a spring picnic enjoyed by both locals and travellers.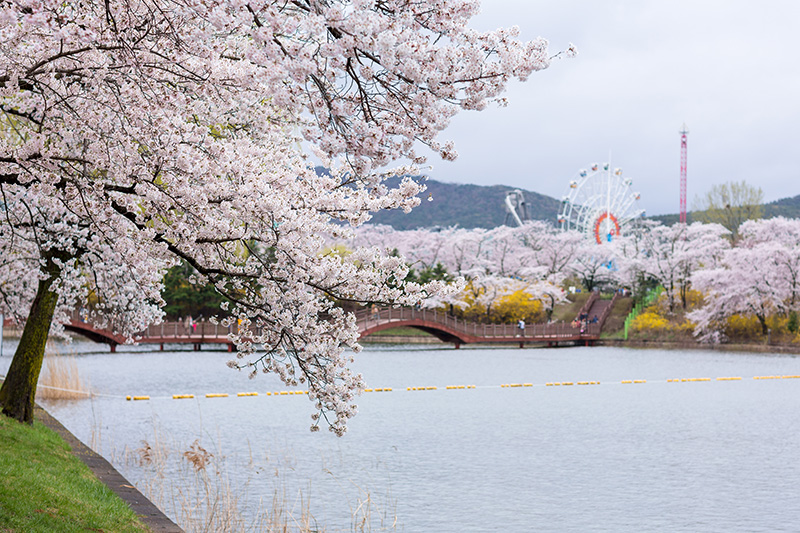 Interested in more marathons? Here are 5 of the most unique marathons around the world.
Jeju Island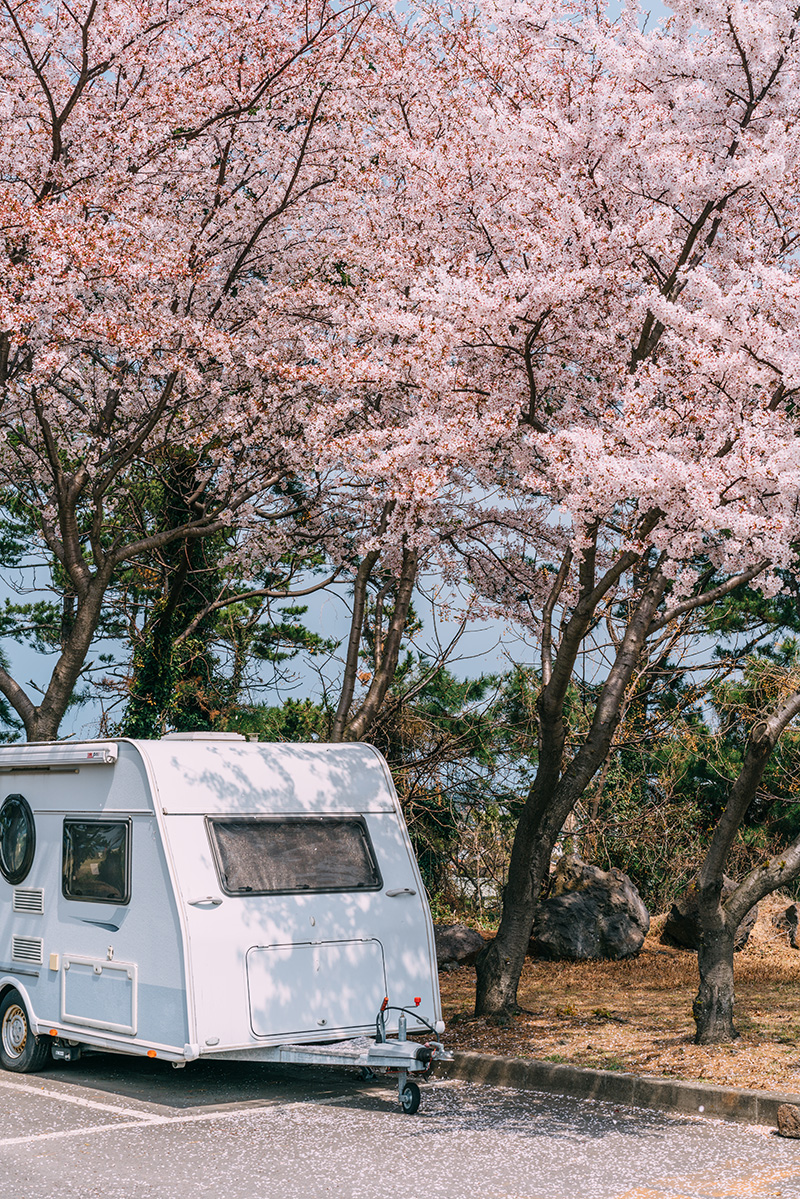 Jeju-do is where you can view the majestic King Cherry trees in full bloom for a vivid sight; these flowers are special due to their large size and deep pigment. Blooming for just two to three days, the sights can also be viewed from the top of Hallasan or Halla Mountain.
Seoul, Anyangcheon Cherry Blossom Walk
Take the walking tour to view the cherry blossoms in Seoul. Just as the locals do, you can see cherry blossoms when you exit any one of the subway stations on the tour. Subway stations along the way include Xianyou Island, Yangping, Daolinchuan, Jiuyi, Jiashan Digital Park, Balshan, and Luanchuan District Office Station.
https://www.instagram.com/p/BSz80T9h0-t/
You may also like:
The spiciest foods you can eat in Asia
Travel like a royal: Discover Asia's beautiful hotel bathrooms
Find cheap flights to Korea* Book cheap hotels in Korea*
Cherry Blossoms in Japan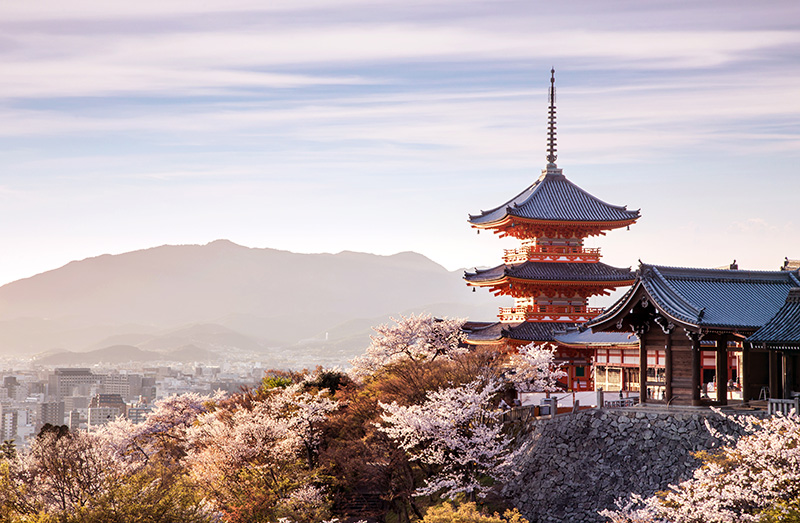 Japan is thriving with luxurious cherry blossoms during spring and for the locals, it is quite an important event that marks a new beginning. The arrival of cherry blossoms is thought to be linked to prosperity, renewal, and at the same time hints at the ephemeral nature of life. Besides the alluring beauty of its soft flowers, the cherry blossom is a beacon of joy and hope for the Japanese people.  
If you want to see authentic Japanese cherry blossoms, the best way to go about it is to visit the spots that are most popular with locals. Some of these include places such as Heian Shrine, Nijo Castle, and Lushan in Kyoto, Mt. Osaka and Osaka City Park, and Fujiwara Palace & Mount Yoshino or Yoshinoyama in Nara prefecture.
For the best experience, bring your own bottle of sake to have a picnic whilst relaxing under the cherry blossom trees to spend a memorable time with friends and family.
2019 Japanese Cherry Blossom Events:
Cherry Blossoms along Kyoto Gion Road | 28 March 2019
Gion Road is one of the most famous places in Japan known for being a geisha district set in a historical town. The place will transport you back in time with its traditional wooden establishments and expensive teahouses. During Hanami, the streets are lined with blooming sakura trees while the merrymakers enjoy both the traditional connotations and the natural landscape.
Sakura watch with deer at Nara Park | 31 March 2019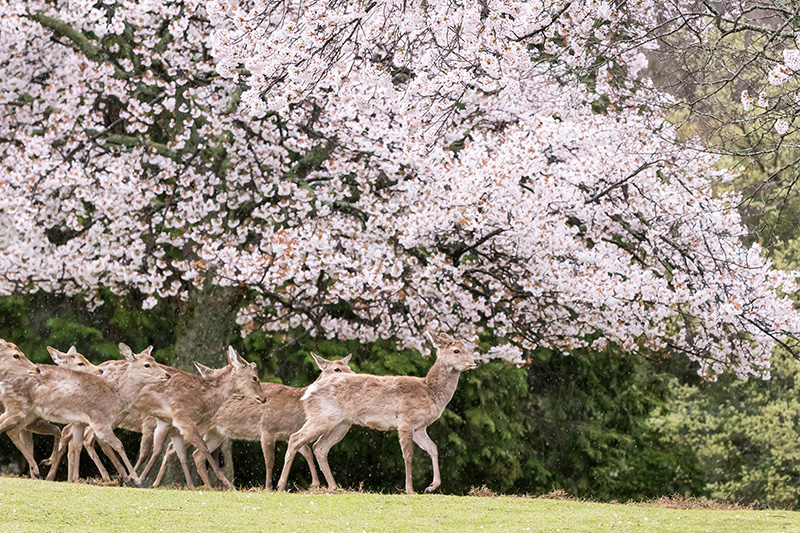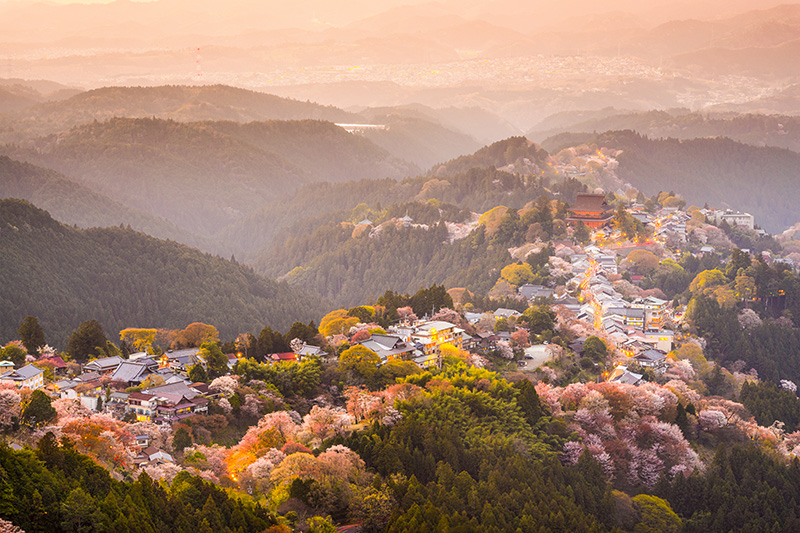 During the cherry blossom season, Nara Park is a must-visit destination as it has animals, sakura, and picnickers all in the same place. Travellers gather here to feed the deer, meet people from across the world, and delight in the warmth of a spring evening. Here, it's not only about observing the serene and effervescent sakura trees, but just as much about enjoying the company of others, both animal and human.  
Things to know:
How do the Japanese truly observe the beautiful Hanami or cherry blossom festival?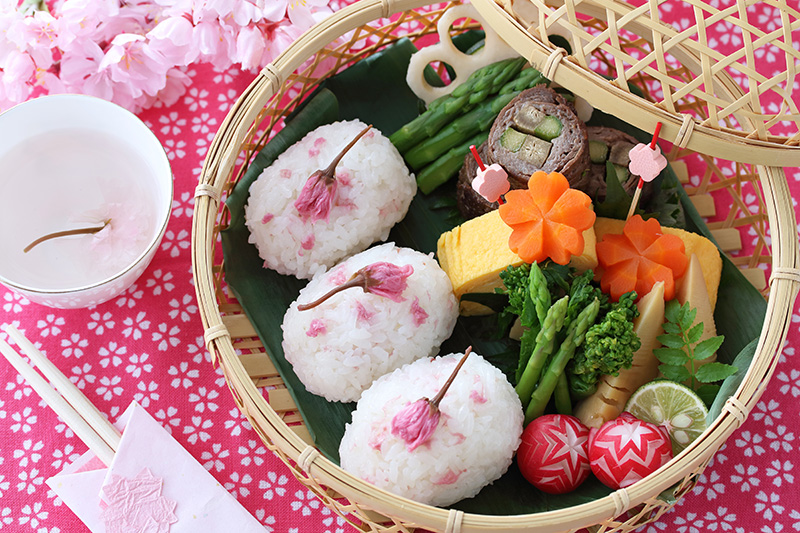 1)    Watch the flowers as they fall into the water. As petals drift down and stick on the surface, entire bodies of water change to pink, resembling a floating flower raft.
2)    People don't simply see the sakura – they also taste the flowers. During the festival, you'll find sakura-flavoured mochi, tea, cakes and of course, sake.
3)    The Fuji Sakura Festival in the suburbs of Tokyo and the Sakura Park in Hokkaido see the cherry blossoms laid out on the ground while the mountains are awash with the flowers creating an expansive pink carpet for a mesmerising experience. It is truly a sight to behold and if you raise your head, you'd think you dropped an ink-pen.
4)    Visit the 'Three Great Sakura Trees' in Japan that are thousands of years old and feature distinct sakura flowers such as the cascading sakura or the white sakura.
5)    The cherry blossom festival ends with just as much pomp as it begins: expect wine, music, fireworks, and street fairs. A ubiquitous sense of belonging, good cheer, and the signalling of spring is ever so strong and enveloping.
As they say, when in Japan, do as the Japanese…therefore, here are a few expert ways to take that winning cherry blossom shot!
    

Firstly, get your cameras and selfie sticks at the ready;

    

For a smooth shot, put the self-timer on and choose your subject;

    

A picture taken at the penultimate sunset hour (around 4-5 PM) is bound to be beautiful, especially for portraits;

    

Choose a beautiful kimono and position yourself in front of the cherry blossoms in a relatively uncrowded place; and finally,

    

Employ the depth effect – try to blur the background with a hint of cherry blossoms or a famous landmark surreptitiously placed behind you!
Find cheap flights to Japan* Book cheap hotels in Japan*
You may also like:
Pray for love in these Asian temples
Your guide to seeing Japan's Autumn leaves
Still need more? Check our last year's guides to Sakura season in Taiwan, around Japan, and Tokyo-Kyoto for more blossom-viewing tips.
*Note: These rates are based on search queries made on KAYAK.com.au on 1 March 2019. The prices are quoted in AUD. Flight prices are based on results for a return economy flight search. Hotel prices are for double occupancy and include taxes and fees. Prices are subject to change, may vary, or no longer be available.