Aussies are fond travellers, especially overseas, but exploring our own backyard can be just as satisfying. Postcard perfect beaches, quaint country towns, idyllic lakeside locations (and a tonne of red dirt), Australia is a sunburnt country with plenty on offer, and with the Australia Day long weekend coming up fast, escaping the crowds needn't be a challenge – the trick is knowing where to go. To guarantee a holiday like no other, we've put together our top seven hideaway locations that will be the envy of everyone on Instagram this summer.
Nabowla, TAS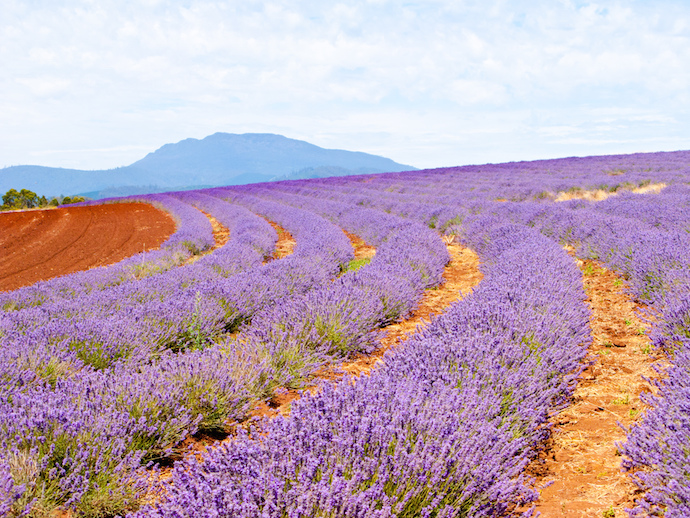 Nabowla is an unsuspecting country town situated in Tasmania's north east, about 55 kilometres from Launceston. It is Provence next door: while it may be quiet and sleepy, it is home to one of Australia's most awe-inspiring landscapes. No more fields of barley – Aussies should say hello to fields of lavender that span more than 260 acres! With purple flowers blooming as far as the eye can see, Bridestowe Lavender Estate is arguably one of Tasmania's best kept secrets, particularly at sunset.
Find cheap flights to Launceston Book cheap hotels in Launceston Book cheap cars from Launceston
Atherton Tablelands, QLD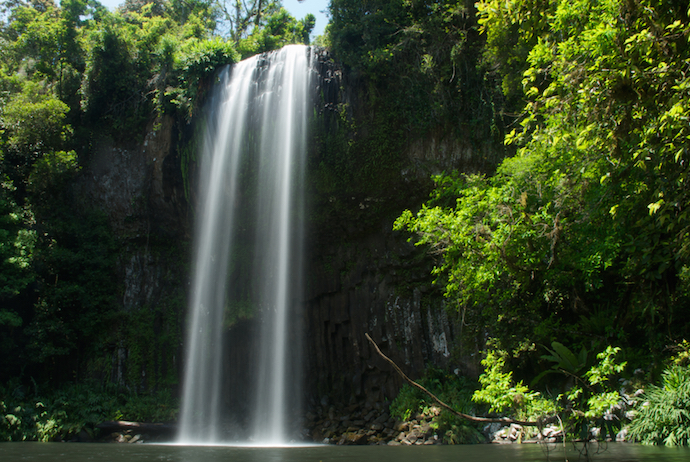 When visiting Cairns it's easy to get distracted by the Great Barrier Reef. There is, however, much more to Cairns than finding Nemo. The Atherton Tablelands is the food bowl of the tropics – here travellers can taste test some of Australia's most mouth-watering exotic fruits, like the ooray plum or lillypilly rainforest berries. The Tablelands is also home to a number of waterfalls and gorges, such as Milla Milla Falls – the ideal spot for a dip in scorching heat. Visitors can spend the day driving from one waterfall to the next, making sure they don't miss the spectacular Curtain Fig Tree – it's one of the largest trees in all of Tropical North Queensland!
Find cheap flights to Cairns Book cheap hotels in Cairns Book cheap cars from Cairns
White's Beach, NSW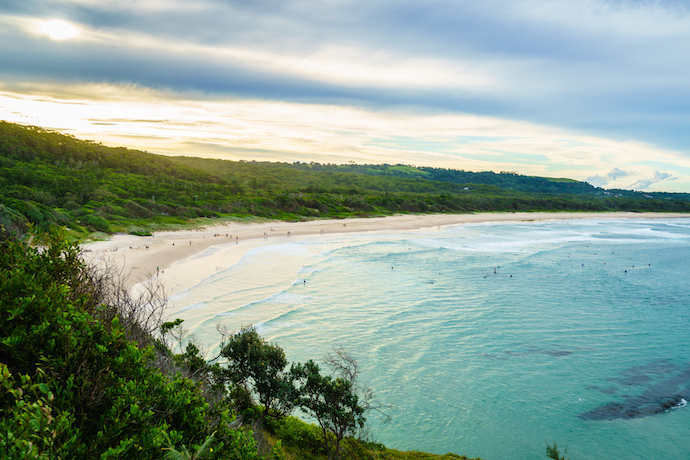 When it comes to breathtaking beaches, it's hard to look past this Byron Bay gem. White's Beach is tucked away at Broken Head and is really only known to locals. While it's a little hard to get to (accessible only via an old dirt track), this beach is a must-see and the perfect place to chill and escape from the daily routine. As its name implies, the beach has stunning white sand and irresistible blue water. Where the rainforest meets the sea, it feels a world away at White's Beach.
Find cheap flights to Ballina Book cheap hotels in Byron Bay Book cheap cars from Ballina
Karijini National Park, WA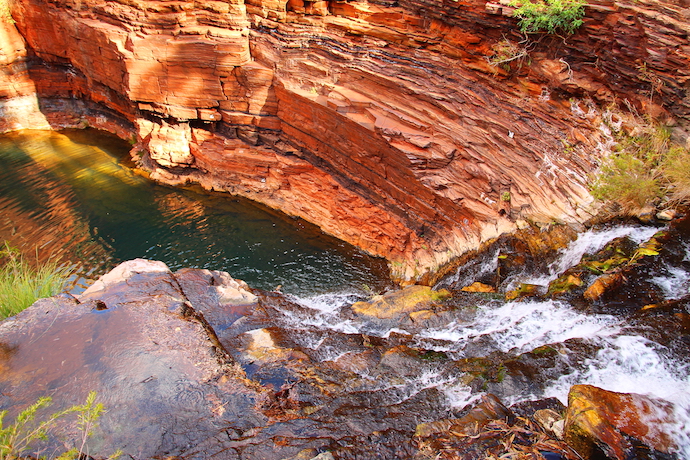 The rugged red rocks and secret waterholes of Karijini National Park are so striking that Aussies will want to jump on the next flight to Port Hedland. Giant mountains tower over dust-filled valleys more than 2,500 million years old. After appreciating this grand landscape, travellers can find respite from the heat at one of Karijini's many swimming spots, like Fern Pool or Fortescue Falls.
Find cheap flights to Karijini National Park Book cheap hotels in Karijini National Park Book cheap cars to Karijini National Park
Cape Leveque, WA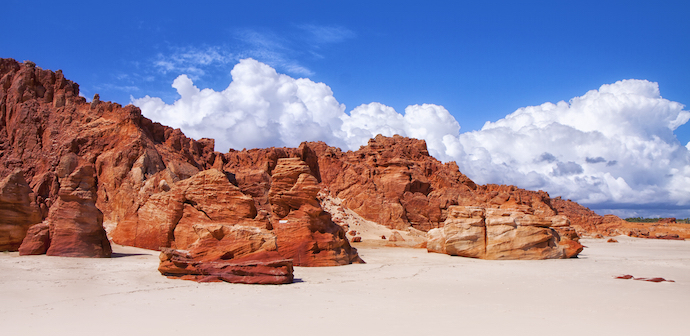 Cape Leveque, the northernmost tip of the Dampier Peninsula, has to be one of the Kimberley's most magical destinations. Where vibrant red rock cloaks the coastline, Cape Leveque won't be a secret for long and is well-worth the bumpy 3 hour drive north of Broome (note: a 4WD is necessary at this stage – the road is in the process of being sealed). With wild turtles and seabirds in abundance, it's an unbeatable location for wildlife lovers. Fishermen will also love it here, with plenty of barramundi ready for the taking in the nearby Timor Sea. If they're lucky, travellers might even catch a glimpse of baby whales that splash about during breeding season.
Find cheap flights to Broome Book cheap hotels in Cape Leveque Book cheap cars from Broome
Grampians National Park, VIC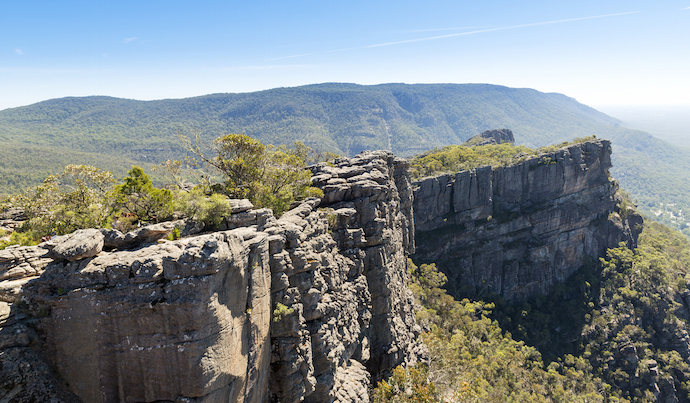 The Grampians are one of Australia's ultimate destinations for adventure-seekers. The dramatic earth movements of years gone by have given birth to rugged mountain ranges and steep sandstone ridges. The best way to explore it? On foot! Taking a walk amongst wildflowers or, those seeking more of a challenge can hike their way through the Grand Canyon to The Pinnacle where they will be rewarded with a spine-tingling view of Mt. Abrupt. A 3.5 hour drive from Melbourne, the Grampians is great for peace and quiet – travellers can truly leave the hustle and bustle of the city behind.
Find cheap flights to Melbourne Book cheap hotels in Grampians National Park Book cheap cars from Melbourne
Tamar Valley Wine Region, TAS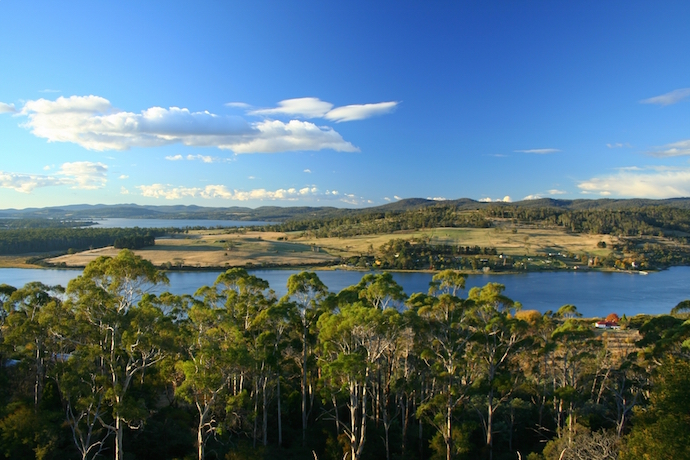 While every man and his dog heads to the Hunter Valley or the Barossa, jump on a plane to Tassie for a taste of Tamar. The Tamar Valley is Tasmania's premier wine producing region – chardonnays, sparklings and pinot noirs are all impressive local drops! This lush, fertile valley is also home to Australia's longest tidal river which stretches 65 kilometres – all the way to Launceston. In fact, driving the wine route is a destination in itself, with a tonne of places to stop off – including Tamar Wetlands Reserve, Hillwood Strawberry Farm (where visitors can pick their own berries!), Ashgrove Cheese Factory as well as Boag's Brewery for beer fanatics. Best of all, nature lovers can lose themselves in one of the many orchards and pristine pastures.
Find cheap flights to Launceston Book cheap hotels in Launceston Book cheap cars from Launceston
Main image credit: ©Silken Photography/shutterstock.com
Also Read>> Amazing Australia: 5 things you didn't know about Darwin