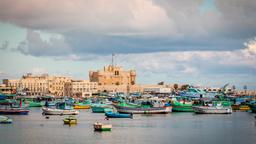 Hotels near Alexandria Borg El Arab airport
Search hundreds of travel sites at once for Alexandria Borg El Arab airport hotels
Best hotels near Alexandria Borg El Arab airport
Based on 363 reviews
All
Families
Couples
Groups
Solo travellers
Business travellers
Cleanliness
8.8
Comfort
8.9
Location
8.2
Services
8.6
Staff
8.7
Cleanliness
8.9
Comfort
9.0
Location
8.2
Services
8.7
Staff
8.6
Cleanliness
8.7
Comfort
8.7
Location
8.1
Services
8.4
Staff
8.7
Cleanliness
9.0
Comfort
9.1
Location
8.3
Services
8.8
Staff
8.8
Cleanliness
8.8
Comfort
8.8
Location
8.0
Services
8.7
Staff
8.8
Cleanliness
8.8
Comfort
8.8
Location
8.0
Services
8.8
Staff
8.7
---
Pros:
Freshly cooked omelette
Cons:
No Orange Marmalade
Based on 255 reviews
All
Families with older children
Families with young children
Families
Couples
Groups
Solo travellers
Business travellers
Cleanliness
8.3
Comfort
8.3
Facilities
8.8
Food
8.2
Location
6.9
Cleanliness
10.0
Comfort
10.0
Facilities
10.0
Location
10.0
Overall
10.0
Cleanliness
8.5
Facilities
6.5
Food
6.5
Location
6.5
Overall
6.5
Cleanliness
8.3
Comfort
8.1
Location
6.7
Services
7.8
Staff
8.4
Cleanliness
8.4
Comfort
8.6
Location
7.3
Services
7.9
Staff
8.2
Cleanliness
7.6
Comfort
8.3
Location
5.9
Services
7.4
Staff
7.8
Cleanliness
8.7
Comfort
8.4
Location
7.4
Services
8.0
Staff
8.2
Cleanliness
8.3
Comfort
8.3
Location
7.0
Services
7.8
Staff
8.2
---
Pros:
Everything else was perfect
Cons:
Breakfast starts at 6:30 and not earlier
Pros:
the room was spacious , the food ordered through the room service was excellent , the staff were helpful
Cons:
the rooms are dusty especially the cupboards & hangers , the floor need to be vacuumed ,there is no enough shampoo & shower gel thank god we had ours , the corridors need to be vacuumed , you can smell in the corridors a fish like odour although the hotel is located in a compound in an industrial area & not near the sea ,the rooms need to be renovated & the pillows are a nightmare . the breakfast was a poor open buffet with little varieties , during checkout they didn't give us an invoice, although they collected from us all taxes needed ,they gave us just a statement with the extras, Thank God we upgraded to superior room with pool view I wonder what would it be like the standards room.
Cons:
Not clean Very old furniture To expensive for such a bad hotel
Cons:
The room were outdated need renovation and new modern furnitures. Bathroom toilet get stuck when flushing need maintenance. The hotel location is Isolated no uber or careem services reach there. And Taxi to Butj Alarab Airport by hotel is very expensive! Don't count on it. All in all over priced accommodation
It was okay.
Pros:
Very respected staff , polite , fast . very clean rooms very nice delicious food
Based on 0 reviews
Pros:
Breakfast was ok...with the same menu everyday....though they did change something upon request.....the room had some lovely views towards the beach and sea....The receptionists were helpful.
Cons:
Cleanliness need to be improved definitely. The actual hotel location and getting to the hotel.
Pros:
Nice place and very friendly and helpful staff.
Pros:
Special thanks Mr. Ayed - عياد -, Mr Mina -مينا-and Mrs Ghalia -غالية-at the reception. Sea view from the room is good. Thanks room service team!
Cons:
1. Cleanliness of the swimming pool is so bad. Nasty one 😳. 2. Old furniture. Most of electrical equipments need maintenance. 3. Hard to reach to the hotel ( Very Bad Road to the hotel ). 4. No parking space available. 5. Side view around the hotel is so bad. 6. Bad smell and view of some rooms so that I had to relocate many times to another rooms. 7. Facilities to and in the hotel are too bad.
Pros:
Very good beach view - good comfortable room - good hotel - fair breakfast
Cons:
Hotel Lunch "not fresh meat" tasted very bad / the road to the hotel is unpleasant
Pros:
It was fairly clean in the room
Cons:
The hotel is very hidden took us a long time to find it we had to go on lots of different dirt roads to get there very scary at night. Lots of noise at night could not sleep because of it. As soon as we went into the hotel it smelt very very bad couldn't tolerate it that may be due to the shisha lounge in their restaurant. There are no amenities around. When we ordered food from there restaurant it took nearly an hour to get our meal
FAQs when booking a hotel near Alexandria Borg El Arab airport
How much is a cheap hotel near Alexandria Borg El Arab airport?
How much is a cheap hotel near Alexandria Borg El Arab airport for tonight?
How can I find hotels near Alexandria Borg El Arab airport?
Where to stay in Alexandria?
Our map will help you find the perfect place to stay close to Alexandria Borg El Arab airport by showing you the exact location of each hotel.