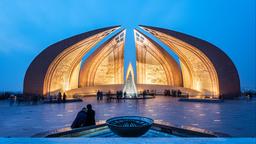 Hotels near Islamabad Intl airport
Search hundreds of travel sites at once for Islamabad Intl airport hotels
Best hotels near Islamabad Intl airport
Based on 30 reviews
All
Families
Couples
Groups
Solo travellers
Business travellers
Cleanliness
8.2
Comfort
7.6
Location
7.8
Services
7.5
Staff
8.0
Cleanliness
7.5
Comfort
8.2
Location
8.6
Services
7.5
Staff
7.8
Cleanliness
8.8
Comfort
8.3
Location
8.3
Services
8.3
Staff
8.8
Cleanliness
8.8
Comfort
8.8
Location
7.5
Services
7.5
Staff
7.5
Cleanliness
8.2
Comfort
6.8
Location
7.3
Services
7.1
Staff
7.9
Cleanliness
7.9
Comfort
7.1
Location
7.1
Services
7.1
Staff
7.8
---
Pros:
Area and location is good
Cons:
Room is good and staff is very good
Pros:
Hotel was clean and in Markaz so restaurant and Masjid near by.
Cons:
I book with my Credit card and cost was 4400, they say it is non refundable, which mean once you book you cannot cancel or change. when I reach hotel front desk ask me to pay 5300, i told them price on website but they says this is price. I told them to charge on my Credit card they were asking for 2.5% extra if I charge on Credit Cards, which was very un professional and feel cheated at arrival.
Based on 175 reviews
All
Families
Young couples
Couples
Groups
Solo travellers
Business travellers
Cleanliness
7.5
Comfort
7.3
Location
8.0
Overall
6.5
Services
6.9
Cleanliness
7.5
Comfort
7.4
Location
7.9
Services
6.8
Staff
7.4
Cleanliness
8.0
Location
8.0
Overall
8.0
Staff
10.0
Value for money
8.0
Cleanliness
7.3
Comfort
7.2
Location
8.2
Services
7.1
Staff
6.9
Cleanliness
8.1
Comfort
7.5
Location
8.2
Services
7.4
Staff
7.0
Cleanliness
7.4
Comfort
7.0
Location
7.9
Overall
5.0
Services
6.3
Cleanliness
7.7
Comfort
7.4
Location
8.0
Services
6.7
Staff
7.2
---
Pros:
Breakfast was very good and location too
Cons:
Room tv should by android
Pros:
Location and property pretental and near by walking distance to restaurant and shops
Cons:
Not cleaned and very old not suitable
Pros:
Cooperative behavior of staff
Cons:
Warm water facility in toilet was not available
Pros:
Breakfast was good. Hot water was available. Good location
Cons:
Staff was not hospitable at all. None of them bothered to help out with our luggage or even speak in a cordial way. They would give curt answers and not provide much detail. While this was still okay, on the second day of our stay, the staff called on the house phone and was quite rude in asking for money and demanded that it be paid instantly even though advance had already been paid for. Least to say this completely ruined our stay and we left the next day only even though our stay initially was for longer Secondly, we were given a room with a balcony. The balcony was extremely dirty with remnants of a dead crow. it was a horrible sight to see. To top this, a huge lizard was also found in our room.
I paid 3500 for no towels, no attach bath, no water (charged 100rs for mineral water, which i thought was included). Seeing as 1 person, they moved me to another guest house which was also named Delano residence and gave me a room which was not as in the picture when i booked. It didn't have an attach bathroom and i had to use community washroom which was really bad. Room had smell of socks/cigarettes smokers. I travel very often to Islamabad, i'll never look at this guest house again as they don't care about solo travelers. Had i paid this amount in Bangkok/Thailand, (from where i came from) i'd have gotten a 3 star hotel for sure which would have basic necessities like towels, bathroom and water (which is no brainer) that too in the heart of Bangkok. Oh not to mention, they say free breakfast and gave me just plain slices with tea. Thats it LOL, no butter/jam just plain slices.
staff is a friendly and nice place to live in the heart of Islamabad
FAQs when booking a hotel near Islamabad Intl airport
How much is a cheap hotel near Islamabad Intl airport?
How much is a cheap hotel near Islamabad Intl airport for tonight?
How can I find hotels near Islamabad Intl airport?
Where to stay in Islamabad?
Our map will help you find the perfect place to stay close to Islamabad Intl airport by showing you the exact location of each hotel.