Being a nerd isn't what it used to be. Far from the classroom slur aimed at anyone who enjoyed reading or (gasp!) needed to wear glasses in order to see well, these days everyone wants to be one. Nerd is cool, and the same goes for geek as well (is there a difference?)
If you're a geek, nerd whizzkid or wonk, you'll be wanting to check out these 4 destinations, guaranteed to fill your craving for out-there history, fantasies and sci-fi adventure.
1. Go back in time with the Ottoman Empire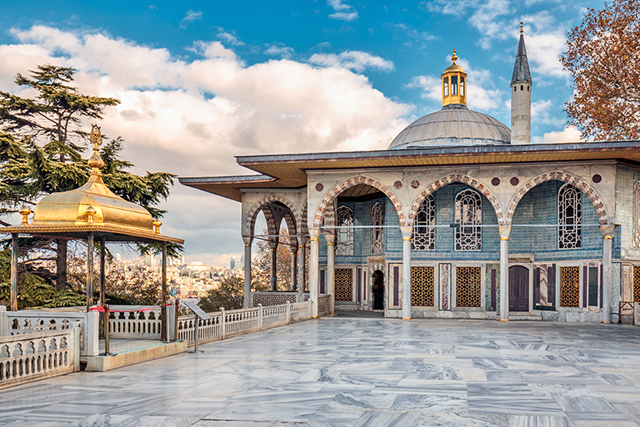 If you're intrigued by Turkish history, the Topkapi Palace will bring you back in time to the Ottoman Empire.
The palace was a political hub between the 15th and 19th centuries. Constructed starting in 1459, just 6 years after the Ottoman conquest of Constantinople, the complex over time became a thriving and functioning city within a city. Many sultans occupied the palace during their reigns for the next 400 years until the Dolmabahce Palace was built.
Explore the Harem, where you'll find complexes of apartments once belonging to the sultan, his wives, concubines, and children, as well as opulent baths. Today, the Harem is a separate museum offering guided tours. The perfect place to brush up your history!
Cheap Return Flights To Istanbul, from A$1068* Grab The Best Hotel Deals At The Sura Hagia Sophia Hotel, from A$89**
2. Dive with bioluminescent sea creatures in Padang Bai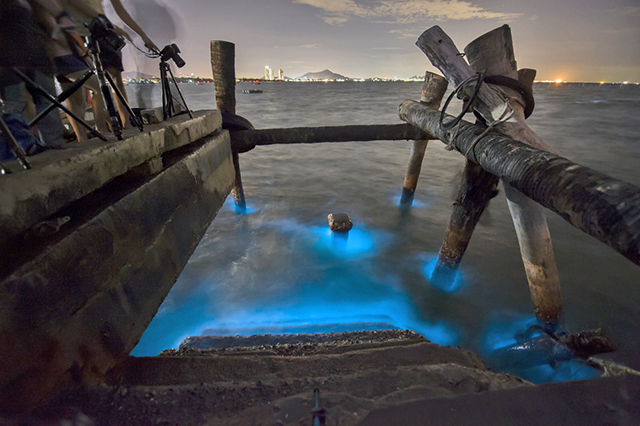 If you're a science nerd with serious wanderlust, there's no better way to scratch your itch for knowledge and adventure than a night dive, and Padang Bai, Bali offers some of the world's most spectacular night diving opportunities. Night diving will give you a chance to witness marine life in a completely different way than during daytime – it's when the ocean lights up.
While you'll dive amongst crabs, nudibranchs, shrimps, octopuses and small reef sharks, you'll also be swimming with bioluminescent plankton that magically light up in the depth of the ocean.
At some point of the dive, you'll need to shield your torch to truly appreciate the light show in the water. Padang Bai is one of the busiest bays in Bali, and is where the public ferry usually crosses from Bali to Lombok.
Top tip: Although you'll be mesmerised by the amazing sights below the waves, it's important not to let your wonder cloud your judgment. There are a few safety tips to keep in mind before diving at night. Always carry two torches. One should be your primary torch and the other your back-up.
When you step into an unfamiliar territory— in this case, the ocean, it's always wise to do some prep beforehand, Check out the dive sites during the day. This way you'll be comfortable with the area and not be too nervous about what you are diving into.
Another useful tip would be to always stick to easy dive sites if you're planning a nocturnal dive. Mother nature can be beautiful, but she is also brutal and unforgiving if not given the proper respect. Currents can be strong and you definitely don't want to get caught and end up in unfamiliar zones.
Cheap return flights to Bali, from A$719* Grab the best hotel deals at Puri Bagus Manggis, from A$76**
3. Take a walk through Lord Sauron's Wasteland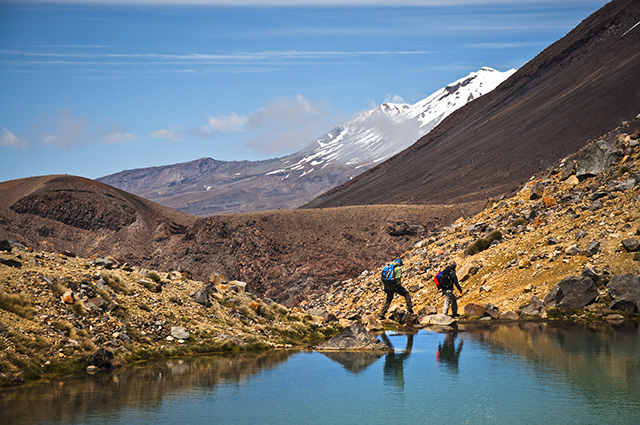 If you're a true nerd, you're probably familiar with the Lord of the Rings. For those of you who are hobbit fans, Tongariro National Park should be right at the top of your wishlist. Known as one of New Zealand's best day-treks, it's also the site where Peter Jackson filmed many of his shots of Mount Doom for the Lord of the Rings films.
Tongariro's many eerie rocky volcanic formations, and its hissing, barren lands make it the ideal setting for dark Lord Sauron and his orc army. It's one thing to see it on film. But to walk and experience it in real life is any nerd's dream come true.
Anyone who has hiked Tongariro will tell you it's not easy, with steep climbs, extreme, unpredictable weather changes and harsh terrain. One moment you'll be walking past a lake and the next you'll be walking through a desert. The wind changes all the time. If the wind is at 60km/hour, it's usually not recommended to go. But if the fate of Middle Earth is on your shoulders, you don't have much of a choice, do you?
Cheap return flights to New Plymouth,  from A$565* Grab the best hotel deals at the Chateau Tongariro Hotel, from A$181**
4. Anime, futuristic concept cars and science museums in Odaiba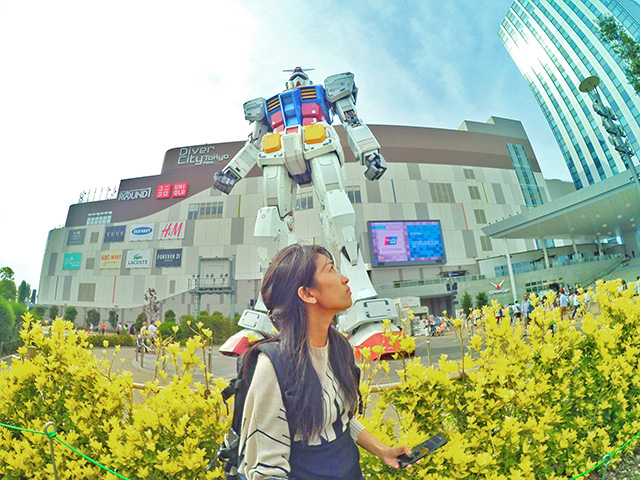 Odaiba is the travel destination for the multi-nerd in you. If you love anything anime, Japanese made cars, and science museums, Odaiba is pretty much your paradise. There's just so much to see here. Going just once is definitely not enough.
Odaiba originally began as a set of man-made islands built at the end of the Edo period. The islands were strategically placed in order to protect the city of Edo (now Tokyo) from naval attacks – these days it is protected by a life-size statue of Unicorn Gundam. It's also home to attractions including the Museum of Maritime Science, which is shaped like a large cruise ship docked on the Odaiba waterfront, and the Toyota Mega Web museum.
Getting to Odaiba is an attraction in itself. The views from the Rainbow Bridge and Tokyo's harbour from the Yurikamome trains and boats are truly scenic. Or if you prefer the slower, scenic route, walk the bridge, for 30-45 minutes of gorgeous skyline views.
Cheap return flights to Tokyo, from A$598* Grab the best hotel deals at the Celestine Hotel, from A$158**
*The flight prices listed here (including taxes and fees, excluding baggage fees) are for one return economy seat and were collated on 3 August 2017 for travel in September – October 2017 from Sydney to the destination listed, unless specified otherwise. Prices are in AUD, may be subject to change and offers may no longer be available.
**The hotel prices (including taxes and fees) are per night per room for double occupancy for the above and were found on KAYAK.com.au on 3 August 2017 for travel in September – October 2017, for the respective hotels mentioned in the release. Prices are in AUD, may be subject to change and offers may no longer be available.
Also Read>> Six Geeky Hotels For Your Travel Bucket List