With international borders closed, there has never been a better time for Aussies to explore the iconic bucket list destinations in our own backyard.
Our survey revealed that nearly 1 in 2 Australians have not visited the Great Barrier Reef, Great Ocean Road or Bondi Beach. This is the perfect time for you to snap up great travel deals and tick off some of these special locations off your bucket list.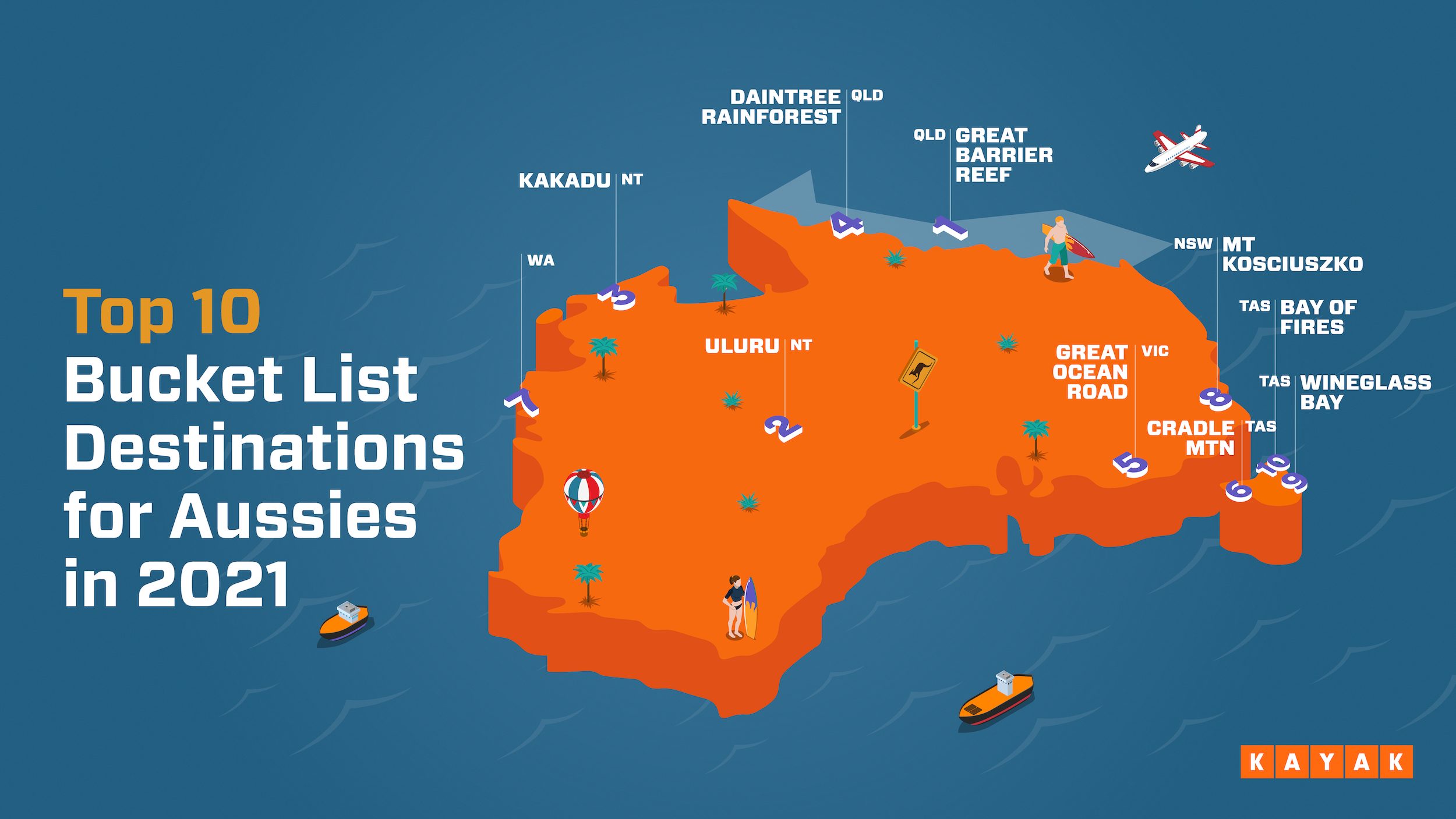 Top 10 Bucket List Destinations to Visit in 2021 [Ranked by Aussie Travellers]
Great Barrier Reef (QLD) 

Uluru (NT)

Kakadu (NT)

Daintree Rainforest (QLD)

Great Ocean Road (VIC)

Cradle Mountain (TAS)

Cable Beach (WA)

Mt Kosciuszko (NSW)

Wineglass Bay / Freycinet National Park (TAS)

Bay of Fires (TAS)
Why the Northern Territory is Australia's Hottest State to Explore
Our findings show that at least 8 in 10 Aussies have not explored some of the most iconic outback destinations in Australia, like Uluru (80%) and Kakadu (85%). Both these destinations are at the top of the bucket list taking the number two and three spots respectively.
If you're looking to travel to Uluru via Alice Springs, you can score a deal and save up to 49% on flights by flying on a Tuesday*.
For those seeking to explore the wonders of Kakadu, you can save up to 16% on flights to Darwin by flying on a Friday*.
Australia's Stunning Islands are Undiscovered Gems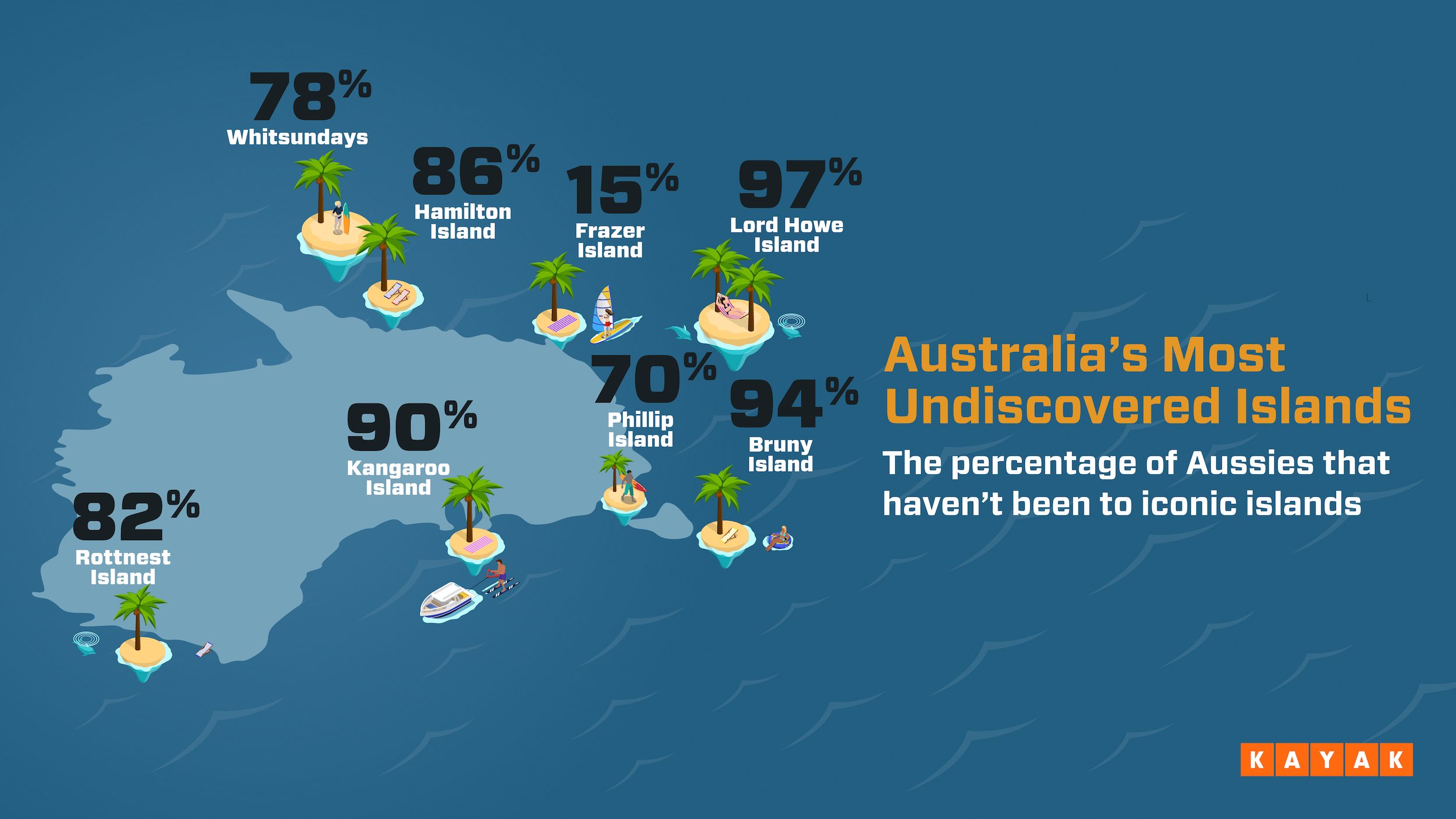 Surprisingly, many Australians also haven't visited some of our most picturesque and popular islands, with our data revealing that 9 in 10 Aussies have yet to discover the beauty of Lord Howe Island, Bruny Island or Kangaroo Island.** 
With so many spectacular islands right here on our shores, now is a great time to escape to these remote locations and support local tourism. For those dreaming of an island escape, Kangaroo Island in South Australia is the top island choice to score a deal, with flights to the picturesque location down by -20% in 2021*.
Knowing when to travel can be the ticket to unlocking major savings for island destinations like the World Heritage listed Lord Howe Island, which has become a celebrity favourite. Aussies looking to experience the lush tropical island only two hours flight from Sydney or Brisbane can save up to 45% by flying on a Thursday, making it the perfect long weekend getaway. 
If you're feeling spontaneous, island destinations also offer the best value for last minute trip bookings with the best flight deals to Kangaroo Island and Fraser Island available seven weeks out, and just three weeks out for Lord Howe Island.*
Bucket List Travel Cheat Sheet
To help you get the best price on flights to your favourite locations, here's how far in advance to book flights for the best price, as well as what day to fly on!
Destination
Airport
Cheapest day to fly
Fare savings ***
Best time to book
(weeks from departure)
Flights
Bay of Fires
Launceston
Wed
-19%
13
Book here
Bruny Island
Hobart
Thurs
-11%
20
Book here
Cable Beach
Broome
Sat
-18%
16
Book here
Cradle Mountain
Launceston
Wed
-19%
13
Book here
Daintree Forest
Cairns
Wed
-16%
12
Book here
Fraser Island
Hervey Bay
Sun
-40%
7
Book here
Great Barrier Reef
Cairns
Wed
-16%
12
Book here
Great Ocean Road
Melbourne
Wed
-26%
11
Book here
Hamilton Island
Hamilton Island
Wed
-26%
25
Book here
Kakadu
Darwin
Fri
-16%
16
Book here
Kangaroo Island
Kingscote
Wed
-45%
7
Book here
Lord Howe Island
Lord Howe Island
Thurs
-45%
3
Book here
Mt Kosciuszko
Canberra
Tue
-13%
23
Book here
Philip Island
Melbourne
Wed
-26%
11
Book here
Rottnest Island
Perth
Sat
-18%
13
Book here
Uluru
Alice Springs
Tue
-49%
13
Book here
Whitsundays
Hamilton Island
Wed
-26%
25
Book here
Wineglass Bay
Hobart
Thurs
-11%
20
Book here
*** Fare savings if you fly on the cheapest day compared to most expensive day
Overall, cost and crowds were identified as the top two barriers for Aussies not having travelled to these iconic destinations in their lifetime**. With our flexible option filter, you can now book your trip with a peace of mind and enjoy that much needed break.
Methodology
** KAYAK.com.au's ICONIC AUSTRALIA survey was conducted by third party researchers, Pure Profile on behalf of KAYAK, which surveyed 1,000 Australians about their travel history, experiences and future plans.
* Data based on all flight searches made on KAYAK.com.au originating from Australia for dates between 01.07.2020 – 28.02.2021, and compared to 01.07.2018 – 31.12.2019 for travel dates 01.01.2021 – 31.12.2021. Best time to book is calculated by comparing lowest prices to average prices. Prices and savings may vary according to time, demand and supply, and cannot be guaranteed