Winter is no longer coming – it's already here! Through analysing our data, KAYAK reveals three lists of European destinations that you want to check out for your 2018 travel to escape the Australian winter. Here, you will find the Top Trending Europe Destinations, 10 Wallet-Friendly European Destinations For Your 2018 Winter Holiday and also learn about where Europeans themselves travel to.
Here, we've uncovered the top 10 trending winter holiday destinations for Aussies along with some essential travel information.
Top 10 Trending Winter Holiday Destinations In Europe
10.  Reykjavik, Iceland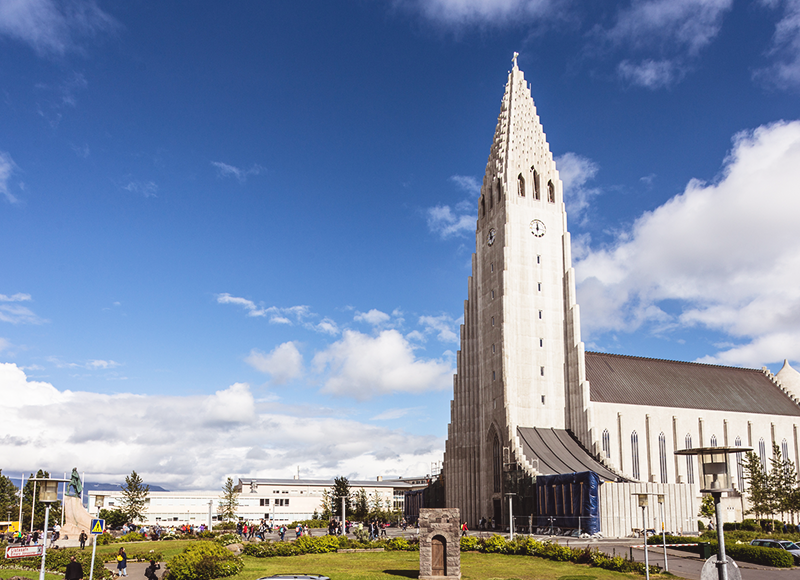 Iceland's capital may be a city of 120,000 people, but it's as busy and dynamic as places 10 times its size. This friendly, creative, and beautiful city punches well above its weight, and always leaves tourists wanting more. On one level, Reykjavik is made to walk around. Architectural highlights like the City Hall and the Hallgrímskirkja are a few minutes from bustling shopping streets like Laugavegur and cultural attractions like the National Museum of Iceland. At another level, Reykjavik is a feast for the senses. Treat your taste buds to gourmet beef and fresh seafood at incredible restaurants. Gaze on the northern lights or spend an afternoon recharging your batteries in geothermal pools. It may be compact, underrated, and hiding on a mid-Atlantic island, but Reykjavik is a fantastic place to visit and it's all within a couple of hours of America's Eastern Seaboard.
Cheap Flights to Reykjavik* Cheap Hotels in Reykjavik, from A$25/night*
Cheap Car Hires in Iceland, from A$35/day*
9. Prague, Czech Republic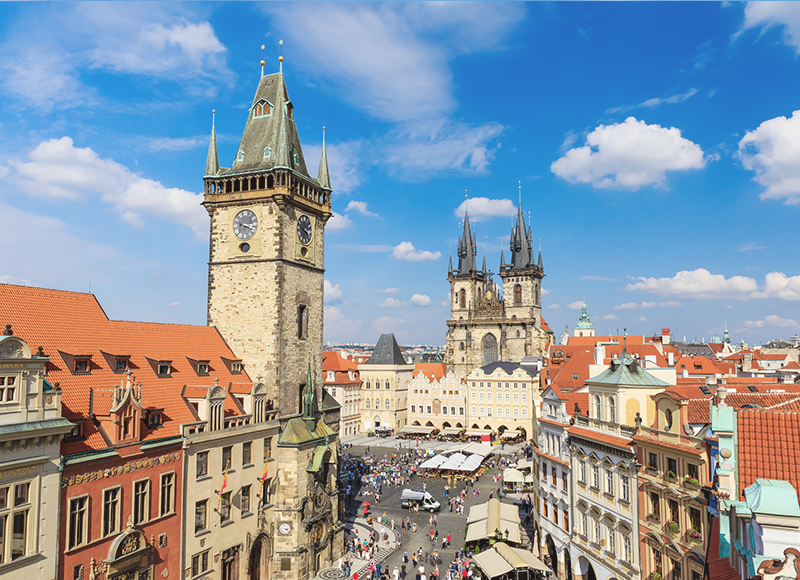 The glorious city of Prague is one of Europe's great cultural and artistic capitals. Experience immaculately preserved castles, churches, and synagogues, a rich musical tradition, and hearty food and drink. Prague was spared from bombing raids during World War II, which means that its medieval old town has some of the best-preserved architecture in Europe. The winding, maze-like streets reveal new sights and sounds around every corner, whether it's a string quartet playing a Mozart concerto or vivid reminders of Prague's once-thriving Jewish population. Despite Prague's high-culture reputation, it is a modern city with a friendly populace and surprisingly affordable prices compared to other major European destinations. You'll find cheap hotels, great prices on antiques and collectibles, and local restaurants that serve traditional rib-sticking Czech cuisine. Prague is a premier vacation destination that will appeal to both experienced and new travelers. You'll find all of the art, culture, and fine dining of cities like Paris or Berlin only on a smaller, more accessible scale.
Cheap Flights to Prague, from A$1,009* Cheap Hotels in Prague, from A$8/night*
Cheap Car Hires in Prague, from A$17/day*
8. Belgrade, Serbia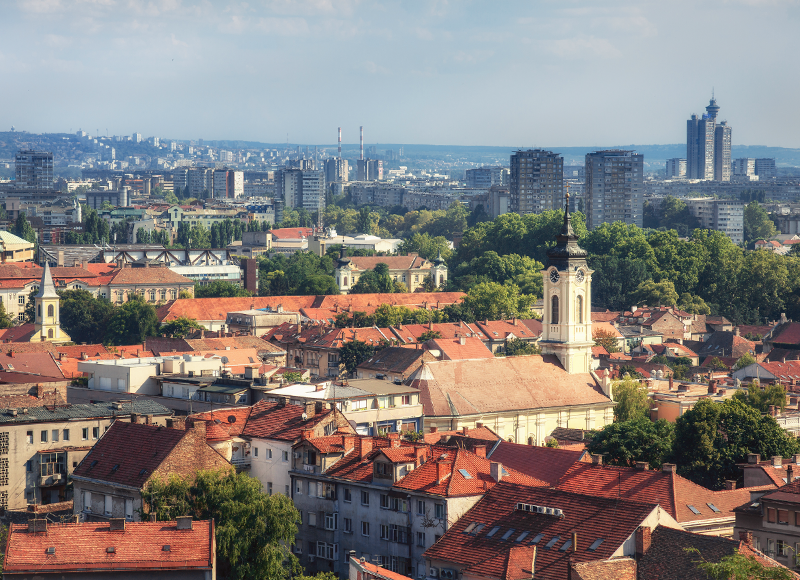 An unlikely inclusion in our trending winter holiday destinations list is Belgrade – the capital of Serbia, with a population of 1.8 million. It is situated where the River Sava meets the Danube and has a long history, dating back to 400 BC. The city is home to a fascinating variety of architectural styles and has become a hub for travel in southeast Europe. The city lies at the borders between European and Turkish influences, and this has created an intriguing blend of cultures. It has a wonderful joie de vivre and a vibrant cafe culture. Belgrade has a compact city center, which is easily explored on foot. Many city center streets are pedestrianized, making the area comfortable to get around. Knez Mihailova Street is crowded with people enjoying the many cafes and stores, while Republic Square is a popular meeting place. The cobbled street of Skadarlija is a great place for pavement cafes and live music, with colorful murals adorning building walls.
Cheap Flights to Belgrade, from A$1,117* Cheap Hotels in Belgrade, from A$9/night*
Cheap Car Hires in Belgrade, from A$11/day*
7. Warsaw, Poland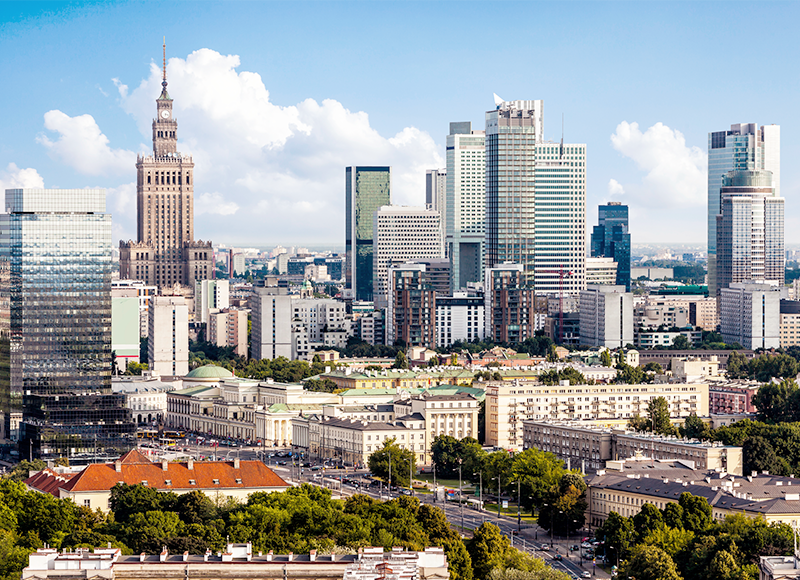 When you walk around Warsaw, you are walking through a city that has seen it all. Dominated by foreign powers, decimated by World War II, reshaped under Communism, then reborn as one of the powerhouses of modern Eastern Europe, the Polish capital has seen it all. The city's eventful past also means that tourists will never be bored. You can tour the site of the infamous Warsaw Ghetto, trace the fortunes of the uprising, and visit the Museum of Communism to find out about everyday post-war life. But there's a lighter side to Warsaw too. When you've had your fill of history, explore some of Europe's cheapest gourmet restaurants, take the Warsaw Craft Beer Tour, or enjoy a summer beer beside the lazy Wisla (Vistula) River. When you do, you'll realize that Warsaw is a city on the up, a welcoming city, and one that is easy to adore.
Cheap Flights to Warsaw, from A$881* Cheap Hotels in Warsaw, from A$11/night*
6. Istanbul, Turkey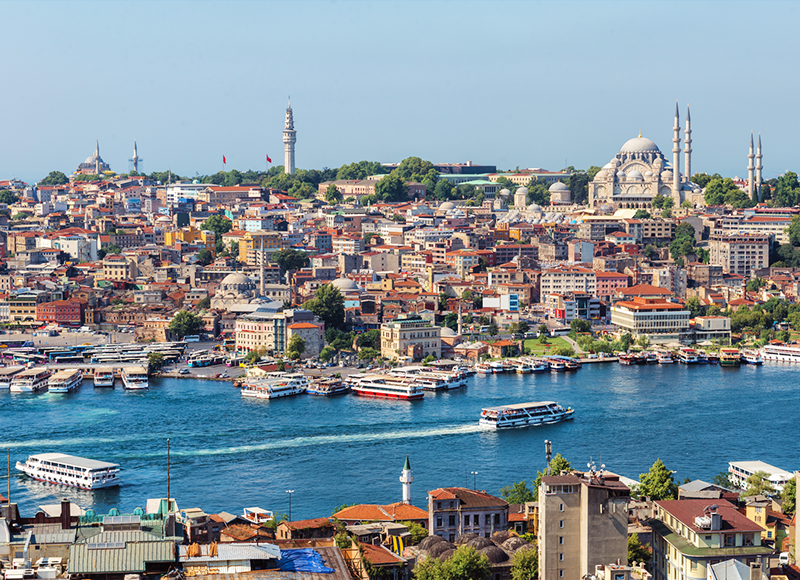 History buffs, foodies, adventurers: Istanbul could be your dream destination. This huge city lies at the crossroads between East and West, and the influences of its geographic location can be felt everywhere. From the spectacular Topkapi Palace of the Ottoman Sultan to the sublime domes and towers of the Hagia Sophia and the ruins of Greek, Roman, Byzantine, and Ottoman cites, the past is everywhere in Istanbul – and it's fascinating. Beyond sightseeing, Istanbul offers much more to adore. From the color and energy of the Grand Bazaar to the exquisite fabrics at boutiques like Haremlique, Istanbul is a great place to shop. The taste and aroma of a traditional Turkish kebab from restaurants like Asitane and the option of dancing the night away at the bars in Galata make clear: Istanbul has it all.
Cheap Flights to Istanbul, from A$1,125* Cheap Hotels in Istanbul, from A$8/night*
5. Stockholm, Sweden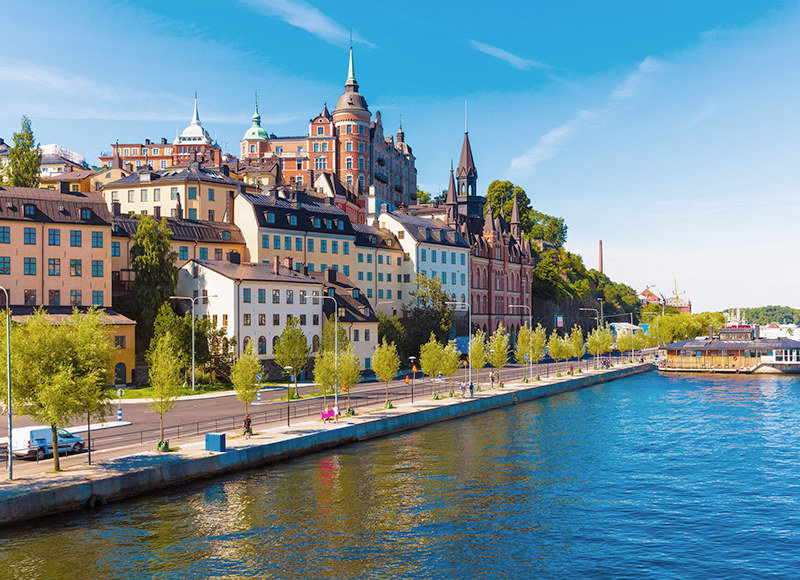 Stockholm is Sweden's capital city, and it's one of Europe's most beautiful, enjoyable destinations. Set in a vast group of islands on the Baltic coast, the city is crammed with historical sights, and few world cities are as romantic. The Old Town (Gamla Stan) has enough intriguing side streets, markets, churches, and palaces to keep visitors wandering for days. But there's more than the enchanting Old Town. Stockholm has world-class museums like the Museum of Natural History, vast modern nightclubs like Göta Källare, and a huge array of gourmet restaurants to explore. Whether you adore great food, nightlife, shopping, history or art, Stockholm is well worth a visit.
Cheap Flights to Stockholm from A$991* Cheap Hotels in Stockholm, from A$17/night*
4. Krakow, Poland
According to the stories, Krakow was founded by defeating a dragon and today's city reflects something of that dramatic birth. Also one of the more unlikely trending winter holiday destinations, this is one of the most beautiful cities in Europe and, largely undamaged in World War II, it has one of the best-preserved city centers. Indeed, the ancient architecture is one of the main attractions. The Old Town features many soaring church spires and fascinating museums, along with the largest market square in Europe, Rynek Glowny. Kazimierz is the atmospheric Jewish Quarter, soaked in history and bustling with bars and restaurants. The city also buzzes with bars and nightlife and the diversity of a university town. It's also an easily walkable city with plenty of charming backstreets and alleyways in which to get pleasantly lost.
Cheap Flights to Krakow, from A$1,293* Cheap Hotels in Krakow from A$11/night*
Cheap Car Hires in Krakow, from A$11/day*
3. Edinburgh, Scotland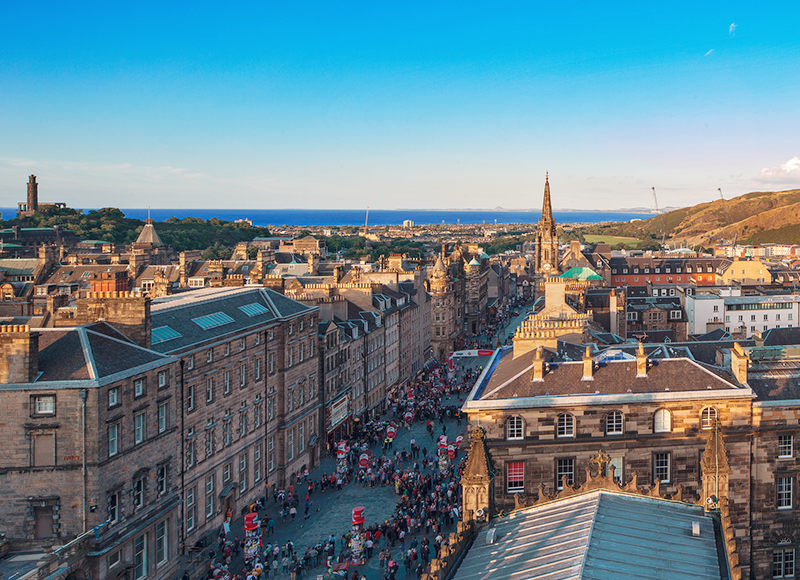 Scotland's capital city is beautiful, creative, and friendly. It's small enough to walk around, but large enough to have everything tourists could need. Easy to reach by air, rail, and road, Edinburgh is an incredible vacation destination. Walking around Edinburgh feels like visiting three cities at once. There's the medieval Old Town, with its atmospheric cobbled streets, imposing castle, and tight, compact layout. Then there's the New Town, with its gorgeous 18th-century streets and luxury shopping opportunities. Finally, there's modern Edinburgh – a student town, a cultural hub, a sporting center. The result is a city unlike any other. Visit during the Edinburgh International Festival to see the best in drama, music, and comedy. Watch a rugby match at Murrayfield Stadium, or just wander down Princes Street or George Street and shop the days away. Edinburgh caters to all tastes, and it's a city that visitors return to again and again.
Cheap Flights to Edinburgh, from A$1,117* Cheap Hotels in Edinburgh, from A$15/night*
Cheap Car Hires in Edinburgh, from A$22/day*
2. Madrid, Spain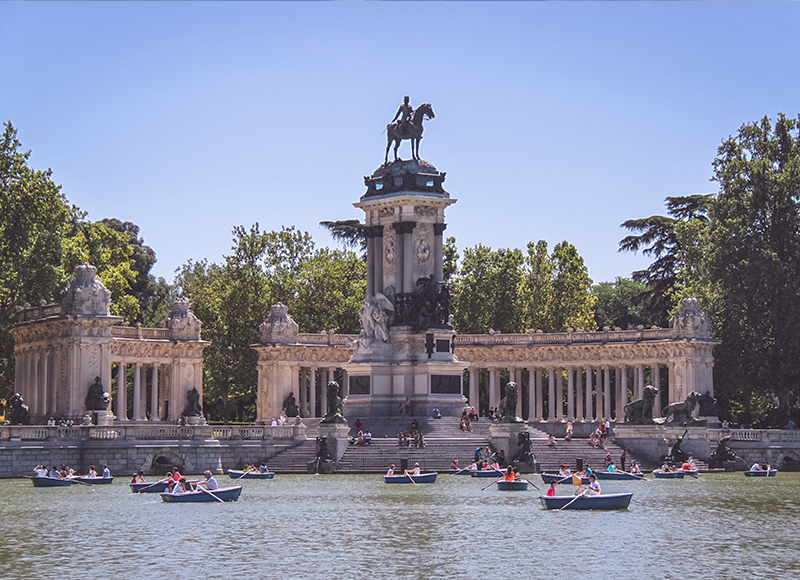 Spain's capital is an extraordinary city. Culturally dynamic, bursting with creativity and exuberance, it's a haven for clubbers, music fans, and art lovers. But it also has much to offer more relaxed vacationers. From the endless masterpieces of the Museo del Prado to the shops of Gran Vía, Madrid is a city to explore at your own pace, and it's a city that visitors won't forget. Sports fans can roar with the massive crowds at Real Madrid matches, while couples can walk arm in arm past the crystal palace and fountains in Buen Retiro Park. History lovers can learn about the Spanish Empire at the Royal Palace of Madrid, while everyone can tuck into patatas bravas, bowls of cocido Madrileño, and slices of satisfying Spanish omelette. In short, if you want a city with fine food, great nightlife, museums, galleries, and a superb transportation network, Madrid is the destination to pick.
Cheap Flights to Madrid, from A$995* Cheap Hotels in Madrid, from A$27/night*
Cheap Car Hires in Madrid, from A$7/day*
1. Moscow, Russia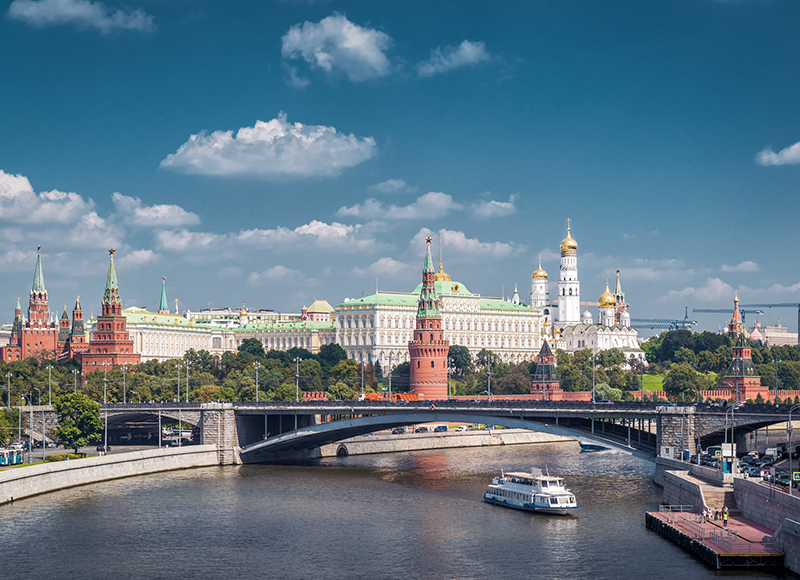 Topping our list of the most trending winter holiday destinations is Moscow – sometimes known as "The Third Rome" and it doesn't disappoint. With the amazing architecture and history behind some of the buildings, it's the perfect combination of contemporary mixed with historic. Everywhere from the Moscow Business District to the Red Square will have some beautiful building or park and a plethora of delicious Russian food options. You'll be immersed in history everywhere you go, but you'll also see the signs of modern-day tsars. The people of Moscow are welcoming and kind and can't wait to show you everything their city has to offer.
Cheap Flights to Moscow from A$927* Cheap Hotels in Moscow from A$29/night*
*Note: These rates are based on search queries made on KAYAK.com.au on 2 May, 2018. The prices are quoted in AUD. Flight prices are based on results for a return economy flight search. Hotel prices are for double occupancy and include taxes and fees. Prices are subject to change, may vary, or no longer be available.