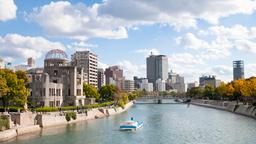 Hotels near Hiroshima airport
Search hundreds of travel sites at once for Hiroshima airport hotels
Best hotels near Hiroshima airport
Based on 90 reviews
All
Families
Couples
Groups
Solo travellers
Business travellers
Cleanliness
9.2
Comfort
9.0
Location
9.2
Overall
10.0
Services
8.4
Cleanliness
9.2
Comfort
9.0
Location
9.3
Services
8.5
Staff
9.5
Cleanliness
9.3
Comfort
9.0
Location
9.1
Services
8.4
Staff
9.3
Cleanliness
8.8
Comfort
9.0
Location
9.3
Services
8.1
Staff
9.3
Cleanliness
9.3
Comfort
8.8
Location
9.4
Overall
10.0
Services
8.5
Cleanliness
7.5
Comfort
7.5
Location
8.6
Services
7.1
Staff
8.9
---
This hotel is one of the most beautiful I have visited during my time in Japan. It is friendly, bright, clean and has an outstanding charm. But even better are the owners. I had health problems during my time there and the owner took heartwarming care of me and drove me to the doctor. I can fully recommend Suminoe Ryokan and thank them so much for their help.
Pros:
Dinner and onsen were lovely after cycling the Shiminami Kaido from Onomichi. The garden is spectacular. I wish there was a way to enjoy the garden from the ladies onsen.
Cons:
I hav to remember to bring my own soft pillow to a traditional Ryokan. But otherwise was great!
Pros:
Pretty and well maintained ryokan about halfway through the Shimanami Kaido cycling route. The view from the sea facing room was gorgeous. We had dinner and breakfast there, which were both delicious (local seasonal Japanese food). They have an indoors onsen, and a place to park bicycles inside.
Pros:
Very nice staff, lovely place, nice views & garden, perfect location, onsen.
Pros:
Loved the service and the room. Very traditional with all the comforts. Great seaside view. The Onsen was a welcome relief to tired muscles.
Cons:
It is being renovated and had to go around tradesman, no carpet on the floor. Whilst being the only guest the restaurant was closed and advised to find somewhere up the street...which were all closed.
Pros:
Lovely spacious room in traditional Japanese style. Garden was even more beautiful.
Pros:
Atmospehre was so silent and relaxing. Good place to stay during cycling holiday.
Pros:
Located conveniently in the Setoda area. Onsen was great after a long day of biking. Rooms were nice tatami japanese style. Small lemon cake snack in the room upon arrival, as well as some yukata. Traditional ryokan feeling.
Cons:
Facilities are slightly dated but still very clean. Depending on the season you arrive, the area turns into a ghost town after sundown.
Pros:
Large, clean rooms with comfortable futons. Old building with a charm of historic grandeur. Great communal bath and garden. Helpful and friendly staff.
Cons:
The town of Setoda is rather sleepy, but still perfect for one night.
Based on 1 reviews
Cleanliness
6.0
Location
6.0
Overall
5.0
Staff
6.0
Value for money
6.0
---
FAQs when booking a hotel near Hiroshima airport
How much is a cheap hotel near Hiroshima airport?
How much is a cheap hotel near Hiroshima airport for tonight?
How much is a cheap hotel near Hiroshima airport for this weekend?
How can I find hotels near Hiroshima airport?
Where to stay in Hiroshima?
Our map will help you find the perfect place to stay close to Hiroshima airport by showing you the exact location of each hotel.
Accommodations
Airports in Hiroshima