Everyone knows that Japan is king when it comes to cherry blossoms, but if you've already been there for sakura season or are already set on a trip somewhere else, that doesn't mean you have to miss out! Here's your guide to finding the best flowers in unconventional cherry blossom spots from Europe to Korea to the States and Canada.
Where to see Cherry Blossoms in Korea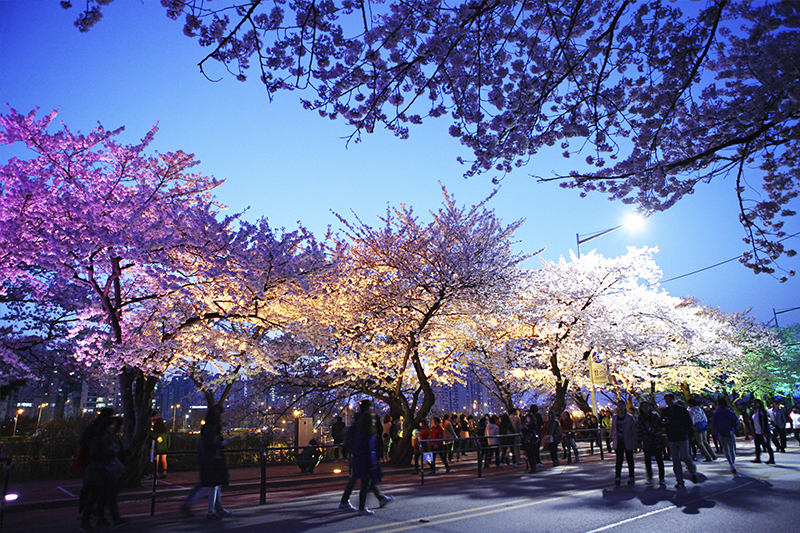 Seoul, Korea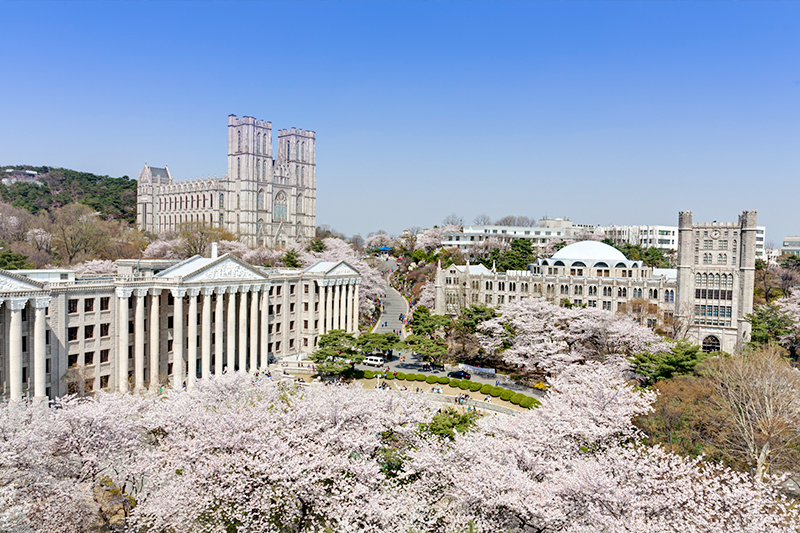 Cherry blossoms are not difficult to catch in Seoul, but here are just a few of our favourite spots to catch a good view: try Yeouido Park, Namsan Park, Seokchon Lake and Kyung Hee University. This year, it is forecast that the blossoms will start to flower around 1 April with the full-bloom date set for 10 April.
Find cheap flights to Seoul* Book cheap hotels in Seoul*
Busan/Jinhae, Korea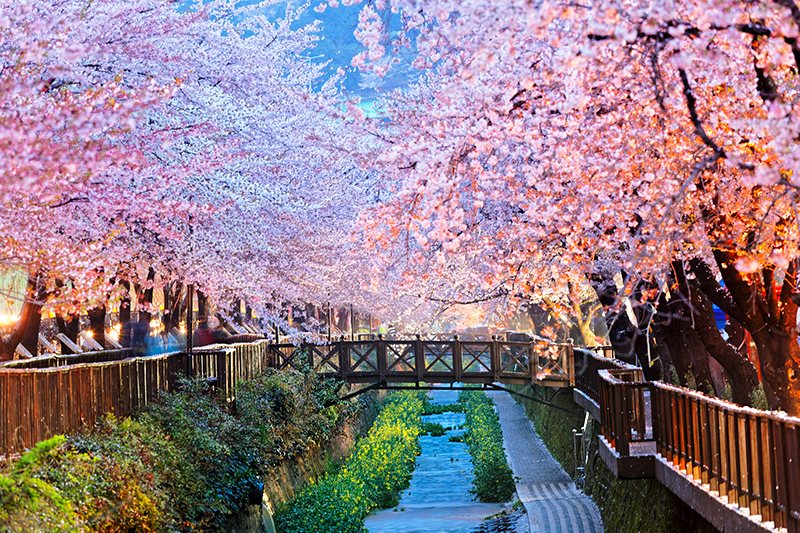 If you're planning a sakura-viewing trip to Seoul, we'd recommend you also head over to Busan and Jinhae. From Seoul to Busan, you have your choice between the high-speed trains, either KTX or SRT (around 2.5 hours), a bus ride (around 4 hours and 15 minutes) or a quick 1-hour flight from Gimpo airport. Namcheon-dong road is the most popular cherry blossom viewing spot in Busan, located just next to must-visit attractions Gwangalli Beach and Gwangandaegyo Bridge. Make sure you also take a day-trip to Jinhae, where the largest spring festival will be held. Yeojwacheon Stream and Gyeonghwa Station are the most photogenic places to see the pink blossoms. According to the forecast, the blossoms are expected to open on 25 March with full-bloom around 30 March.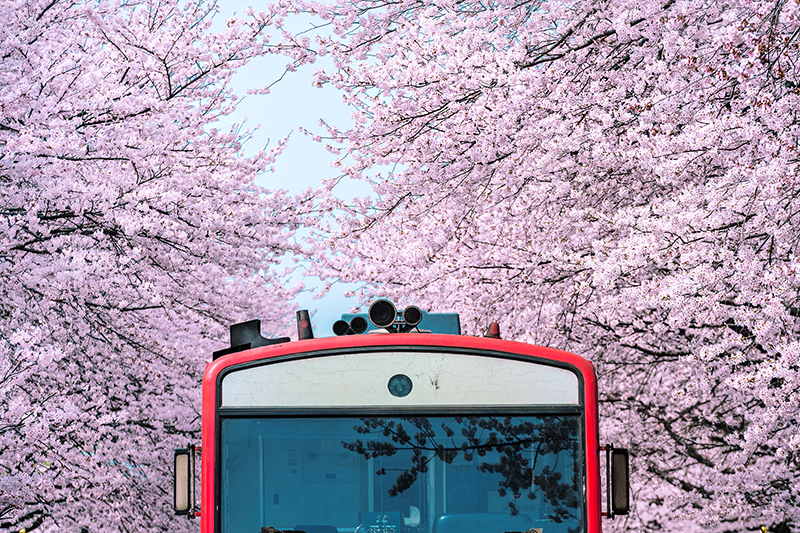 Find cheap flights to Busan* Book cheap hotels in Busan*
Where to See Cherry Blossoms in the Americas
Vancouver, Canada
The annual Vancouver Cherry Blossom Festival will be held from 3-29 April this year. Vancouver's collection is not to be sniffed at, with over 40,000 cherry trees, of 54 cultivars, in the city. Amongst the more than 2,689 sakura spots, the best places to view cherry blossoms are at Burrard Station, Stanley Park, West 22nd Avenue, West 16th Avenue and West 7th Avenue. Take a look at where and when the best blossoms were spotted on the official cherry viewing map.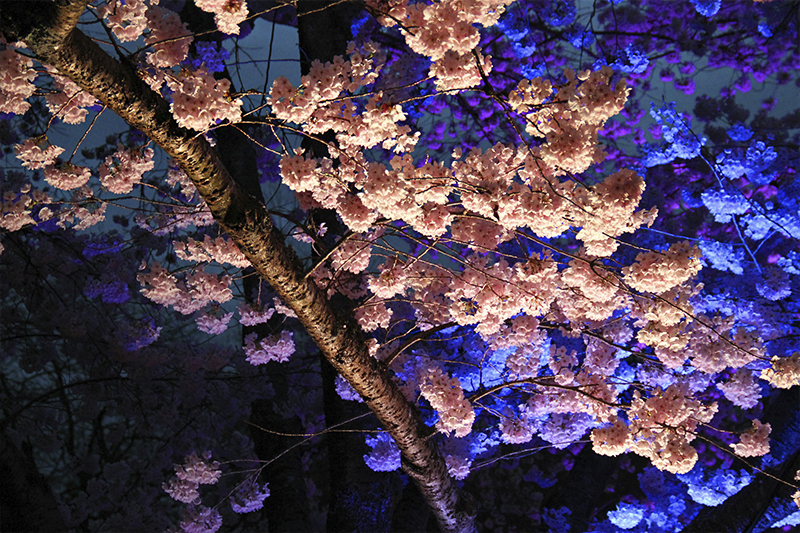 Find cheap flights to Vancouver* Book cheap hotels in Vancouver*
New York, United States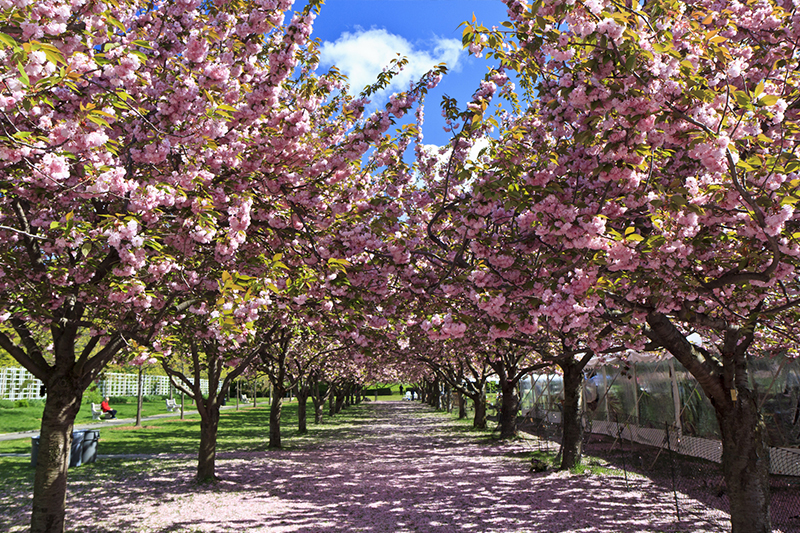 The Brooklyn Botanical Garden in New York is home to more than 200 cherry trees of 42 different species. Flowering cherries bloom from late March or early April through mid-May, attracting tourists from all over the world, including experts from Japan.. Sakura Matsuri will be held the last weekend of April at the Garden, with different activities and performances celebrating Japanese culture, like Taiko drumming, Kabuki Buyo dance, Samurai martial arts performance, a tea ceremony and a manga-drawing workshop. Besides the Brooklyn Botanical Garden, other great places for seeing cherry blossoms include Central Park, the New York Botanical Garden and Confucius Plaza in Chinatown.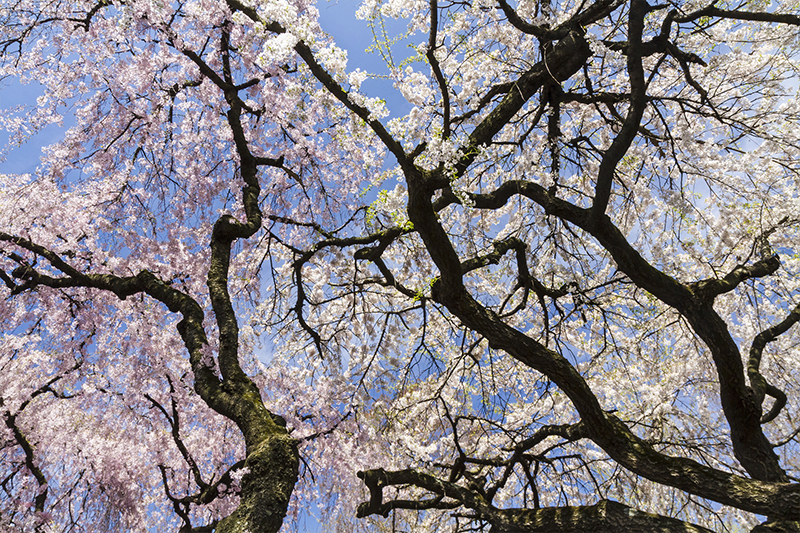 Find cheap flights to New York* Book cheap hotels in New York*
Where to See Cherry Blossoms in Europe
Jerte Valley, Spain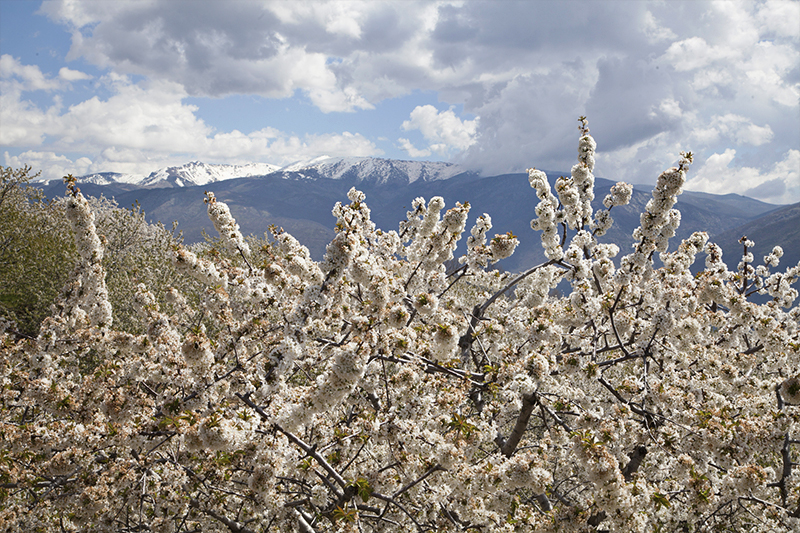 Possibly one of the the more unconventional places to see cherry blossoms, Jerte Valley in Cáceres is one of locals' best-kept secrets. Located in Extremadura, around a 3-hour train journey from Madrid, the Jerte Valley boasts more than 200 cherry trees, blooming every year from mid-March. The scenery looks otherwordly, with white blossoms covering the valley. Besides watching cherry blossoms, there are a lot of outdoor activities you can try here including cycling, horse riding, hiking, fishing, and even paragliding.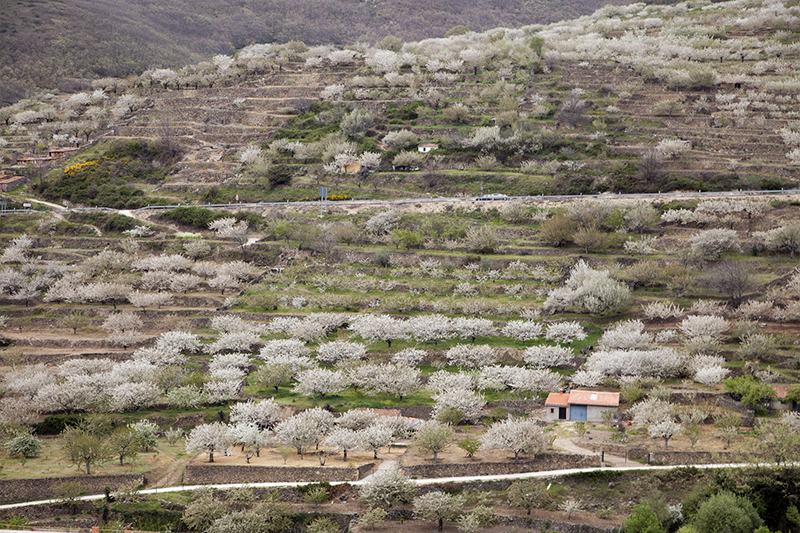 Find cheap flights to Madrid* Book cheap hotels in Madrid*
Paris, France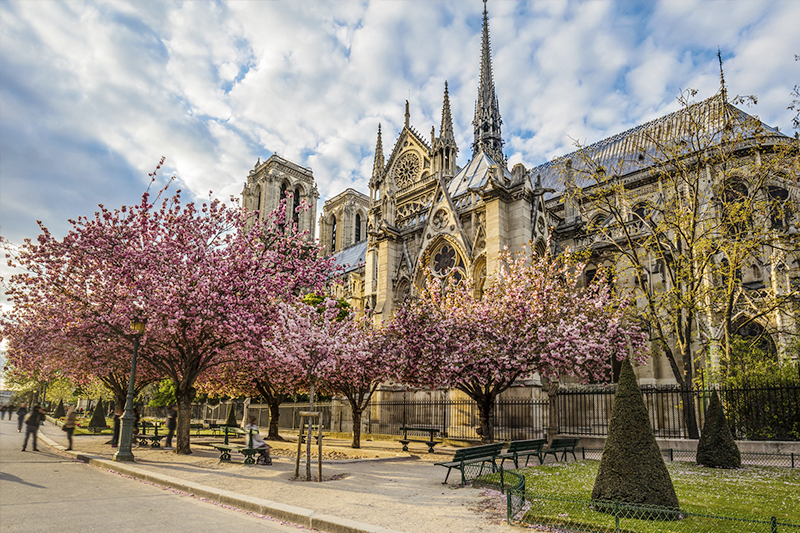 We all know how romantic Paris can be, but if you're looking to take things up a notch, schedule your visit during cherry blossom season for an even lovelier view of the city. be. While you can find cherry blossoms at tourist attractions like Eiffel Tower, Disneyland Paris and Notre-Dame, why not escape the hustle and bustle to Parc de Sceaux, located in the countryside south of Paris. During flowering season in April, you can find Japanese expats picnicking there with homemade sakura onigiri (cherry blossom rice balls) under the cherry trees. Of course, when in France, it may be easier to bring red wine, camembert and baguettes for your pique-nique.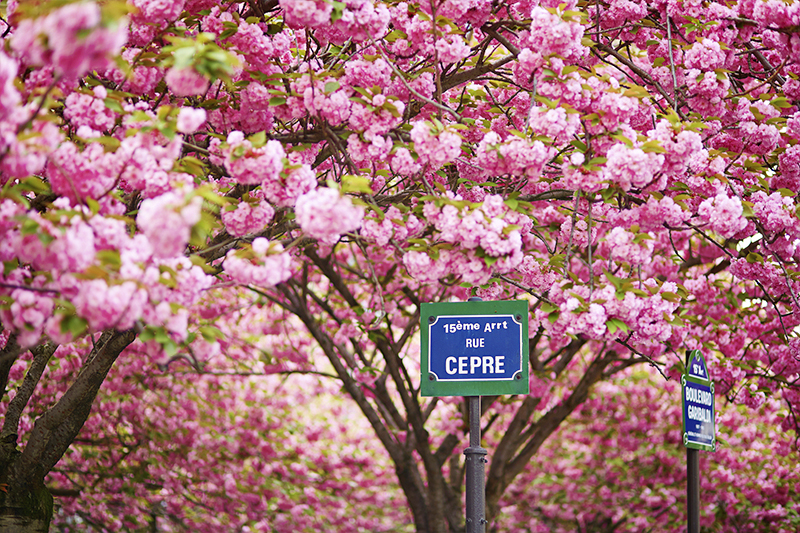 Find cheap flights to Paris* Book cheap hotels in Paris*
Kungsträdgården, Stockholm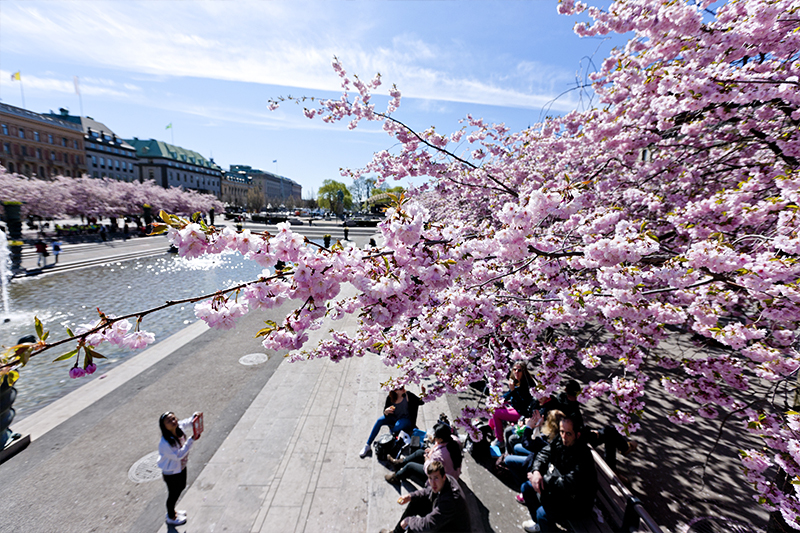 Considered by many to be the most beautiful capital in Northern Europe, Stockholm is the city that inspired one of the classic works by Japanese animator Hayao Miyazaki, Kiki's Delivery Service. Cherry blossom season in Stockholm is usually in April, when you can find rows of cherry trees greeting you as you walk around Kungsträdgården (King's Garden). Wind down at one of the outdoor cafés in the park and enjoy a Swedish cinnamon bun or kanelbullar with a cup of coffee like a local. As dusk falls, slowly make your way over to Gamla Stan for the best sunset view in the city.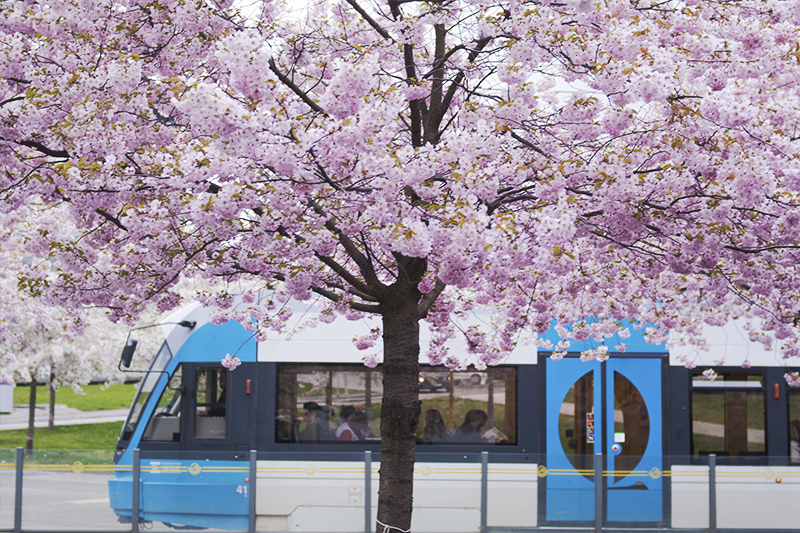 Find cheap flights to Stockholm* Book cheap hotels in Stockholm*
>>You may also like: The Best Places To See Cherry Blossoms in Taiwan
*Note: These rates are based on search queries made on kayak.com.au on 16 February 2018. The prices are quoted in AUD. Flight prices are based on results for a return economy flight search. Hotel prices are for double occupancy and include taxes and fees. Prices are subject to change, may vary, or no longer be available.