Emirates has set a new benchmark for long-haul flights, with its recent announcement of a direct route between Dubai and Panama which will last an exhausting 17 hours and 35 minutes. The inaugural flight, due to take-off on February 1st, 2016, will out-fly the current longest non-stop flight, which is operated by Qantas Airways from Dallas to Sydney, and lasts just under 17 hours. In light of this sky-high news, we compiled a list of the longest non-stop flights from Europe and Asia Pacific and shared tips on how to master long hours above the clouds.
Flying passengers across the globe to remote locations in the most convenient way possible takes time. The longest flight worldwide is currently operated by Qantas Airways from Dallas to Sydney in 16 hours and 50 minutes, with the reverse journey also being the longest nonstop flight departing Australia, at 15 hours and 35 minutes. Crossing the globe and looking at Europe, the longest non-stop flight departs from France direction Santiago and covers in 14 hours and 40 minutes a distance of around 11680 km.
Long-Haul Flights Departing Europe and Asia Pacific*

Ranking
Country of departure
Airline
Route
Distance
Flight Time

1

Hong Kong

Cathay Pacific

Hong Kong (HKG) – New York (JFK)

12980 km

15hrs 50mins

2

Australia

Qantas Airways

Sydney (SYD) – Dallas (DFW)

13810 km

15hrs 35mins

3

France

Air France

Paris (CDG) – Santiago (SCL)

11680 km

14hrs 40mins

4

Germany

Lufthansa

Frankfurt (FRA) – Buenos Aires (EZE)

11510 km

14hrs

5

Italy

Alitalia

Rome (FCO) – Buenos Aires (EZE)

11160 km

13hrs 55mins

6

United Kingdom

British Airways

London (LHR) – Buenos Aires (EZE)

11140 km

13hrs 45mins

7

Spain

Iberia

Madrid (MAD) – Santiago (SCL)

10720 km

13hrs 30mins

8

Singapore

Singapore Airlines

Singapore (SIN) – London (LHR)

10880 km

13hrs 25mins

9

Russia

Aeroflot

Moscow (SVO) – Los Angeles (LAX)

9760 km

12hrs 20mins

10

Austria

China Airlines

Vienna (VIE) – Taipei (TPE)

8980 km

12hrs 10mins

11

Switzerland

SWISS

Zurich (ZHR) – Singapore (SIN)

10310 km

12hrs 10mins

12

Poland

LOT Polish Airlines

Warsaw (WAW) – Chicago (ORD)

7520 km

9hrs 40mins
*Longest non-stop flights available in terms of time.
As the demand for international travel grows, direct flights certainly have the advantage of being a convenient way to reach the final destination, but depending on where you go, this can involve spending extended time on the plane. To help travellers survive flights that can last almost a full day, the our travel experts collected a list of helpful tips and hacks to beat the altitude blues.
Study the seating plan: once booked, take some time to look the aircraft's seating layout. Identify where the sweet spots are in the seating configuration are, such as the rows with extra leg room.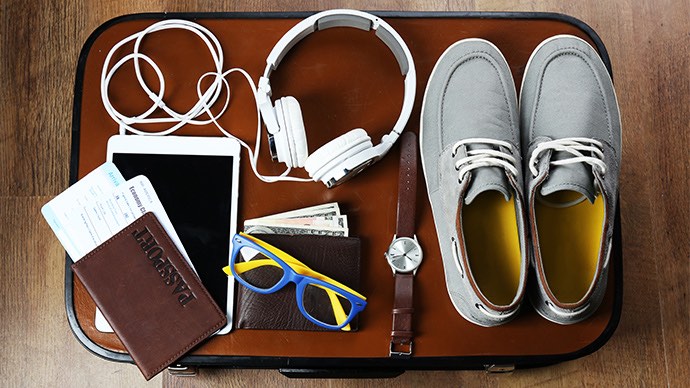 The top five in-flight essentials:
Staying comfortable on a long-haul flight may start with a comfortable outfit, however, there a number of other things you should have on-hand to ensure your journey is a smooth one:
Scarf; from acting as a second blanket, to providing extra padding for a pillow, scarves, pashminas and wraps have endless uses
Eye mask; some airlines offer these, however, many do not in economy class. To avoid disappointment, bring your own to block out the light and help get a restful sleep
Earplugs or noise cancelling headphones; these are a must on a busy flight, where people are constantly walking the aisles. Downloading white noise or soothing sounds before the flight can also help with relaxation.
Empty water bottle; stay hydrated by keeping an empty water bottle on hand, and make an effort to fill this up periodically throughout the flight
Socks; along with providing warmth in a cold cabin, comfy socks are far more comfortable to sleep in than shoes
Exercise before you fly: Being physically tired before a flight can help a flight feel like well-earned relaxation rather than restless boredom.
Stretch it out: the adverse effects of sitting still for long periods have been well documented, but a surprising number of people do nothing to combat the issues that can arise for flying long haul. Easy and effective in-seat exercises are generally outlined in in-flight magazines, and are important to do periodically throughout a long-haul flight.
You May Also Like>> Five games to get you through a long-haul flight
Want To Go Somewhere?
Use KAYAK Explore to see where you can go on your budget!