If you're a seasoned traveller who's been around Australia you may think you've seen it all. Uluru, Phillip Island, the 12 Apostles, and the Great Barrier Reef already marked off your list? If you're looking for something new and different in Australia, it's time to make a detour and flock to some of the country's hidden gems. From secret bays to prehistoric national parks, you'll want to keep these 'under the radar' spots all to yourself.
Shark Bay, Western Australia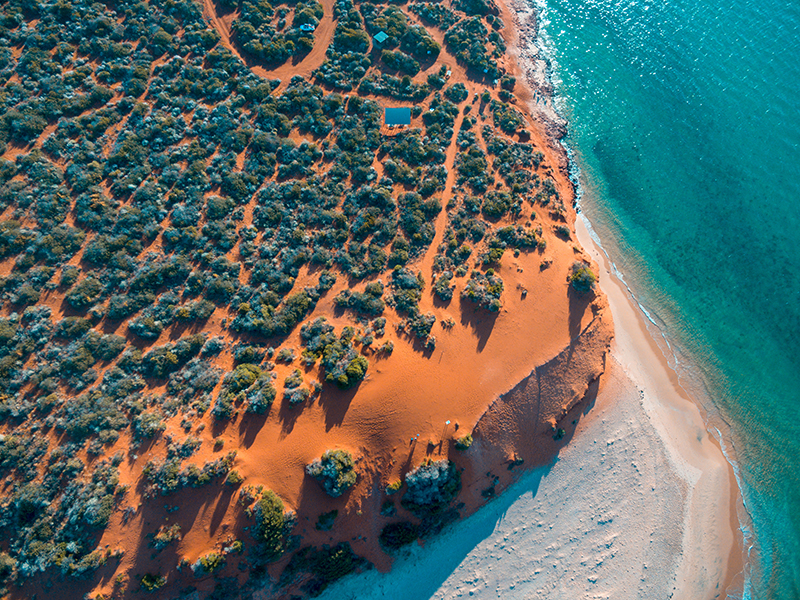 With clear, turquoise waters, Shark Bay is a secluded heaven. Dolphins can often be found gathering at Monkey Mia to feed, along with plenty of bird species and reptiles, making it the perfect place for animal lovers. Take a trip over to Dirk Hartog Island to see vivid red cliffs and experience some incredible snorkel and diving opportunities.
Find cheap flights to Perth* Book cheap hotels in Perth from $14*
Little Beach, Albany, Western Australia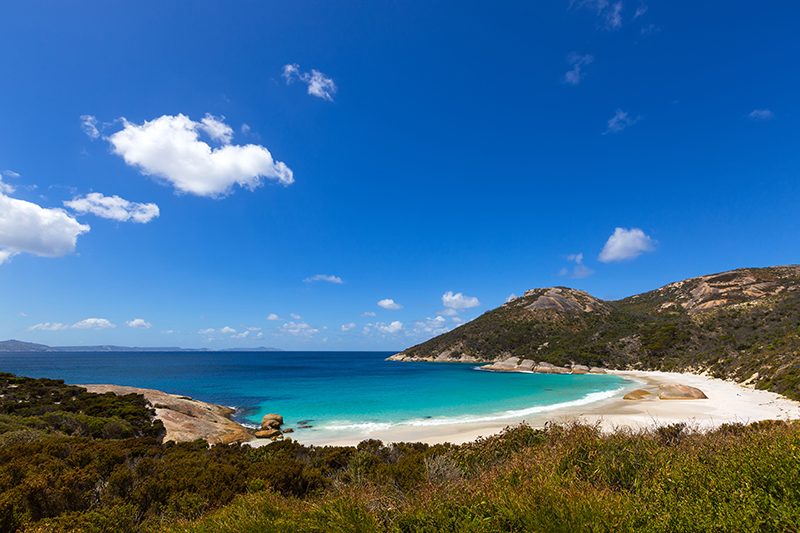 Nestled inside the Two Peoples Bay Nature Reserve, Little Beach has it all, with clear waters, crisp white sand and lush greenery surrounding the bay. Take a swim to see plate coral and granite formations as well as a vast array of sea life. With underwater visibility reaching as far as 20m, make sure to pack your camera. If you'd rather keep your feet firmly on land, check out the heritage trail for incredible views from the headland.
Find cheap car hire in Perth, from $17* Book cheap hotels in Albany from $51*
Mungo National Park, New South Wales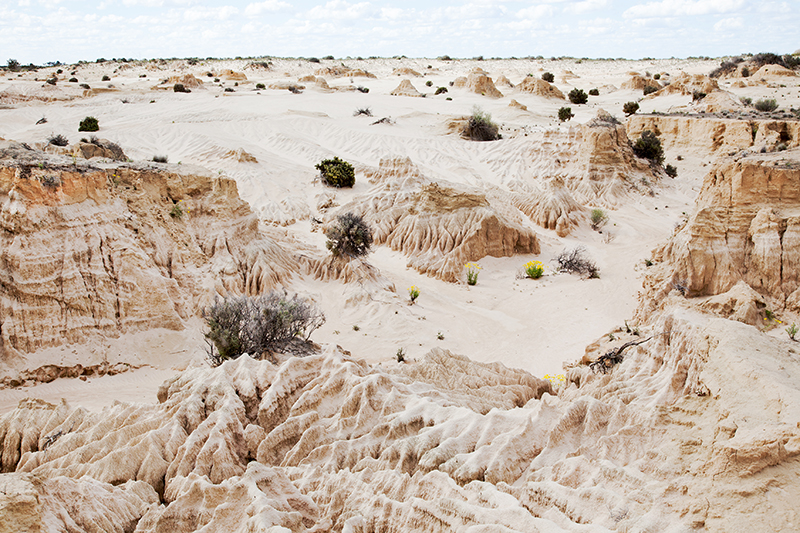 The archaeological treasures of Mungo Man and Mungo Woman can be found at Mungo National Park. Carbon dated to over 40,000 years old, these human remains are evidence that Aboriginal people inhabited the area during this time, making this the oldest known site of human life in the southern hemisphere. If that's not reason enough to visit this fascinating place, explore the imposing rock formations that dominate the landscape for your own Indiana Jones adventure.
Find cheap flights to Mildura* Book cheap hotels in Mildura, from $72*
Point Hicks, Victoria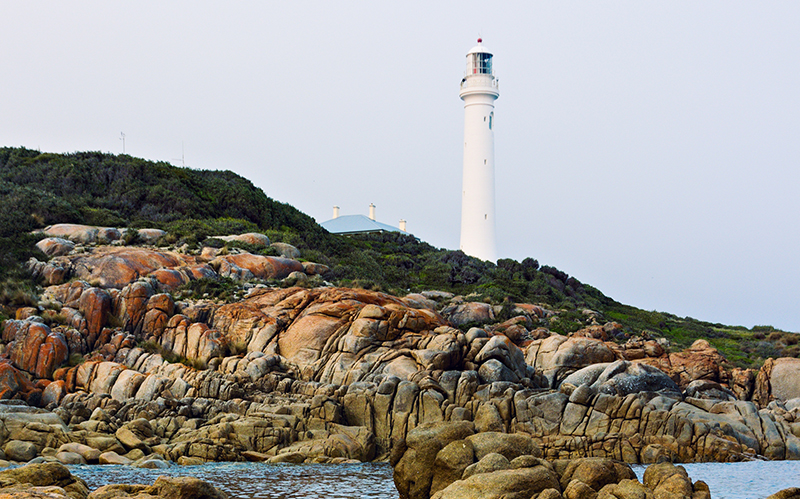 Escape reality by taking a six-hour drive from Melbourne to the Croajingolong National Park. Here you'll find the isolated Point Hicks lighthouse accompanied by nothing but rocky coastline, bushland, and the open ocean. Clear your mind through endless exploring, hiking, fishing or surfing along the historical site where Captain Cook first sighted the land he was searching for.
Find cheap flights to Melbourne* Book cheap car hire in Melbourne, from $9*
Montague Island, New South Wales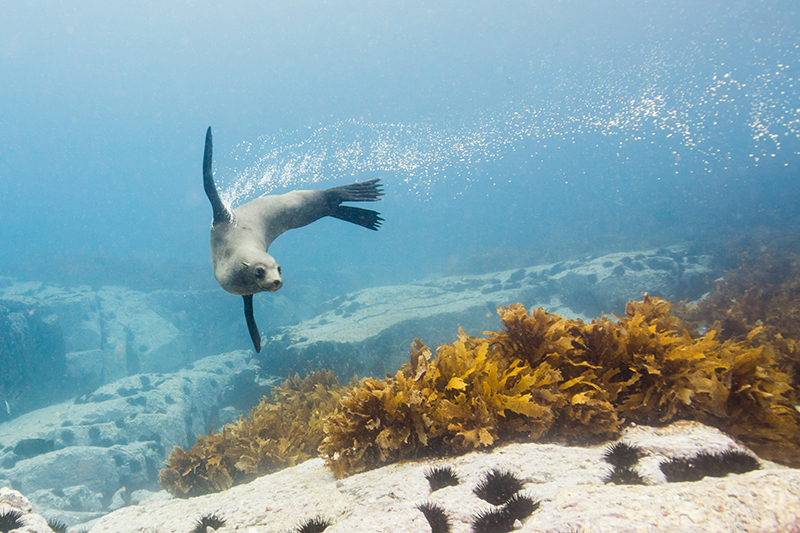 If you've ever fancied seeing penguins and fur seals up close, head over to Montague Island, 9 km off the coast of Narooma. After, hike up to Mount Gulaga at sunset, a place which has been described by Aboriginal people as the place of ancestral origin for all Yuin people. According to legend,  Mount Galaga represents the mother and Little Dromedary is her youngest son who stayed behind while his brother Baranguba (Montague Island) went out to sea and never came home.
Find cheap flights to Canberra* Book cheap hotels in Batemans Bay, from $78*
Binalong Bay, Tasmania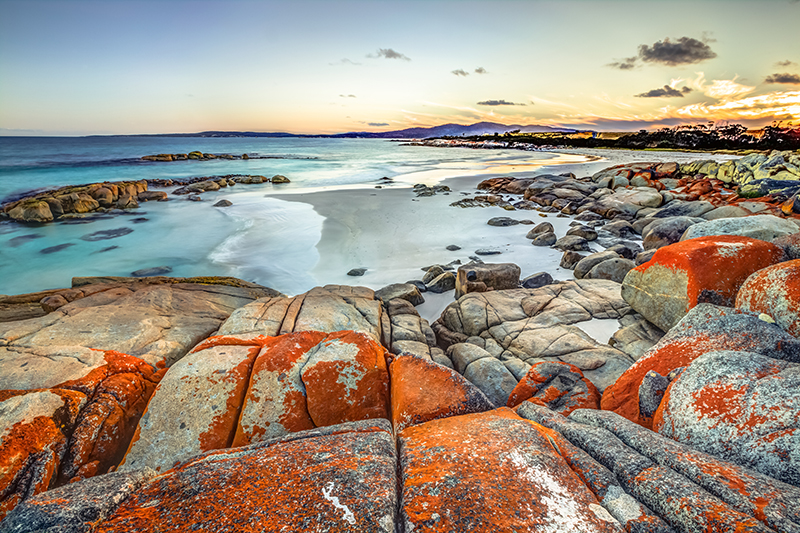 While the rest of Tasmania often resembles England's rolling fields, Binalong Bay is an exception to this rule. With striking blue waters and rocks covered in orange lichen, the contrasting landscape is what makes this region so iconic. Spend some time in the area to surf, fish and explore the marine life or hike through the Mount William National Park.
Find cheap flights to Launceston* Book cheap car hire in Launceston, from $27*
Lord Howe Island, New South Wales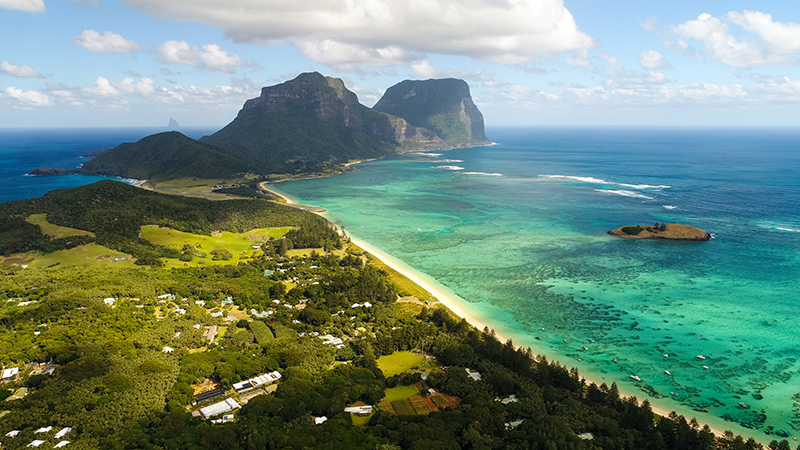 Only a 2-hour flight from Sydney or Brisbane, Lord Howe Island is a big slice of paradise. Due to its isolation from other landmasses, this island has a huge number of plant and animal species, giving it an almost prehistoric feeling. With the island's visitor cap of 400 people at any one time, you'll have the hiking trails and rainforest canopies to yourself.
Find cheap flights to Lord Howe Island* Book accommodation on Lord Howe Island, from $230*
Tasman Island, Tasmania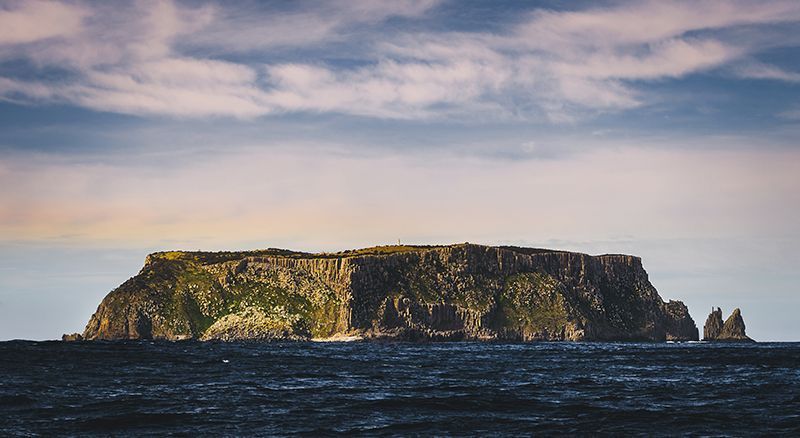 Iconic for its distinctive plateau shape, Tasman Island resembles more of a fortress to the sea than a holiday location but bear with us. This island is a haven for bird life including fairy prions, eagles, cormorants, and albatross while Australian and New Zealand fur seals laze on the beaches. On top of all that, you might even see humpback whales during their migratory period, if you're lucky!
Find cheap flights to Hobart* Book cheap hotels in Hobart*
Wallaman Falls, Queensland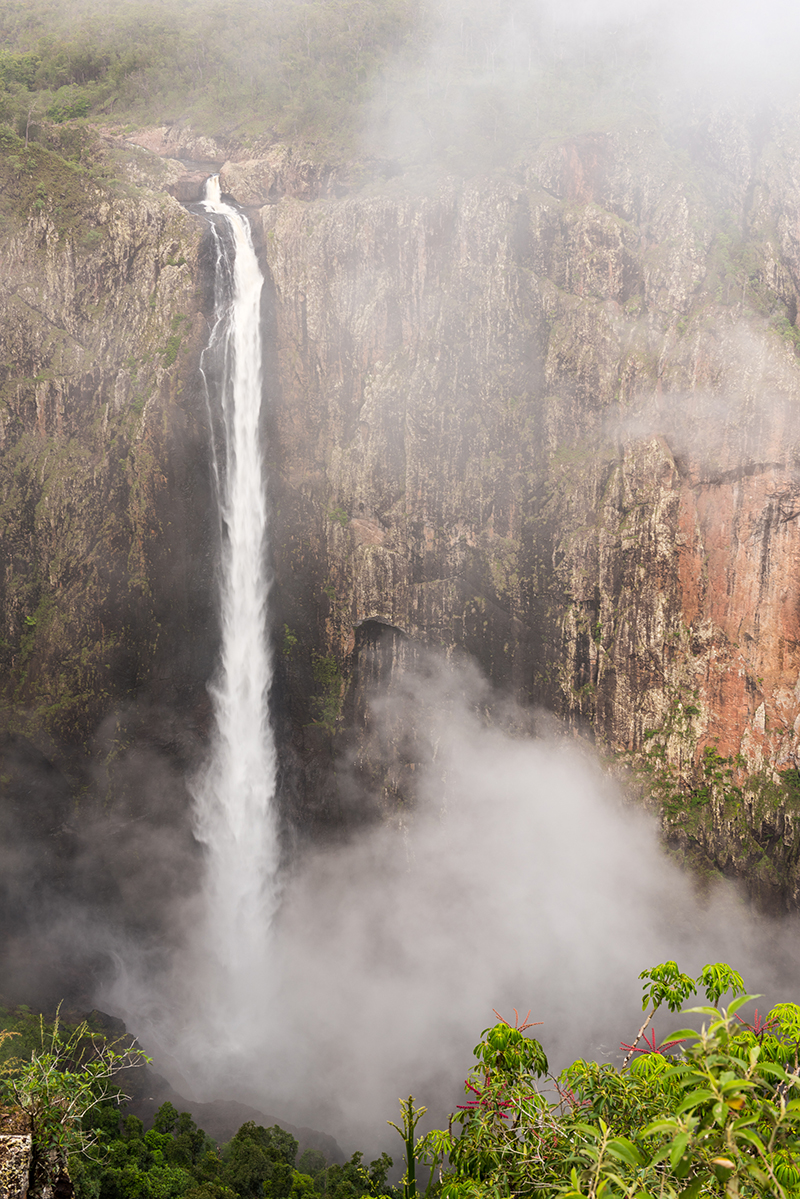 Hidden in Queensland's Girringun National Park, the Wallaman Falls are a masterclass of nature's power. With a sheer drop of 268m surrounded by jungle greenery, this waterfall is one not to be missed. You can take in the falls from the top, however, to get the real wow factor, there's also the option to challenge yourself with a steep walk to the bottom. Remember to wear shoes with a solid grip and take plenty of water, especially for the hike back up.
Find cheap flights to Townsville* Book cheap hotels in Townsville*
Gunlom Falls, Kakadu National Park, Northern Territory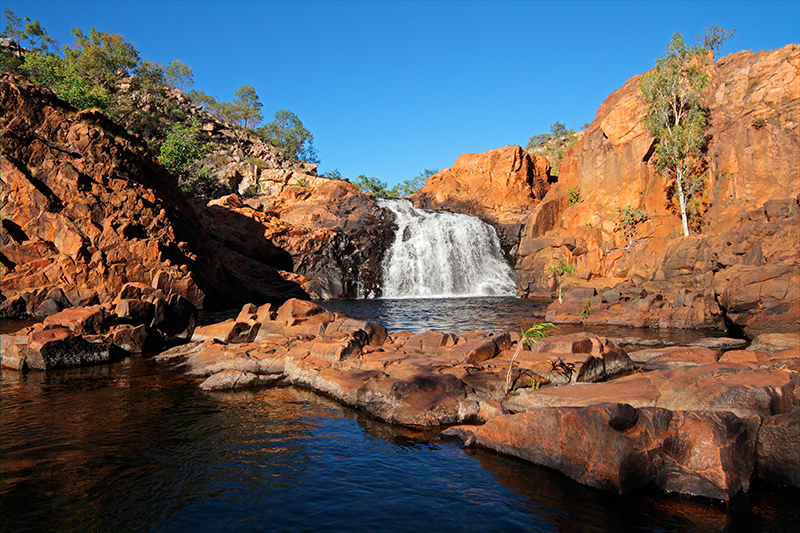 If you've ever wanted to swim in a natural infinity pool, now you can. Climbing to the top of the Gunlom waterfall in the Kakadu National Park, you'll arrive to sweeping views of the southern side of the park. Take a well-deserved dip in the crystal clear pools before lying back to see how many different bird species you can spot.
Find cheap flights to Darwin* Book cheap hotels in Darwin from $46*
*Note: These rates are based on search queries made on KAYAK.com.au on 17 January 2019. The prices are quoted in AUD. Flight prices are based on results for a return economy flight search. Hotel prices are for double occupancy and include taxes and fees. Prices are subject to change, may vary, or no longer be available.