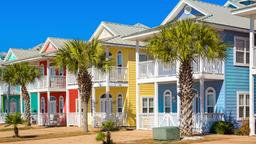 Panama City Beach pet friendly hotels
Search hundreds of travel sites at once for pet-friendly hotels in Panama City Beach
Most popular pet friendly hotels in Panama City Beach
Top tips for finding pet-friendly hotels in Panama City Beach
For hotels in Panama City Beach with the best pet facilities, stay at Sleep Inn & Suites. This budget hotel allows two pets up to 25 lb for an additional fee per pet per night. You may bring both cats and dogs and will be assigned to rooms on the ground floor. Your pet may be left in guest rooms unattended, if they are crated, plus there is a conveniently designated pet-relief area on the hotel's grounds.
If you plan to bring your dog to one of the hotels in Panama City Beach, Boardwalk Beach Resort Hotel will welcome up to two dogs of any size. For an extra fee, the hotel will provide a dog-friendly room.
At La Quinta Inn & Suites Panama City Beach, you will find several pet-friendly facilities to make your pet's stay more comfortable. For an additional fee, two pets—cats or dogs—of any size can stay at the hotel, and well-behaved pets may stay in the room unattended. At the front desk you will find complimentary pet treats, and pet relief areas are located on either side of the hotel.
If you are on a budget and traveling with a pet, try one of the La Quinta Inn & Suites by Wyndham PCB, as they provide pet-friendly rooms for pets of all sizes at no extra cost. The two-star hotel allows dogs, cats, and other household pets to stay, providing they are crated when left in guest rooms alone. If you want to exercise your pet, you will find a grassy walking area around the hotel. The hotel is also located 3.3 mi from Pier Park, an outdoor shopping mall, which is also a pet-friendly center that welcomes pets at outdoor seating areas, provided they are kept on a leash.