Are you a travel hacker? If you're not quite sure, try asking yourself: Do you often find yourself booking flights and hotels for a fraction of the cost of those around you? Have you ever chosen a travel destination based simply on finding a great flight deal?  Do you know when the best times are to book and travel? If you said yes to any of these, then you're officially a travel hacker.
But even if you've said no, the great news is – you could learn! Great deals and travel hacks are now at your fingertips, with the release of our new Travel Hacker Guide. The guide is full of insights and tips; providing rankings of the most popular and up and coming destinations for Australian travellers, the most affordable cities to fly to, and popular and trending hotels in each destination. The 'When to Book' section displays the median airfare you can expect based on selected arrival and departure dates for any holiday, ensuring you can plan and travel smarter in 2018.
A quick glance at the first KAYAK.com.au Travel Hacker Guide reveals:
Trending Holiday Spots
Athens is soaring in popularity with Australians as their next preferred holiday destination, showing a year-on-year search increase of +109%. Hidden gems in the Greek capital include Brettos, the oldest distillery in Athens and Anafiotika, home to tiny, quaint yet picturesque streets that are best explored on foot.
Through KAYAK's Travel Hacker Guide, travellers can also discover the cheapest time to book their trip to Athens (six months in advance), when to travel (temperatures are highest and rainfall lowest from June to September), and trending hotels to book for their arrival (check out Royal Olympic Hotel and Athens Lotus Hotel).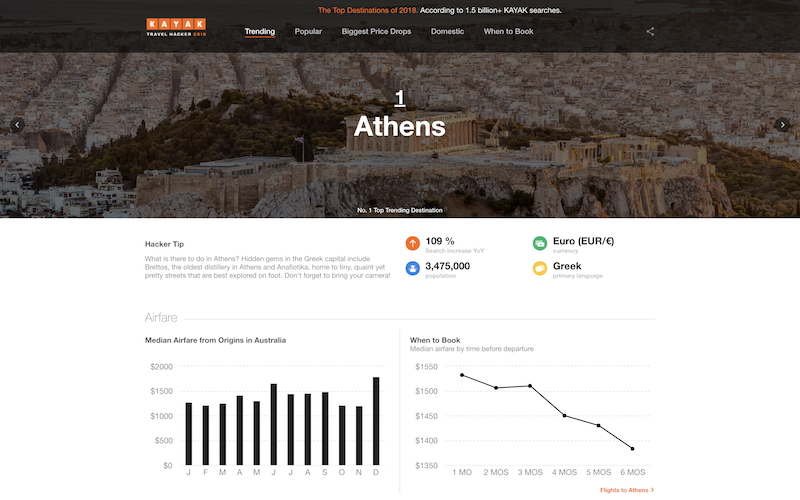 Find cheap flights to Athens* Book cheap hotels in Athens*
Price Drop Destinations
Athens is closely followed by Chengdu, China as one of the top 10 trending holiday destinations that has seen the biggest increase in bookings (+94% year-on-year). Chengdu also tops the list of the top 10 destinations with the biggest price drops, seeing a decrease in price of -28% year-on-year. In fact, China holds the top three destinations with the biggest price drops, with Beijing (-25%) and Guangzhou (-20%) taking second and third place, respectively.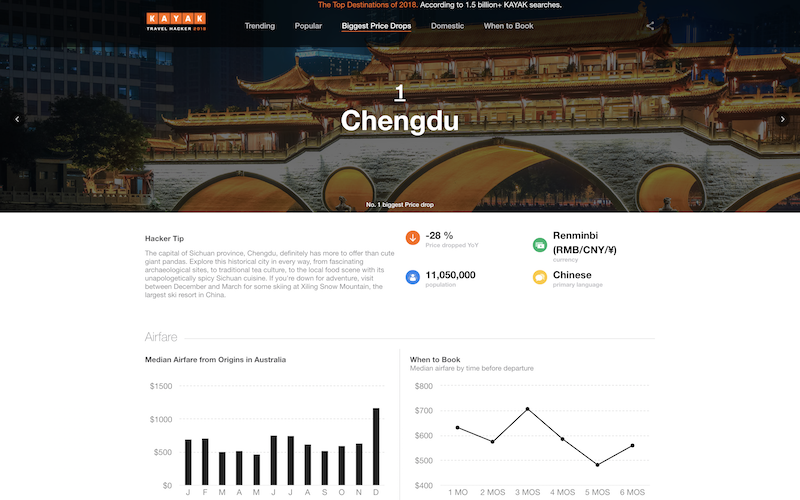 Find cheap flights to Chengdu* Book cheap hotels in Chengdu*
Popular Holiday Spots
Unsurprisingly, Bali still holds the top spot for the most popular holiday destination for Aussies, with multiple South Asian destinations featuring within the top 10, including New Delhi, Bangkok and Singapore. Metropolitan cities such as London, Melbourne and Los Angeles have also proved popular with Australian travellers, with all three featuring in the top five most travelled-to destinations.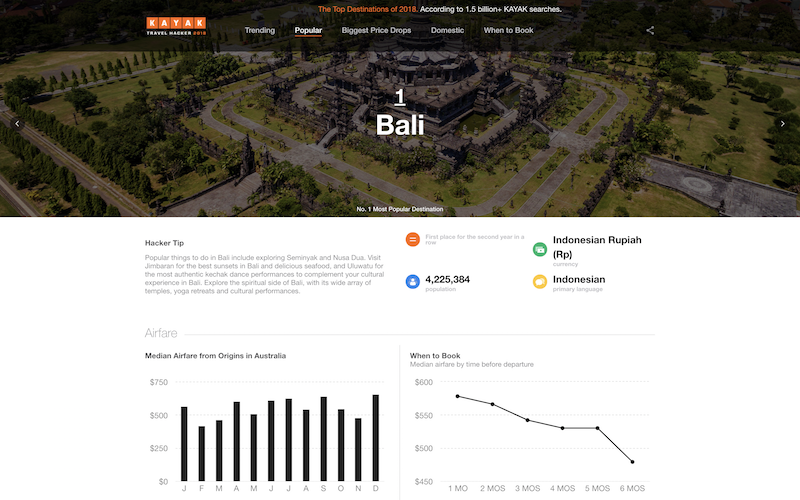 Find cheap flights to Denpasar* Book cheap hotels in Kuta, Bali*
Domestic Holiday Spots
For those looking for a staycation, the Sydney vs Melbourne rivalry is still going strong, with Melbourne beating Sydney to the number one domestic holiday spot for the second year in a row. Meanwhile, the Sunshine Coast, QLD and Canberra, ACT were new additions to feature in the top 10 domestic holiday spot roundup. Whether you're looking to get ahead of the curve and visit one of the top up-and-coming destinations, or you're looking to explore Australia through a staycation, our Travel Hacker Guide has you covered – helping you pick the best time to book and at the right price'.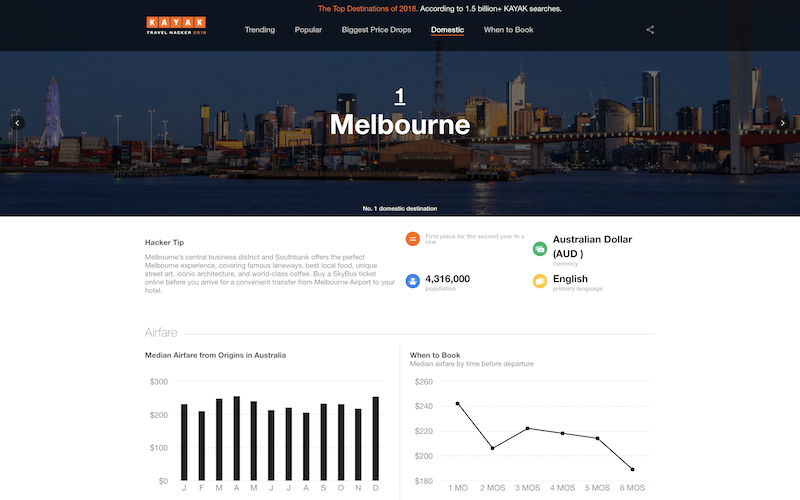 Find cheap flights to Melbourne* Book cheap hotels in Melbourne*
For more information on destinations to travel to for 2018, holiday trends and travel tips, visit the complete Travel Hacker Guide at KAYAK.com.au/travelhacker.
Note: Data and analysis are based on search dates 1/1/2016 – 31/12/2017 for travel dates 1/1/2017 – 31/12/2017, compared with search dates 1/1/2015 – 31/12/2016 for travel dates 1/1/2016 – 31/12/2016. For more information on the methodology, please visit: KAYAK.com.au/travelhacker/2017/methodology